Why Your Monterey Makes the Perfect Valentine's Day Date
Fri, Jan 29, 2021 at 1:41PM
---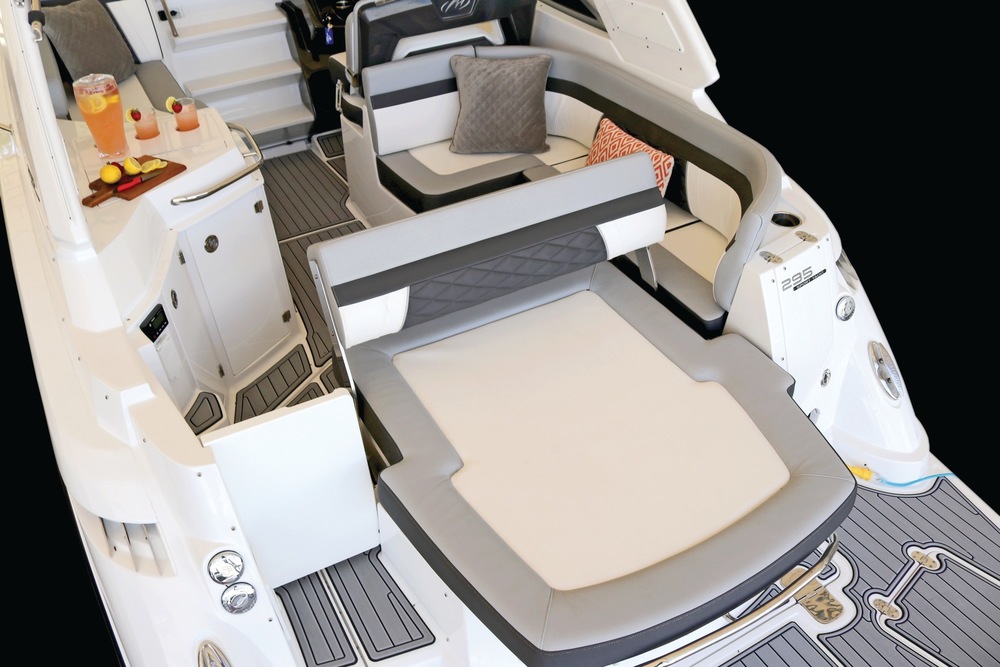 Happy Valentine's Day! With this sweet celebration right around the corner, we're all thinking about festive ways to celebrate with the people who matter most. Hint: If you've got a Monterey, you already have the venue for the perfect date.
Just read on to see what makes your Monterey the ideal floating escape for date night and fun, sunny couples adventures, this Valentine's Day and all year long. Take a look.
Enjoy dinner and a show
Dinner and a show makes for a classic Valentine's date—but with many of our go-to live performance or cozy dining destinations off the table this year, it's time for a splashing alternative (of course, we're boaters—in our book, special occasions are better on the water anyway).
Your Monterey is the perfect place to enjoy (and perhaps even prepare) a delicious dinner! Use your cockpit grill or galley to create a fresh seafood meal, or prepare something special back at home. We can't recommend a refreshing ceviche enough. Be sure to "cheers" to some cool, fruity sparkling water as well.
As for the show side of things…
If you have a wakeboard tower, you might even be able to attach a white sheet "screen" to your boat to enjoy a favorite movie—or pick up a floating screen to place in front of your boat! Just bring a portable projector and enjoy this one-of-a-kind date.
Of course, nature itself might just be the best show around. Choose a particularly beautiful sunset spot or a scenic, out-of-the-way slice of shoreline where you can unwind and take in the rhythm of the surf.
Kick back in comfy cruising digs…
Another reason we love a Monterey-style date night? Effortlessly comfy cruising digs that give you and your loved one a relaxing place to kick back and enjoy the view. Lounge around bowside where you'll discover ample room and a cushioned space that promotes total serenity, or discover some of the flexible seating options on many Monterey Boats that effortlessly transition from the day's fast-paced fun to dinner and downtime in seconds. And of course on select models, the space below deck is just as inviting—perfect for Valentine's weekend getaways where you can explore new, exciting on-the-water destinations from your personal floating resort!
… or enjoy a fast-paced adventure
If you and your Valentine are all about active, thrilling excursions as an alternative to traditional date outings, your Monterey can naturally take you there, too! Here are a few of our favorite ideas to try…
- Couples' wakeboarding! If you both loved towed water sports, consider a double date—so that someone can be manning the boat and spotting as you and your loved one enjoy a thrilling duo date on the water.
- Kayaking for a closer look at your aquatic surroundings. Think of it like a leisurely stroll by the shore, but better, as you'll both be able to meander past some of nature's best-kept secrets—the lively mangrove ecosystem, for example, and even potential manatees below depending on where in the world you're paddling.
- Of course, it is still a chilly winter in most of the country! If you're looking for a fun activity that does not require jumping in the water yourself, consider wildlife watching. Look for shorebirds or discover whales in areas like Northern California. Here, Valentine's Day marks the heart of whale watching season!
The bottom line? Whatever your Valentine's sensibilities may be, your Monterey is sure to make your date that much better.
Craft a punny handmade card
Be sure to pair your adventure with a punny, boat-themed Valentine's card! Here are a few of our favorite lines to try…
- You reel me in!
- You float my boat.
- You're a catch.
What's your dream date destination—the colorful backdrop of the Mediterranean, tropical Hawaii or somewhere new? Let us know and enjoy your cruising to the fullest!
---
Bookmark & Share
---
User Comments
Be the first to comment on this post below!