Wakesurfing Shasta Lake
Mon, May 07, 2018 at 1:40PM
---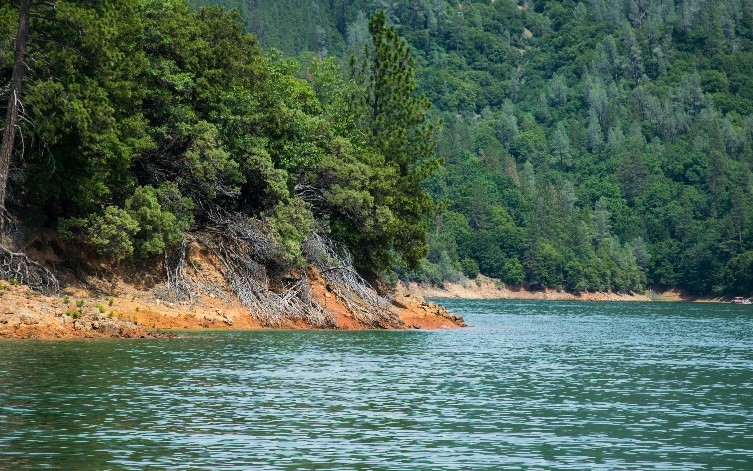 Wakesurfing is a special sort of sport. It pairs the thrill of surfing with the laidback leisure of boating on your favorite lake—and when it comes to finding choice waves, the action's truly endless.
So where do you go when you're searching for the perfect wakesurfing spot? It often comes down to three things: local charm, natural beauty and, of course, plenty of room to explore. Shasta Lake's brimming with all three.
Take a look as we explore this California treasure—as well as some of our favorite ways to explore its shores!
A wakesurfer's paradise
What makes Shasta Lake such a go-to wakesurfing escape? For one, it's got enough room for all. While the lake sees spikes during busier times, like Memorial Day weekend, many find that Shasta Lake's size provides a peaceful, immersive experience—the perfect alternative to busier destinations nearby.
At 365 miles of shoreline, there's plenty to explore on a second, third or fourth visit, too—and boaters keep coming back for the lake's gorgeous teal waters, lush lakeshore and, most importantly, wakesurfing surface to enjoy. Its unique shape—with wide, curving "arms" stretching every which way—means that there is no true center of the lake. Wide channels throughout give you the chance to branch out (literally) and carve out your own zone on the water, especially at Jones Valley and the Sacramento Arm. The arms are long, too, so your wakesurfing runs are limited only by your will on the water.
Ride with a view
Of course, Shasta Lake isn't just any lake. For as enviable as its water sports action may be, the true treat comes in the form of a landscape you can't find anywhere else. Characterized by mountain views (of the mighty Mount Shasta and smaller Shastina), whose rolling silhouettes get hazier the further back they go, as well as the lush Shasta Wilderness, whose pine trees and red firs run right up to the water in vivid splendor, wakesurfing here provides a ride with a view.
Exploring Shasta's caverns
Near Shasta Lake is an abundance of volcanic caverns—the sort Northern California is a treasure trove for. Explore the "underground" side of Shasta, the caves through which lava once flowed and formed the rocky, shadowy interior we see today. It's a great chance to see a landscape we don't often experience…by virtue of it being quite literally tucked out of sight.
A hidden gem
Another hidden gem exists in the form of Potem Falls, a beautiful waterfall nestled in a clearing east of Shasta Lake, along the Pit Arm branch of the river. While Pit is known more for fly fishing and quiet, leisurely paddle-led encounters (submerged trees make it less friendly than its western counterparts for fast-paced thrills), you can also drive to this tucked-away treasure. It's worth the trip to see the water in an all-new way!
Shasta Lake (and its inimitable shores) are waiting to be explored. Hop on your Monterey and enjoy the Californian escape soon!
---
Bookmark & Share
---
User Comments
Be the first to comment on this post below!