10 Beginners' Tips for Your Wakesurfing Adventure
Mon, Jul 25, 2016 at 12:05PM
---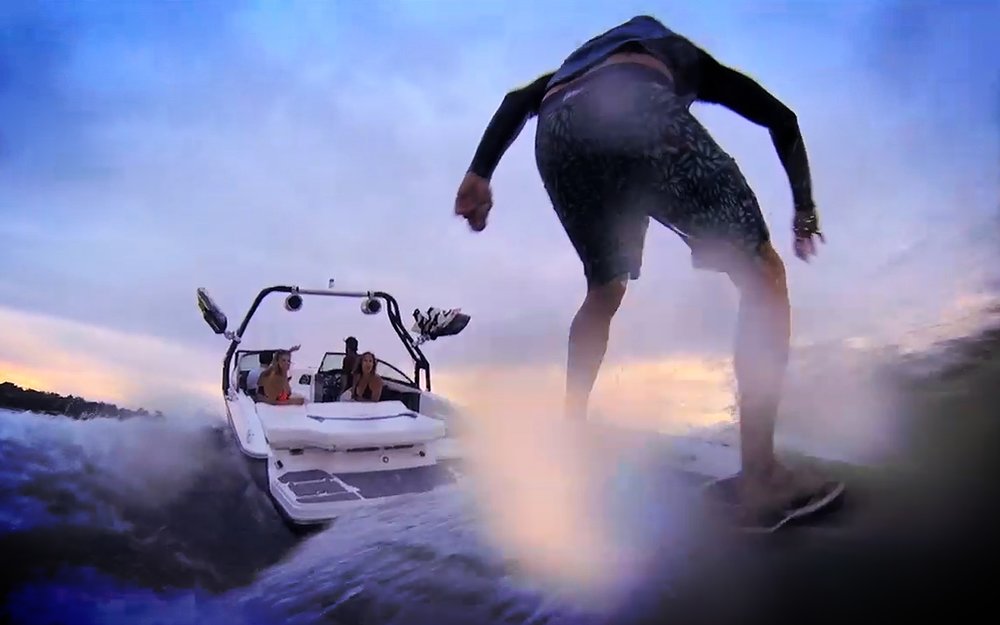 If you love spending time on the water any way you can, consider making the sport of wakesurfing your next big adventure, and we recommend our new Monterey Roswell Surf Editions to get started! This innovative activity combines the best of both surfing and wakeboarding, and delivers an experience like no other.
In today's blog, we will be looking at 10 key beginners' tips for your wakesurfing adventure:


Pick The Right Boat Made Just For Wakesurfing
One of the most important tips for wakesurfers of any skill level is to only surf behind a boat that is designed for wakesurfing safety and performance. For example, our Monterey Surf Editions (LINK) use the revolutionary new Volvo Penta Forward Drive that reverses the propeller and keeps it in front of the engine, far away from surfers. Learn more about this exciting new technology here: (http://www.volvopentaforwarddrive.com/). Our surf boats are also designed to create the perfect wake to make wakesurfing as fun as possible!

Pick the right rope…
When it comes to wakesurfing, pick a rope that's specific to this sport. Wakesurf ropes are often knotted and designed in such a way that allows you to enjoy the best, most comfortable ride.

…and board
If you're interested in pursuing the sport of wakesurfing, it's definitely wise to pick out a wakesurf-specific board that will help you achieve the ultimate ride. However, if you're just starting out and only have access to a standard surfboard, don't be afraid to use it! It's a great way to get started and won't be too fundamentally different from a wakesurf board—and best of all, the skills you learn in one medium will only serve to help you in the other.

Scope out a good spot
When you get to the lake or ocean for your wakesurfing session, take a few minutes to scope out the perfect spot. Ideally, this will be an area that offers you a clear, easy path for your ride—not one that's populated with swimmers and other boaters.

Start slow
Don't feel the need to achieve your key speed of nine, 10 or 11 miles per hour right away—in fact, it's best to start out slow and only build up speed once you're better balanced.

Find your balance
Speaking of finding your balance—it's easier than you think! Start by floating in the water with your feet lightly resting on the board in front of you. While holding on to your rope, start to push your heels into the board and stand up—you will soon be able to balance on your own.

Learn when to release your tow line
While your rope should be taut as you start to stand and build up speed, it should have a little more slack in it once you've gained balance and are moving smoothly on the water. When this happens, release your line toward the side of the boat so that the passengers can collect it from the water. After that, you're really surfing!

Brake and speed up
One of the best parts of surfing is the ability to speed up, slow down and try new things while on the water. To speed up, shift your weight toward your front foot—to slow down, simply ease back and shift your weight toward the back.

Fall safely
Falls are inevitable when surfing—but there are a few things you can do to make them safer and easier. When you're about to fall, avoid preemptively jumping into the water and instead let yourself fall in more gently, since you never know just how shallow the water is beneath you. Once you're underwater, put your arm above your head to avoid knocking yourself into the board, should it float above you. Don't forget that you should always wear a U.S. Coast Guard approved personal floating device (PFD) too!

Get back up and have fun
After every fall and stumble, be sure to get back up and continue the fun! The sooner you do, the sooner you will be able to master your skills on the water—and besides, no one's first time wakesurfing is ever perfect!


We hope that today's tips help you enjoy your time on the water to the fullest. And of course, don't forget to share your favorite Monterey Roswell Surf Edition photos and stories with us!
---
Bookmark & Share
---
User Comments
Be the first to comment on this post below!