This National Barbecue Month, Perfect Your Cruising Cookout Skills
Fri, May 14, 2021 at 5:16PM
---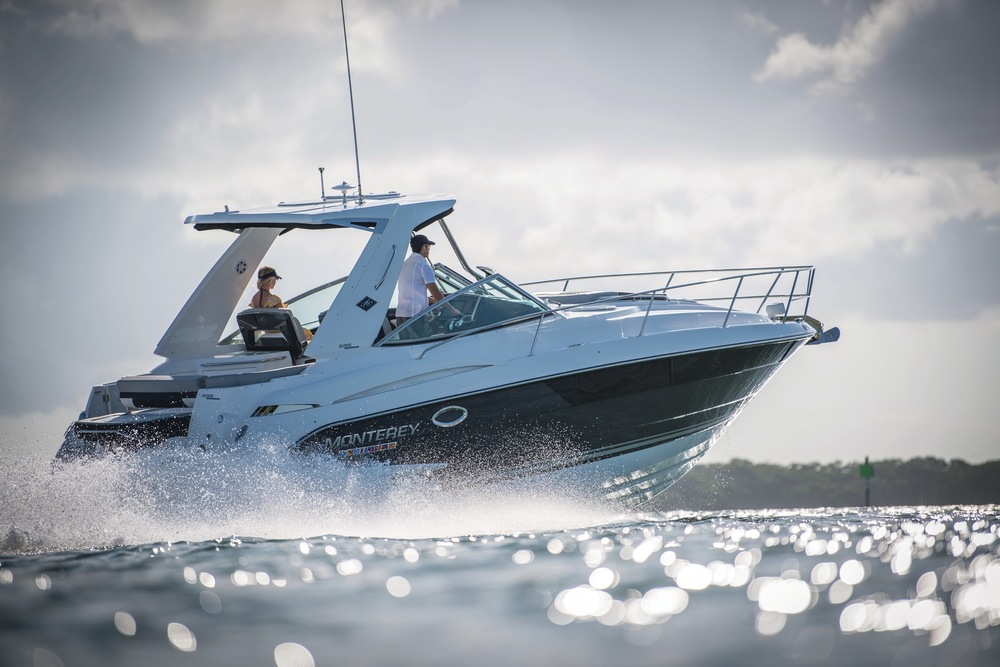 Happy National Barbecue Month! This May, we gear up to celebrate our favorite, flavorful pastime: grilling up something delicious with friends and family, that is.
Of course, May is just a precursor to the greater summer BBQ season — and as we're all craving the connection of a cookout more than ever, what better backdrop than the water to celebrate a return to this saucy, sizzling tradition? Here is our guide to your best BBQ yet, Monterey style!
The Essential Ingredient For Your Best BBQ Yet
If you're a BBQ connoisseur, you probably have a go-to ingredient — like a secret sauce for your pulled pork, or unexpected mix-in for your mac and cheese. Your Monterey Boat is kind of like that: an essential component of the perfect on-the-water cookout. Certain rides, like our Sport Yachts, come equipped with a grill and fridge right on board, and several also have cockpit tables and other built-ins for the perfect BBQ. All of them, from family cruisers to sleek Sport Boats, are designed with Monterey comfort and convenience in mind, so you know there's room for the whole crew to kick back and relax with something truly delicious.
Montereys, you know by now, are also synonymous with storage — so you can bring plenty of reusable napkins and eco-friendly BBQ ware to stow away on board for your next cookout. Plastic plates, as opposed to traditional paper, as well as bamboo straws and other green materials don't just add a stylish element to your cookout — or should we call it an al fresco dinner party? — but they also are less likely to end up in the ocean or lake, because trash is often carried away by the wind.
Our Favorite On-The-Water Eats
Now, for the really fun part! You might already have a tried-and-true BBQ treat you love. If not, here are a few options we can't get enough of! (Tip: All of these can be prepared ahead of time and enjoyed on board, by the beach, or wherever the cookout takes you — so you can have a truly effortless day on the water.)
- Potato salad is, literally, a dish best served cold. A light, tangy touch can help cool the senses on hot summer days — and it pairs deliciously with almost any BBQ main.
- Speaking of mains, pulled pork is another crowd-pleaser! Store-bought or sauced in your homemade recipe, this can easily be piled atop a bun or enjoyed solo.
- BBQ chicken skewers can be assembled at home and savored on board, a perfect way to dig in without requiring silverware or getting your hands too messy.
- Icy, fruit-infused water is sure to satisfy on hot summer days — paired with a BBQ burger or classic hot dog, it's as effortless as it is delicious.
Finding The Perfect Cookout Corner
Local sandbars can be a good place to enjoy your impromptu on-the-water BBQ! You might also look for a local lake or oceanfront park with grill access. The fresh air and spacious digs make an on-the-water cookout a great way to safely reconnect with friends and family. (Tip: Turning your cookout into an early dinner may be able to help you find a spot with less crowds!)
Don't Forget Your BBQ Games…
It simply wouldn't be a classic cookout without some fun games to enjoy between helpings! We love the time-honored tradition of cornhole — there's even an inflatable version you can bring in the water — as well as checkers and tic-tac-toe, which can be played with beach blankets on shore or on your Monterey. Pool noodles or a blow-up volleyball are a few other items that will ensure endless fun on board, at the beach, and right in the water.
… And Music, Too
Whether you blast it via your on-board Monterey speaker or a portable Bluetooth, good music is another important part of a successful cookout! You can't go wrong with Carolina shag music, or virtually anything by Jimmy Buffett or The Beach Boys, in addition to more modern summer hits.
Send Guests Home With Something To Savor
These days, you don't need a reason to make a standard summer cookout a little more special! We're all looking for ways to celebrate and connect, so why not send your friends and family home with BBQ-themed keepsakes? It could be a "message in a bottle" of your secret BBQ sauce, for example, or perhaps food-themed pool floats families can bring home or to the beach! Whatever you do, you'll be supplying your loved ones with a meaningful reminder of your just-because BBQ fun.
Be sure to share snaps of your BBQ spread, and other Monterey adventures all season long! We can't wait for you to dig into the delicious days ahead.
---
Bookmark & Share
---
User Comments
Be the first to comment on this post below!