5 Fun Ways To Celebrate National Aquarium Month With Monterey
Thu, Jun 17, 2021 at 9:46PM
---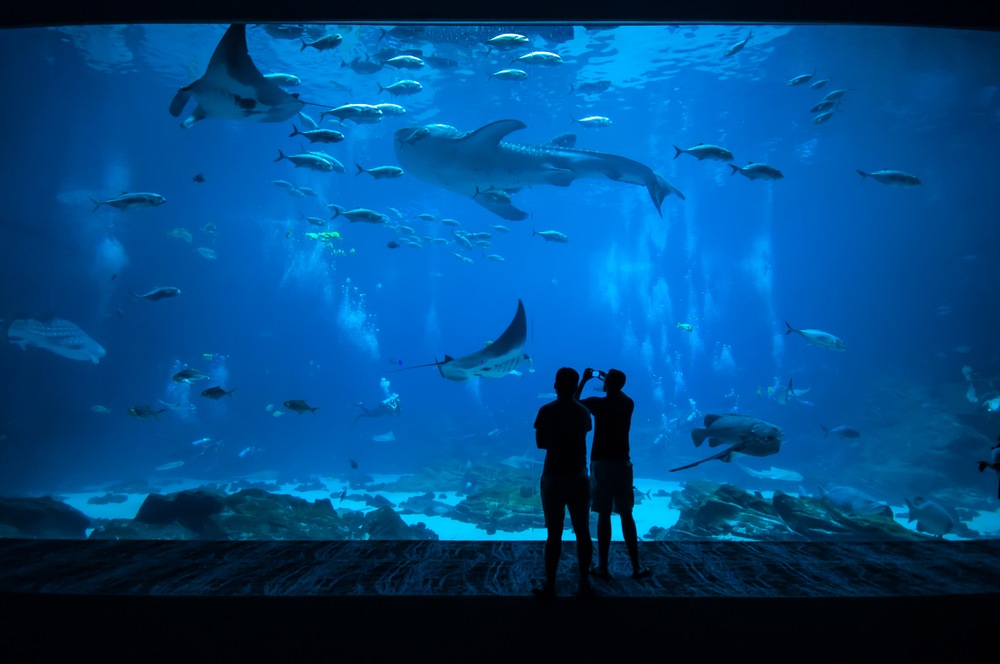 Every June, we celebrate National Aquarium Month, and all the beautiful places to see fish and marine mammals around the world! The immersive aquarium experience is one all boaters are water lovers are sure to treasure, this month and all year long. Just read on to see some of our favorite ways to celebrate aquariums — with a little help from your Monterey, of course.
Consider A Virtual Visit
First things first: you don't technically need to visit an aquarium to, well, visit an aquarium! Let us explain. Many beloved aquariums — including the Aquarium of the Pacific, or the Georgia Aquarium — have taken to social media to share photos, videos, and live streams of their underwater residents! This practice grew over the course of the last year, with many of us flocking to TikTok and other sources to expand our horizons from the comfort of home. Today, you and your family can virtually travel from coast to coast to visit different marine mammals and aquatic environs!
Learn About One-Of-A-Kind Aquariums
Once you've explored several aquariums online, you'll likely be eager to pay the fish an in-person visit — and fortunately, there are plenty of spots to choose from that (fortunately for us boaters) just so happen to overlap with some amazing cruising destinations, too. A few iconic aquariums to add to your itinerary include…
Aquarium of the Pacific: Located in sunny Long Beach, this West Coast gem is the perfect addition to your SoCal cruising adventure. Because the Pacific is the world's largest ocean, there is plenty to see and explore at the aquarium that is dedicated to its majesty — from the frosty Bering Sea, to the tropical Pacific Islands, and everything in between. See a giant kelp forest, sea otters, zebra sharks, puffins, and so much more. Of course, the fun doesn't stop with your visit to the aquarium. You can do some on-the-water exploring of your own (charming Catalina Island is just a cruise away), or check out the historic Queen Mary for an up-close look at the opulent world of a 20th-century ocean liner.
Monterey Bay Aquarium: Why not bring your Monterey to, well, Monterey? The rugged coastal charm of this Central California city makes it a great place to boat or spot sea lions in the wild — but if you prefer a closer look, the Monterey Bay Aquarium has you covered! You'll find colorful, mesmerizing jellyfish, clownfish, sheephead, moray eels, sea mammals and birds and more than you can imagine.
Florida Aquarium: From soft, white-sand beaches to endless mangrove fishing, there's a lot to love about the Gulf Coast of the Sunshine State — the Florida Aquarium is just one more! The unique tropical setting is home to exhibits from across the world, like the playful lemurs of Madagascar and the enchanting jellies of Moon Bay, which you can actually touch for yourself.
Hit The Water
As we mentioned, many of the country's most beloved aquariums are located near some amazing boating destinations — so cruise away! Once you've met the marine animals in an aquarium you can search for them on your Monterey adventure. From dolphins catching a ride in your wake, to schools of super-sized sportfish swimming in shallow flats, you never know what you might find.
Watch A Fish Flick
Another way to keep the aquarium fun going is to watch a sea-themed movie! Finding Nemo and its sequel, Finding Dory, are two great options — the latter even involves a fictional aquarium, the Marine Life Institute, which is based in part on the Monterey Bay Aquarium. Other popular, family-friendly films include Shark Tale, Ponyo, and Free Willy. You can even project them and enjoy outdoors, or right on board with the help of a portable projector and handy white sheet!
Get Crafty
Encourage kids who are inspired by ocean life to get crafty and make their own at-home "aquarium." You don't need actual fish to create a beautiful project — simply add colorful cut-outs and paper fish floating on string to a mason jar to recreate the ocean environment in a fun, hands-on way.
What's your favorite aquarium? Let us know and enjoy the fishy fun, this month and throughout the year!
---
Bookmark & Share
---
User Comments
Be the first to comment on this post below!