Pink Views For Valentine's Day Snorkeling
Mon, Jan 24, 2022 at 12:58PM
---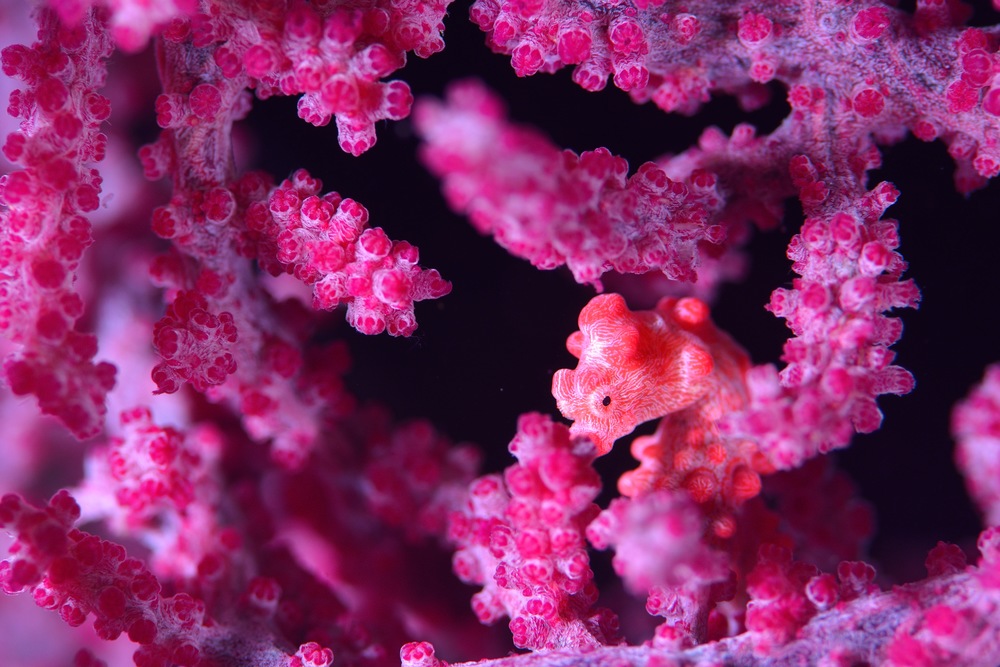 Jewelry. Chocolate. A delicious dinner somewhere special. There are countless ways to celebrate Valentine's Day with your loved one... but the very best, in our book, might just be a trip out on your Monterey! Spending the day doing something you both enjoy can be a great way to connect — whether that means an al fresco picnic at the marina, a trip to your local barrier island, or, perhaps, a round of undersea exploration.
Whether you're planning a snorkeling adventure for the big day, or simply want to take a virtual outing as you wait for warmer weather, here are a few pink animals, landscapes, and underwater features to add to your guidebook along the way. It's the color of the season, after all!
Pygmy Seahorse
Scientists don't know a whole lot about the pygmy seahorse, simply because it's such a master of disguise! Dainty in size, and pink to match their coral surroundings, this adorable seahorse is believed to snack on tiny crustaceans, according to Oceana.
Axolotl
The axolotl isn't actually a fish, but an amphibian — though it definitely doesn't look like your average frog! It's a salamander, in fact. Native to lakes in Mexico, several types of axolotls have a mutation that produces a light pink body. Odd, feathery appendages stemming from its face (plus an expression that looks a lot like a friendly smile) make the axolotl almost look like a cute cartoon character.
Sea Fan
If you've ever been snorkeling, you know that plenty of underwater creatures (which you might mistake for plants) have a pink or coral color. This is actually for a good reason — according to research from The Conversation, the proteins that cause pink and purple hues "act as sunscreens for the corals." It makes a lot of sense: whereas a human's sunburn might cause discomfort and long-term damage, the algae that calls coral "home" might be affected in a negative way, too — without the algae, coral can't feed itself.
So, what kinds of pink "plants" can you spot beneath the surface? The sea fan is one gorgeous example, named for its broad, leafy shape that resembles a paper fan — or perhaps a leaf of lettuce, depending on who you ask.
Carnation Coral
Another beautiful coral formation is aptly named the carnation! If you didn't know any better, you'd assume flowers from land were growing in the ocean — such is the dainty profile of this one-of-a-kind animal.
Elafonissi
In addition to pink displays beneath the surface, you can also find the color sprinkled in the sand of several great snorkeling destinations! Take Elafonissi in Greece, for example. A subtly stunning pink stretches across parts of the shoreline here, making the island locale even dreamier (which, once you see Elafonissi for yourself, you'll realize is no small feat).
Every day, these lively pops of pink prove that the natural world is capable of some serious beauty! We hope that today's virtual color tour helps you get to know your on-the-water environs in a new way.
---
Bookmark & Share
---
User Comments
Be the first to comment on this post below!