Mon, Jan 24, 2022 at 12:56PM
---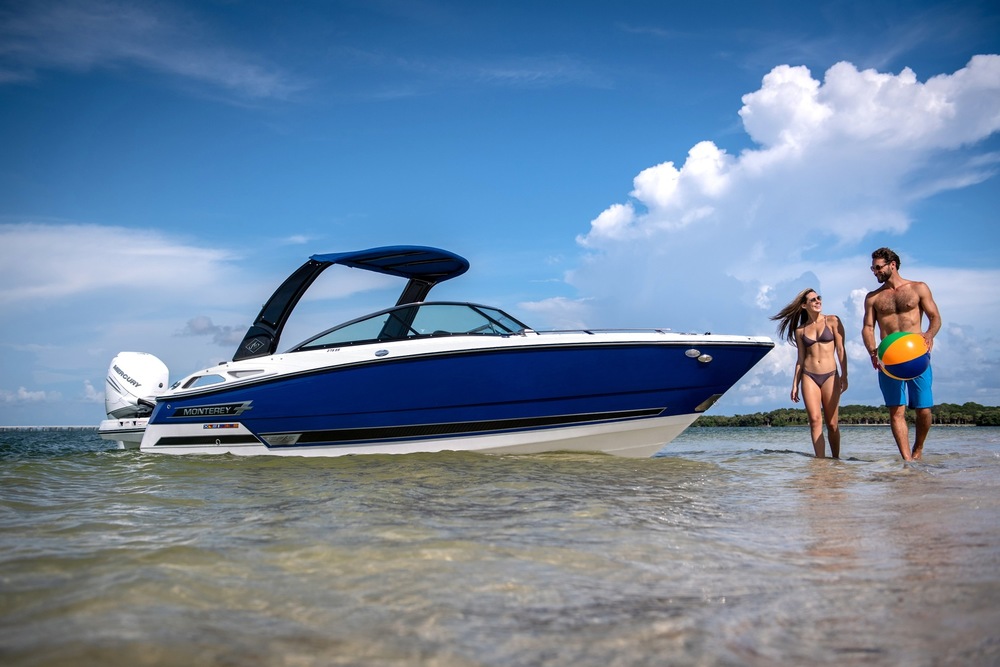 2022 is finally here — and if you've got a Monterey, you already have everything you need to cruise into the year in serious style and comfort! As you wait for warmer weather to hit the water once again, why not take some time to prepare for your spring debut and learn about the latest trends in cruising, tech, and travel? Here are a few we're loving so far.
Bleisure
This crafty portmanteau of "business" and "leisure" has been around since 2009 — but Google searches for the word spiked over the last two years, and it's easy to see why! Now more than ever, many boaters with work-from-home flexibility are looking for ways to blend work and recreation... because, well, when you can telecommute from the beach or your very own boat, why wouldn't you? According to Condé Nast Traveler, "barefoot workstations" will continue to be popular in 2022. (Tip: if you're working from your Monterey, keep an anti-glare screen for your laptop on board! It will make it so much easier to work on docs and projects, especially on those super sunny days.)
TV-Inspired Getaways
With more time at home these past two years, many of us have become bona fide streaming pros — and as Traveler reports, this is impacting the places we travel to, and why we go in the first place! If you haven't already felt compelled to cruise to the beach you saw on a new hit series or film, it's a consideration worth keeping in mind as you tune in. Your dream vacay inspiration may be a click away.
Wellness Travel
Forbes predicts that 2022 will continue to see the "rebound of wellness tourism," — aka, trips that are focused on promoting travelers' health and well-being. While this might make you think of pricey resorts and spas retreats, it can just as easily apply to some TLC time on your very own Monterey! From the spacious comfort of your boat, you can unwind with yoga, meditation, a DIY salt scrub sourced from local ingredients — whatever suits your unique self-care style! Of course, even the very practice of being out on the water can be a way to put yourself first: as scientist and author Wallace J. Nichols told Discover Boating in 2020, "simply the mere sight and sound of water promotes wellness by lowering cortisol, increasing serotonin, and inducing relaxation."
New Boating Hot Spots
You may think you've been to all the great, "must-see" boating destinations already — but have you, really? According to marina management firm Dockwa, North and South Carolina are among the destinations that saw an uptick in popularity over the last two years. More could be on the rise, too, so they're worth checking out as you seek to expand your on-the-water itinerary.
Just Your Average Influencer
If you love using social media to document your on-the-water adventures, why not focus on building a following and earning perks along the way? According to Vogue Business, "everyday influencers" can be valuable resources for people looking to explore a new area in 2022 — so you don't need to have an enormous audience to make your mark on the online community. No one knows a specific stretch of water or shoreline like the boaters who enjoy it every weekend, so put your insights to use this year with fishing tips, water sport videos, local eateries you love — whatever it may be. Just like a great day on the water, you never know where it will lead!
We hope that these trends help you embrace a modern on-the-water adventure — while still enjoying the traditions you know and love from years of cruising, too!