Christmas Trees In A Tropical Paradise
Fri, Dec 10, 2021 at 10:37PM
---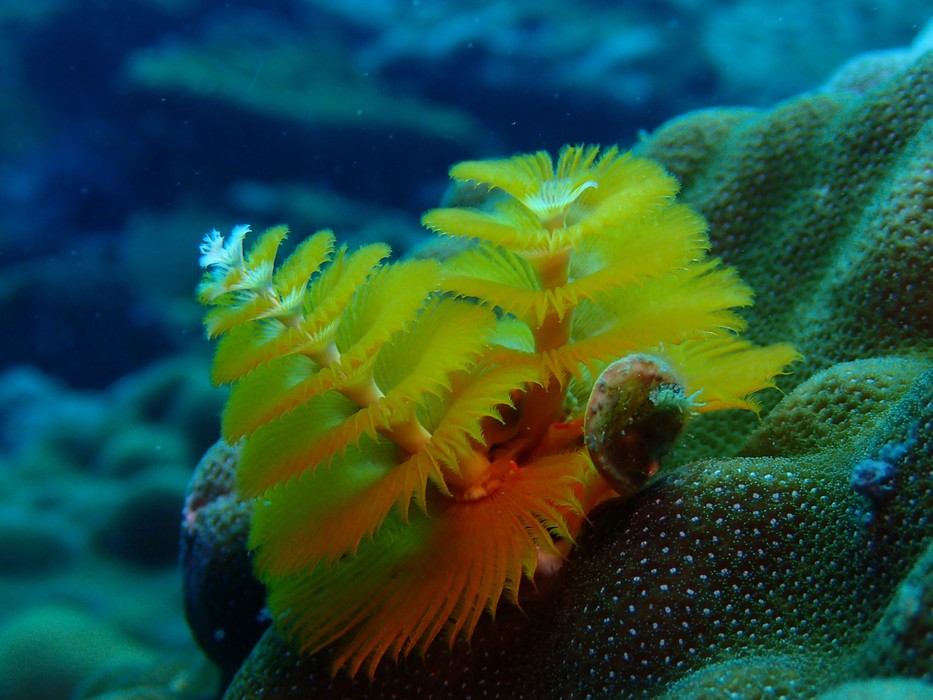 When you think about picking the perfect Christmas tree, your mind probably evokes images of winter hats, snowy pine forests, and plenty of hot cocoa to fuel the journey. But what if your hunt for the yuletide symbol looked a little more tropical this year? Slap on the sunscreen and hop aboard your Monterey — we're embarking upon a virtual tour of a truly unique underwater environment. Enter, the Christmas tree worm.
What's In A Name?
Fortunately, Christmas tree worms are not sneaky, slug-like creatures you'll have to worry about finding in your tree this year. Rather, the nickname refers to the uncanny, tree-like shape of these marine critters.
Christmas tree worms, or Spirobranchus giganteus, are small, sedentary worms that live among the coral in tropical reefs around the globe. They're pretty small, but their color and can't-miss shape make them easy to spot in the marine ecosystem. As far as worms go, these ones are very laidback, and leave it to their radioles (i.e., the pine needle-like appendages that surround their spine) for breathing and catching microscopic grub.
Where To Find Christmas Tree Worms
Christmas tree worms are fun to observe out in the wild, so where can you find them? According to American Oceans, their underwater home spans from the Indo-Pacific to the Caribbean — which means you might be able to spot them in popular snorkeling spots such as the Florida Keys (as if you needed a reason to take a Sunshine State getaway this winter).
In Key Largo, there's actually an entire snorkeling hole named for the little guys: Christmas Tree Cave. The swim-through venue boasts shallow, beginner-friendly water and plenty of Christmas tree worms that can be found surrounding the area — so you know you'll probably spot something great.
After you've had fun searching for worms beneath the surface, head back above the H2O for a tropical holiday paradise! If you're not one for a snowy, "White Christmas," the laidback vibes of the Florida Keys are sure to suit your seasonal style. You can find a select patch of shallow, glassy H2O for wake sports fun, or cruise up to a delicious dockside grill like the Lorelei Restaurant and Cabana Bar. There's also lots of waterfront real estate here, so you can have fun sightseeing and searching for holiday lights as you cruise toward land.
Planning Your Perfect Holiday Adventure
If you're planning to make the trip down to the Florida Keys this winter, you're in luck. Your Monterey Boat's already done half the work of creating a comfortable on-board environment — depending on your model, think swim ladders, convertible seating, and ample built-in storage for all your snorkel gear! Speaking of which, here are a few accessories you may want to add to your packing list:
Reef-safe sunscreen (because those strong, sunny rays don't take a break during winter)
Underwater camera
A spare set of dry clothes for the boat ride back to land
We hope that today's virtual tour helps you discover Christmas tree worms and other festive finds on your snorkeling adventure! Here's to a happy holiday season that's as unique as you are.
---
Bookmark & Share
---
User Comments
Be the first to comment on this post below!