Underwater Christmas Trees and Other Holiday Highlights
Mon, Dec 12, 2016 at 12:10PM
---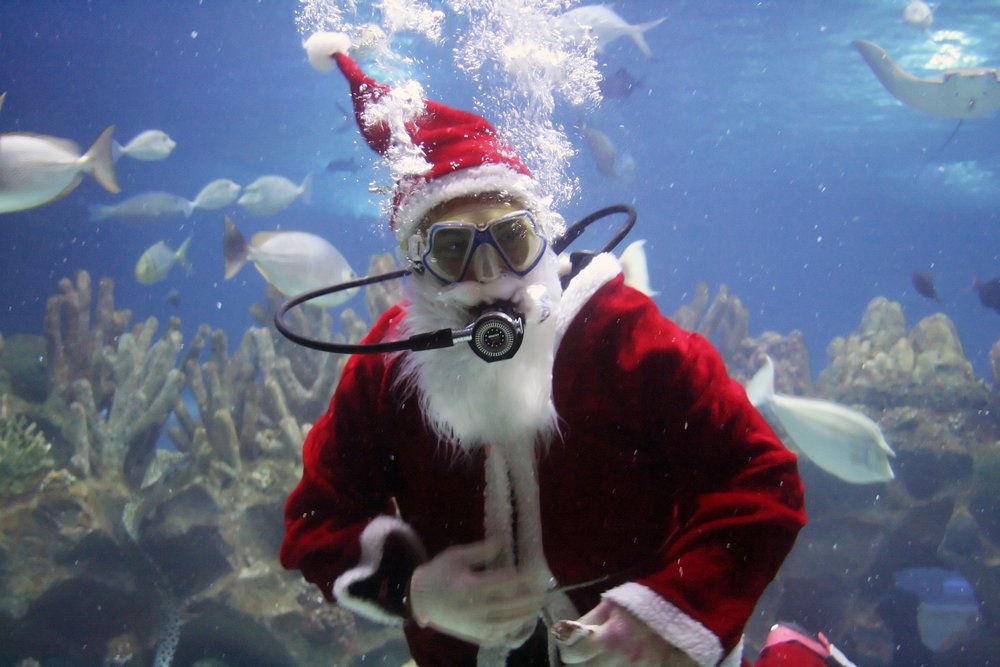 As any water lover knows, there's more to the holiday season than you can find on land. From underwater Christmas trees to brilliantly-lit boat parades, we're sharing some of the most unique aquatic aspects of the season ahead—as well as a few natural occurrences that simply say "holidays."

Underwater Christmas trees
First up, let's look at some underwater Christmas trees—that really aren't trees at all! Spirobranchus giganteus—more commonly referred to as the Christmas tree worm—is a type of underwater worm that has two spiral-shaped structures on its body, each as colorful and as perfectly-shaped as the rich, vivid Christmas tree for which it is named. If you saw these worms underwater (as many divers do), you might even mistake them for dainty holiday figurines! They come in multicolor hues, yellowish greens, vivid blues, and more, providing a real-world parallel to even the most lavishly-colored artificial trees.
Scuba diving Santa's
A number of Santa-suit-clad divers have gone below the surface over the years, putting on quite the comical show. To take advantage of the holiday season, aquariums such as the Seattle Aquarium even host photo ops with a scuba diving Santa in aquarium tanks!
Holiday boat parades
For boaters, one of the best parts of the season is to admire extravagant light displays and festively-themed boats make their way through the water as part of the holiday boat parades that happen across the country—of course, for some, the thrill is in designing their own lavish light displays! Seeing the colorful lights reflect on the cool, dark water is truly something special.
Candy cane tetra
Peppermint candy canes are a symbol of the season—but did you know that there's an aptly named species that mirrors the red and white splendor of those candy canes? The candy cane tetra is a popular fixture of many fish tanks across the country thanks to its unique white transparent body that transitions into bolder reds at the extremities.

Decking the halls… below the surface
Decking the halls with lights, holly, tinsel and all the fixings isn't just a landlubber's tradition— some divers have taken their holiday décor below the surface! In 2012, a team of divers set the record for deepest-ever Christmas tree—they brought the tree to a depth of 30 meters, where it was assembled and decorated with ornaments, then bringing it down 7 more meters to set the record.

If these highlights prove anything, it's that the world on the water can be just as festive as the land during the holidays!
---
Bookmark & Share
---
User Comments
Be the first to comment on this post below!