Enjoying Your Water Sport Adventure: Our 7 Tips
Mon, Feb 22, 2016 at 4:25PM
---
Are you planning on heading out on the water to test out your new water toys this spring? We know you'll have a great time with fun-loving friends and family by your side. Before you head out, be sure to brush up on safety and on-the-water etiquette with our seven tips below.
Be able to swim
This tip may be an obvious one, but it's always important to remember. Even if you don't plan on swimming, it's best to plan for unexpected falls or tumbles off your jet ski or wakeboard. And of course, always be sure to don a life jacket—even if you are an experienced swimmer—to ensure your safety and enjoyment on the water. Once you take care of the basic safety precautions, you're ready to head out and have fun.
Prepare for weather, good or bad
Before you head out, check the coastal weather forecast. Be sure to bring sunglasses, sunscreen and a baseball cap to keep you comfortable under the afternoon sun. Even if it's hot during the daytime, you might want to pack a pair of warm, dry clothes to change into after your time on the water—the combination of water and wind can make you feel cooler than it actually is.
Go with a buddy
Bringing someone along to enjoy your time on the water isn't just a good safety tip—it makes your experience that much more enjoyable! Bring along friends or family members who can help you out when needed or enjoy the water sports themselves.
Take in lots of water
Before and during your on-the-water sports excursion, be sure to take in lots of water. You may think that being in the water eliminates the chance of dehydration, but that's not quite true—in fact, rigorous sports on the water can make you especially thirsty, even if you don't feel "hot."
Get everyone involved
As is the case with any new adventure, make your water sports excursion more fun by getting everyone involved. Chances are, your friends or family members are just as curious about the new water toy or sports gear you just purchased—so give them a chance to try it out! Even younger kids, when wearing lifejackets and being supervised by adults, can enjoy the thrill of many on-the-water activities.
Capture the experience
Whether this is your first or 31st time out on the water, be sure to capture the experience with a waterproof camera or smartphone. Later on, you'll be able to look back on the day's adventures with a laugh!
Ready to hit the water on your wakeboard or other new water toy? Stay safe and have a great time!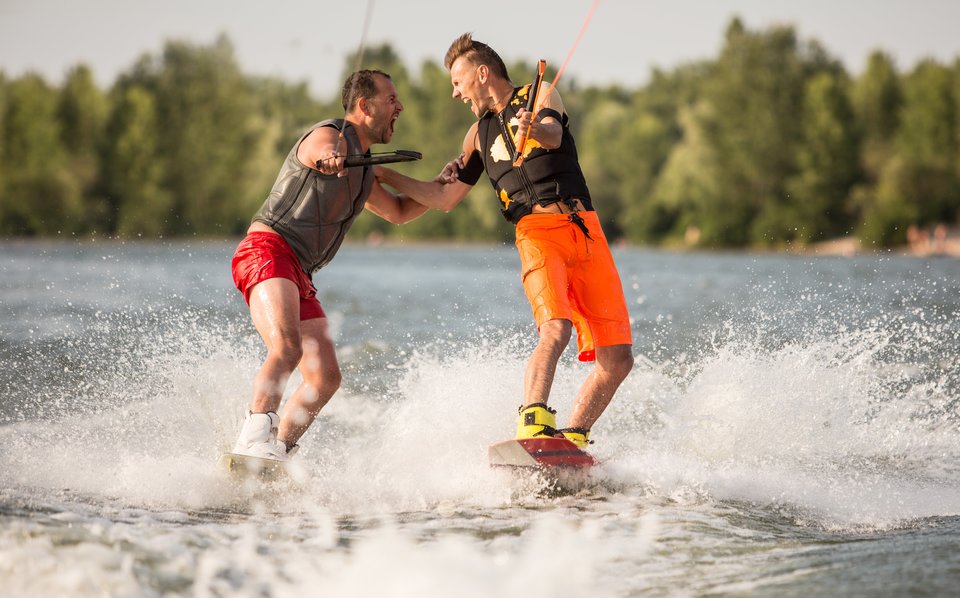 ---
Bookmark & Share
---
User Comments
Be the first to comment on this post below!