Is Wakeboarding An Olympic Sport? Not Yet — But Don't Rule It Out!
Sat, Jul 09, 2022 at 12:05AM
---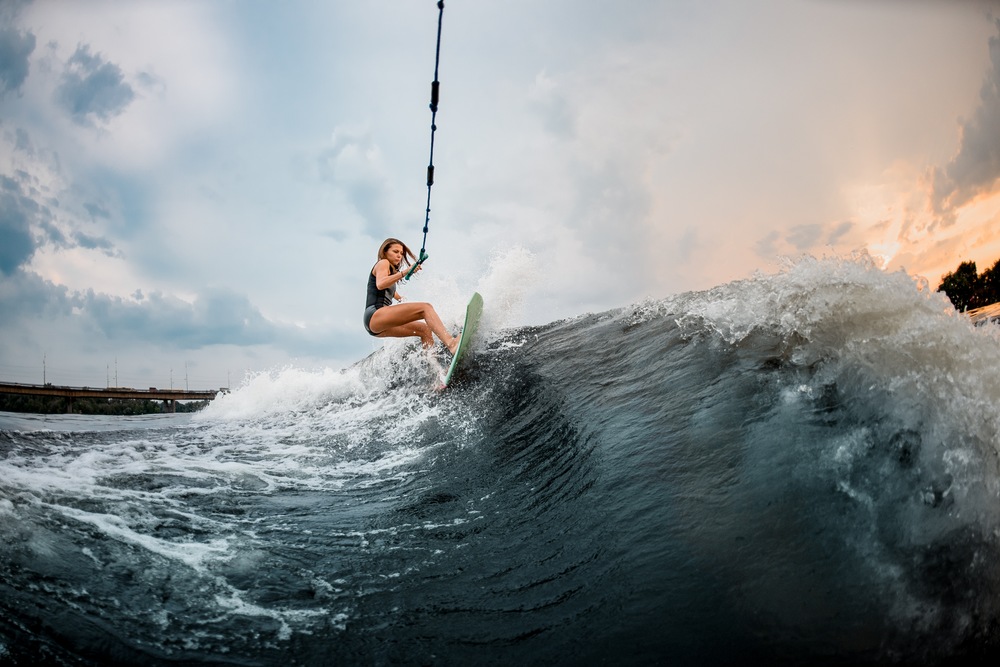 If you're a wakeboarder, you know how much fun the sport can be for beginners and pros alike. While boaters of all ages love how accessible wakeboarding is, seasoned riders know that it can be demanding, too — especially as you try to up the ante with new tricks, speeds, and feats of balance that stupefy spectators back on land.
Wakeboarding is both a rigorous pastime and an increasingly popular one, which may make you wonder — is wakeboarding an Olympic sport? And if not, well, why not?
Though everyone's favorite wake sport is not officially recognized by the International Olympic Committee, or IOC, there are efforts underway to change that. Here's what you should know about the future of the sport on the international stage.
An Olympic Hopeful
Just like athletes compete for the chance to go to the Olympics, smaller sports have to do the same! In 2011, International Waterski and Wakeboard Federation campaigned for wakeboarding to join the Summer Olympics lineup — in 2020.
As you might have already figured out by now, the bid was ultimately unsuccessful — and there was no wakeboarding at the 2020 Summer Olympics (which were postponed to 2021). But the IWWF still made a very strong case for wakeboarding to be included in the games. "Just as snowboard brought such a successful addition to the Winter Olympics, wakeboard certainly has the potential to add a totally new youth-focused lifestyle sport to the summer games," the organization said in a 2011 press release.
Sports that did ultimately make their debut at the 2020 Summer Olympics include surfing and skateboarding — i.e., the two sports that combine to form wakeboarding! So even if wakeboarding isn't an Olympic sport yet, the inclusion of its forebears is definitely a good sign.
Why Wakeboarding Deserves The Global Stage
If you're a wakeboarder, you might already have countless reasons why the sport should be recognized on the international stage! Here are just a few of ours:
As the IWWF pointed out, wakeboarding is a youth-oriented sport — though one that kids and kids at heart enjoy equally! If attracting modern audiences is a priority for the Olympics, this is one sport that definitely shouldn't be overlooked.
Despite its novelty, wakeboarding is rich in athletic tradition — fusing skateboarding and surfing in one thrilling, hybrid sport.
Wakeboarding exemplifies excellence, friendship, and respect — aka, the three values of Olympism as defined by the International Olympic Committee! Like the best Olympic sports, wakeboarding encourages participants to test their limits and aim for perfection on the water, while still respecting their fellow boarders to the fullest.
Until Next Time...
So, what do wakeboarding's Olympic odds look like for the future? Our beloved sport didn't land on the shortlist for the 2024 Summer Olympics, but there's always future games to look forward to! IWWF President Jose Antonio Perez Priego addressed the group's attempts to bring cable wakeboarding, specifically, to the games. "Our plan to grow this exciting and youthful sport will not stop," he said in a 2019 statement on the organization's site. "Our sport now has more than 1,000 cable wakeboard parks around the world and our competitions are highly appealing to athletes, spectators, TV audiences, and potential sponsors."
Wakeboarding definitely would be a fun Olympic sport to watch — or perhaps partake in, if you dream of going pro! But until then, we think it's worth enjoying to the fullest on your Monterey Boat anyway.
---
Bookmark & Share
---
User Comments
Be the first to comment on this post below!