Cruising Kennebunkport, Maine: A New England Hidden Gem
Tue, Aug 08, 2023 at 4:53PM
---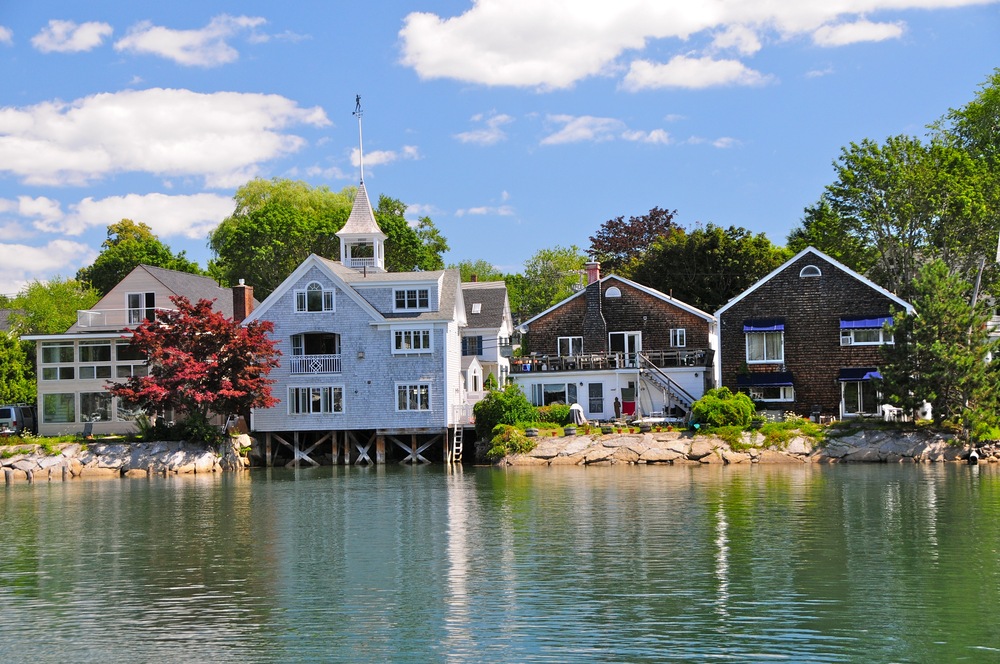 If you've ever cruised toward the shores of New England on your Monterey M Series, you know there's no shortage of gorgeous beach towns to enjoy along the way — from the storied luxury of the Hamptons to the coastal charm of Nantucket, Martha's Vineyard, and Cape Cod.
Of course, the region is so full of buzzy summer destinations that it's easy to overlook a hidden gem or two along the way. One of our favorites? Kennebunkport, Maine.
Located near the state's southern coastline, Kennebunkport is a small town of about 3,600. Like its fellow coastal enclaves, it takes on an all-new character during the summertime — providing boaters and beachgoers with the perfect place to soak in the sun, surf, and maybe a lobster roll or two.
Just read on as we take a virtual cruise through Kennebunkport's marine scene — and how to maximize your trip there this summer!
From Beach To Boat
Before hitting the water on your Monterey, you may want to admire the view from one of Kennebunkport's idyllic beaches. Goose Rocks Beach, in particular, is known for its soft white sand: a feature unique to this corner of Maine's coastline. On other beaches — including Gooch's, Middle and Mother's — you can even bring your furry friend for a run during off-peak times of day. Just check the local regulations before you and Fido visit!
Once you've sufficiently enjoyed the scenery, it's time to explore the horizon from a new vantage point — and what better than your Monterey? As you cruise up the Maine coast from Kennebunkport, you'll discover a variety of capes and coves that lend a unique backdrop to your day of boating. Craving some fast-paced fun? From Kennebunkport, you're roughly an hour's drive away from the wakeboarding, wakesurfing, and waterskiing haven that is Sebago Lake. The expansive lake is one of the largest and deepest in New England, and will make you feel as though you're skimming atop the ocean itself — after all, "Sebago" comes from a word meaning "resembles the sea" in native Abenaki.
An Island Adventure
Once you're back in Kennebunkport waters, embark upon an island adventure! Several land formations dot the marine landscape, making for a truly one-of-a-kind tour. There's Goat Island with its nearly 200-year-old lighthouse — and the remote, back-to-nature charm of Cape Island, home to an iconic "Witch's House," so nicknamed for the Wizard of Oz actress, Margaret Hamilton, who made it her beloved summer home.
For Local Flavor...
When you're finally ready to slip out of your deck shoes for the day, you'll want to carve out some time to explore the Dock Square Shops! Kennebunkport's charming downtown is the perfect place to pick out a local souvenir tee, savor a scoop of ice cream, or feast on fresh, local seafood. It's not surprising that there's a lot of that to go around, thanks to the Kennebunkport's location and its history as a fishing and shipbuilding village. Here, a love for the water floats on the sea breeze! Plus, the abundance of lobster means there are endless ways to enjoy it: from classic lobster bisque at lunch to inspired Asian fusion at dinner.
Your Monterey is your front-row ticket to everything New England's boating scene has to offer! Be sure to share your favorite travel photos with us on social media. We can't wait to see where you roam, this summer and all year long.
---
Bookmark & Share
---
User Comments
Be the first to comment on this post below!