Wake Up To Adventure In Jackson Hole, Wyoming
Tue, Aug 08, 2023 at 4:55PM
---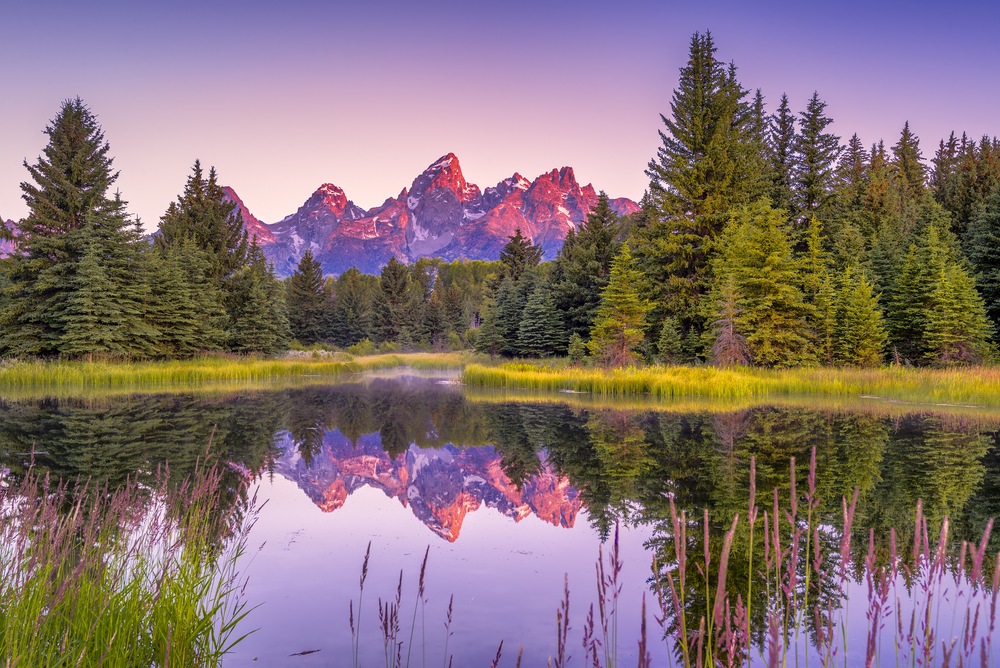 For much of the year, Jackson Hole is a winter wonderland: a charming western escape where you can ski, play in the snow, or admire the local elk (which are the closest many of us we'll get to Santa's reindeer, anyway). But the serene, snow-laden landscape only tells half the story.
The Wyoming valley comes alive during the summer months. Here, you can go for a hike, stroll the charming downtown, or perfect your wake skills behind your Monterey Super Sport — all before taking in the vivid swirls of sunset reflected on the H2O below.
Ready to embark upon a one-of-a-kind Jackson Hole adventure this summer? Just read on — and gear up!
Get To Know The Local Terrain
Unlike the Great Lakes or Florida Keys, Wyoming's on-the-water scene may not be readily familiar to most boaters. So you may be wondering, What's it like there?
Jackson Hole is the name of a valley nestled among the Teton and Gros Ventre mountains — which, naturally, serve as a pretty gorgeous backdrop to your boating adventure! You can start with a small watercraft like a canoe or kayak on Snake River, which meanders past Jackson Hole and connects visitors to two popular area lakes: Palisades Reservoir and Jackson Lake.
When In Wyoming...
Both are beautiful lakes where you can cruise, wakeboard, or fish to your heart's content. But for serious thrills, you'll want to explore Jackson Lake — one of the country's largest high-altitude lakes, and a top spot for wakeboarding and waterskiing. (A pro tip: Due to that aforementioned altitude, the water gets chilly! So throw on a wetsuit under your life jacket for a comfortable ride.)
The natural majesty of the mountains that surround Jackson Lake can't help but inspire you to take your water sport skills to the next level, and there's plenty of room for that! The lake's large central channel is perfect for nailing your never-ending wake run — and perhaps setting a new personal record. You can also slow down for a leisurely cruise past the lake's many islands. Elk Island is the largest of these: a popular spot for camping, hiking, or just taking in the sweeping mountain scenery. Donoho Point, meanwhile, provides unparalleled views of the horizon — perfect for a break in your boating day when you want to kick back, relax, and get in touch with your natural surroundings. Bring lunch aboard your Monterey so you can enjoy a front-row seat to it all!
What's Biting?
Speaking of lunch, you can't go wrong with trout from one of the seafood restaurants that line Jackson Lake! Cutthroat trout is actually the state fish of Wyoming — named for a jawline marking that looks like a slash. If you want to do some fishing on your Monterey, cutthroat trout is one of the catches you might find at the end of your line. Others include mountain whitefish, Utah sucker, and many more.
Small-Town Charm
When you're not boating and splashing your way through the Cowboy State, you can slip into your land shoes and explore the small towns that surround Jackson Lake. Colter Bay Village is one such destination — ideal for recharging in a cozy cabin between fast-paced fun on the water. Jackson Hole itself was named U.S. News and World Report's No. 5 Best Small Town to Visit, and it's the place to be if you want to do some shopping while you're in the area. After all, you can't leave Wyoming without a cowboy hat from a local hattery!
There's nowhere quite like Jackson Hole — which means it's a must for your summer travel itinerary, whether you visit this year or make plans for the next.
---
Bookmark & Share
---
User Comments
Be the first to comment on this post below!