Achieve Cabana Vibes On Your Monterey Boat
Tue, Feb 23, 2021 at 3:55PM
---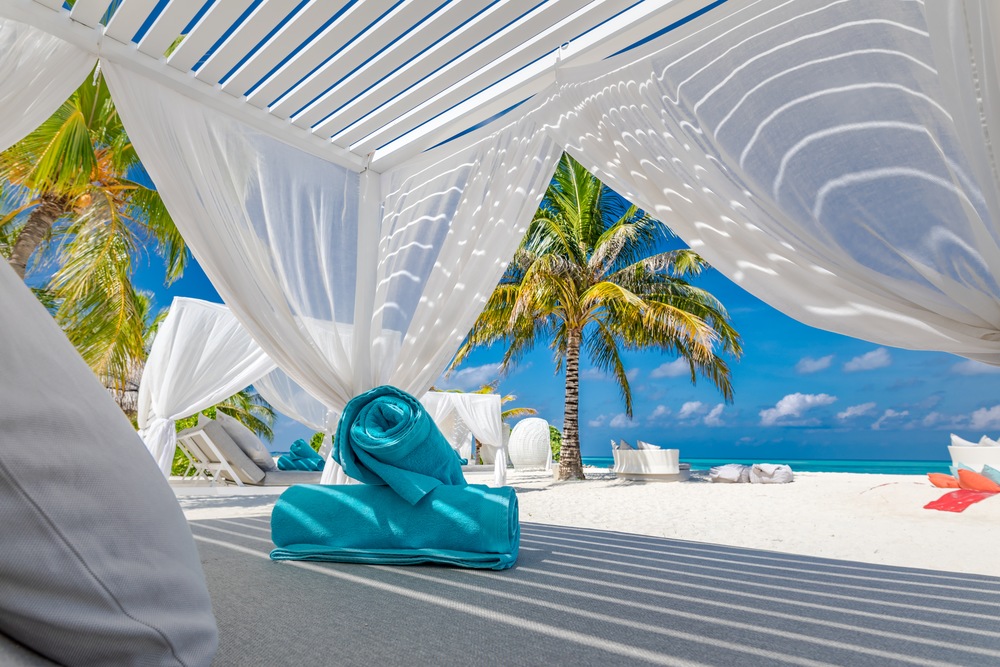 It may be some time before you return to your favorite beach resort – where you can spend long, lazy, sunny days under a cabana without a care in the world. Bring on the towels, drinks and delicious food!
But should you need a relaxing escape a little sooner (and of course, we all do), your Monterey offers everything you need for the cabana lifestyle on the water. Just read on to check out a few of our favorite ways to achieve total relaxation and cabana vibes right on your Monterey.
Opt for stylish retro towels
One of the easiest (and most fun) ways to turn your Monterey into a cabana-esque escape, is to go shopping! Start with luxurious essentials like plush towels – our favorite come in those classic, wide blue or red stripes, perfectly reminiscent of a retro beach resort yet timeless on the water.
Consider a towel warmer for extra warm, fluffy goodness
Why not go all out? Cabanas are all about pristine, worry-free living, so complete the experience with a portable towel warmer for your ride. Yes, it may be a small luxury, but it is sure to make a big impact on your on-board experience, especially when your sunny day of splashing turns to a cool afternoon and evening.
Dress up just for fun
With all of us continuing to spend lots of time at home, it can be fun – refreshing, even – to dress up for a special occasion, even if that special occasion is just you hanging out on your boat with the family! Now is a great time to throw on your favorite resort wear for a day of comfy, stylish lounging: Think navy nautical stripes, wide-brimmed hats and sunnies, plus boat shoes and a light sweater for when the afternoon and evening arrive with a cool-down. If you plan to do some swimming (and who wouldn't?) a lightweight cover-up is key as well for effortless splashing fun.
Enjoy your favorite food and refreshments in style
Take your on-the-water food and drink game to the next level with cabana-inspired touches – fresh bottles of OJ or fruit-infused sparkling water in an insulated, ice-filled tub or bucket, for example, or dainty finger sandwiches and plenty of snacks to refuel when you're ready. A few other food picks we love are a vibrant fruit salad, ceviche or a classic shrimp cocktail. These picks all work best while cool, so you don't need to worry about preparing them before digging in – of course, if you do have something more elaborate in mind, many Monterey models come appointed with cabin galleys, cockpit grills or other easy ways to whip up something delicious.
Pick a fun and functional spot
If you've ever stayed at a beautiful beach resort, you know the importance of scrambling to reserve the perfect pair of pool chairs or cabana – ideally one with a great view and proximity to all the amenities. The same idea holds true for finding your perfect cabana spot on the water. A gorgeous sandbar is a great place to idle and unwind, as is any patch of H2O next to a convenient marina where you can refuel – both literally and with ice and snacks, too. And it doesn't hurt if a waterfront café that offers takeout is nearby, too, of course…
Read up
For the true cabana experience, you will likely want to stay relaxing on your Monterey for as long as the sun is out! Be sure to bring some diversions to enjoy for those stretches of chill time between splash sessions. We love bringing books and magazines because when you're out by the water, you are free from the distractions that keep your inner bookworm at bay back on land. From mystery thrillers to the aptly named genre of "beach reads" (known for leisurely yet compelling content that keeps you flipping from page to page), there are plenty of ways to read up on your cabana vacay.
Add some shade…
In addition to slathering on the sunscreen, you will also want to provide some cool, comfortable shade for your on-the-water cabana experience. There are endless ways to do this on your Monterey boat – depending on your model, these might range from Bimini top and curtains to handy bow shades and other stylish, functional cover options. Quality coverage gives you and your crew the shade needed to spend all day outside, which is what cabana living is all about.
(Tip: Even our sleekest Monterey models are designed with your comfort in mind! So whether you're on a family ski boat or sport yacht, luxury, flexible features like cockpit tables, convertible seating and other built-ins are sure to make your day of chill perfect. Check out our complete lineup to learn more about what makes each model so special!)
… and don't forget the cabana tunes
Finally, you will want to be sure to add some of your favorite beachy cabana tunes! You can effortlessly play music from your Monterey's sound system or a handy outdoor speaker. From light, breezy yacht rock to classic tropical instrumentals, there is no shortage of beachy vibes to listen to as you unwind.
Fun fact: Did you know that "cabana" and "cabin" both come from the Latin root? Today, we might associate cabanas with the pool and ocean, and cabins with woodsy lake vistas – but at their heart, both words describe the kind of place where you can kick back, relax and enjoy nature in total comfort! Here at Monterey, we can't get enough of that.
Well, there you have it. When the weather warms up, your Monterey will be your go-to destination for ultimate cabana-style fun!
---
Bookmark & Share
---
User Comments
Be the first to comment on this post below!