9 Little Luxuries To Add To Your Monterey Boat This Summer
Mon, Jul 26, 2021 at 8:25PM
---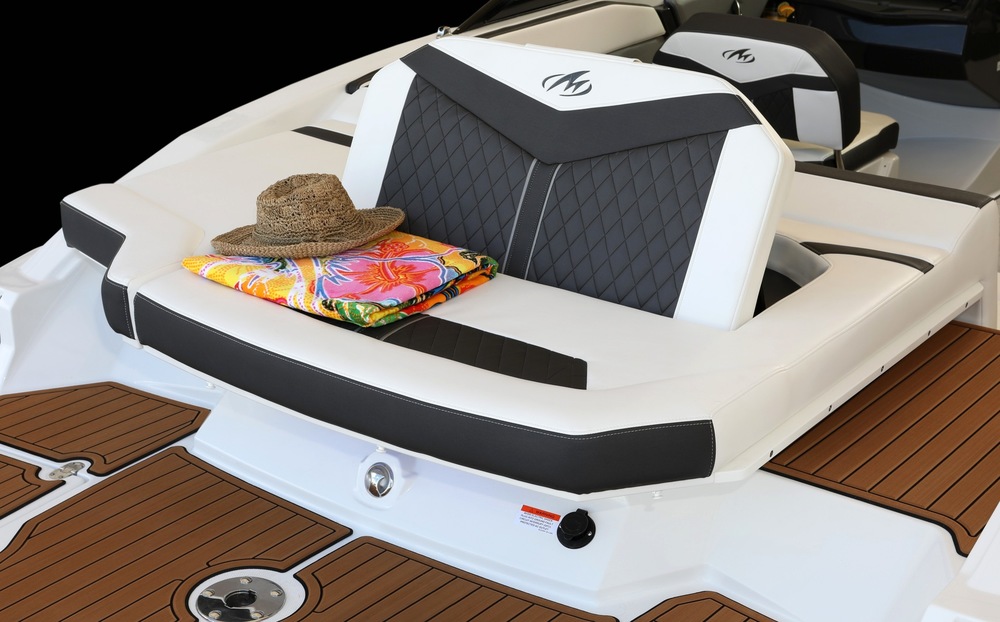 Who says you need to wait for the holiday season to gift yourself — and your Monterey Boat — with something special? Whether you're the proud owner of a brand-new ride, or simply want to add crafted touches to make your summer cruising that much better, little luxuries can make a big splash on deck and beyond. Here are some of our favorite items and accessories to add to your boat this season!
High-Quality, Personalized Towels
If you spend a lot of time out on the water, you know that nothing beats a warm, fluffy towel after a day of splashing fun — especially when the brisk sunset breeze starts to kick in, and you're still on the water. This summer, why not gift yourself and your fellow passengers with high-quality, personalized towels? Each passenger can have one with their own name on it, or perhaps all of the towels will sport the name of your boat. Either way, a fresh new set will help the whole crew feel as though they've stepped into a luxury yacht cruise — because even if you're only technically gone for a few hours, the leisurely lifestyle will carry on well after you've disembarked for the day.
Bonus pick: an airtight bag to store spare towels in your Monterey's built-in storage compartments.
Comfy Throw Pillows
Your boat is so much more than a boat — it's your floating home away from home! Christen it as such with comfy, colorful throw pillows that you might have thought (until now) were best reserved for your living room or patio at home. This small, luxurious touch will help you and your guests feel even more comfortable and at-home, wherever you may cruise this summer!
Battery-Powered Lantern
For an added dose of ambiance — or simply spare lighting when sunny summer days fade to cool nights on the water — you can't go wrong with a battery-powered lantern or string lights to place around the cockpit.
Galley Gadgets
Just like you likely have your tried-and-true favorite kitchen gadgets back at home, so too can you use helpful galley tools for delicious meals al fresco! Look for tools with multiple uses for easy storage on board — for example, a vibrant serving dish that collapses into a handy container; a set of eco-friendly bamboo silverware; a serving spoon that doubles as a bottle opener; the list goes on!
Novelty Inflatables
When your travels take you through sandbars, flats, island beaches and other fun places to kick back and relax, you'll want to be prepared! Novelty inflatables in fun shapes (think a delicious refreshment, slice of pizza, dazzling ring, or playful dolphin) give you a way to sport your unique, playful style on the water while having fun with the whole crew.
Oversized Bag
Make your breezy cruising days even breezier with the help of a stylish oversized bag — a place to store everything from kids' water toys to sunnies, SPF, those new personalized towels, and your reading list of books and magazines to catch up on along the way. Many popular beach bags even double as a cooler, so you can make your trip that much more effortless.
Book Stand Or E-Reader
Speaking of books and magazines…
A portable book stand (or perhaps an electronic, glare-free E-reader) will give you a better way to connect with your novels, magazines, and more on the water! Relax and study up in total comfort on your Monterey, aka your floating library.
A New Hat
What better way to lean into the luxurious on-the-water lifestyle than with a new hat? Whether it's a personalized golf cap or wide-brimmed, resort-style hat, these stylish accessories will give you protection from the sun when it matters most. Pair with your favorite shades and sunscreen and you're good to go.
Pup Accessories
The dog days of summer are officially here — and you're not the only one feeling the heat! Whether it's a portable fan or personal cabana, don't forget to pick out accessories that will help your four-legged friend enjoy the ride in comfort and style.
We hope that these ideas help you take your Monterey adventure to the next level this summer! Here's to lux, leisurely adventures on board and off.
---
Bookmark & Share
---
User Comments
Be the first to comment on this post below!