Late-Summer Sweets For Your On-The-Water Adventure
Thu, Aug 26, 2021 at 5:00PM
---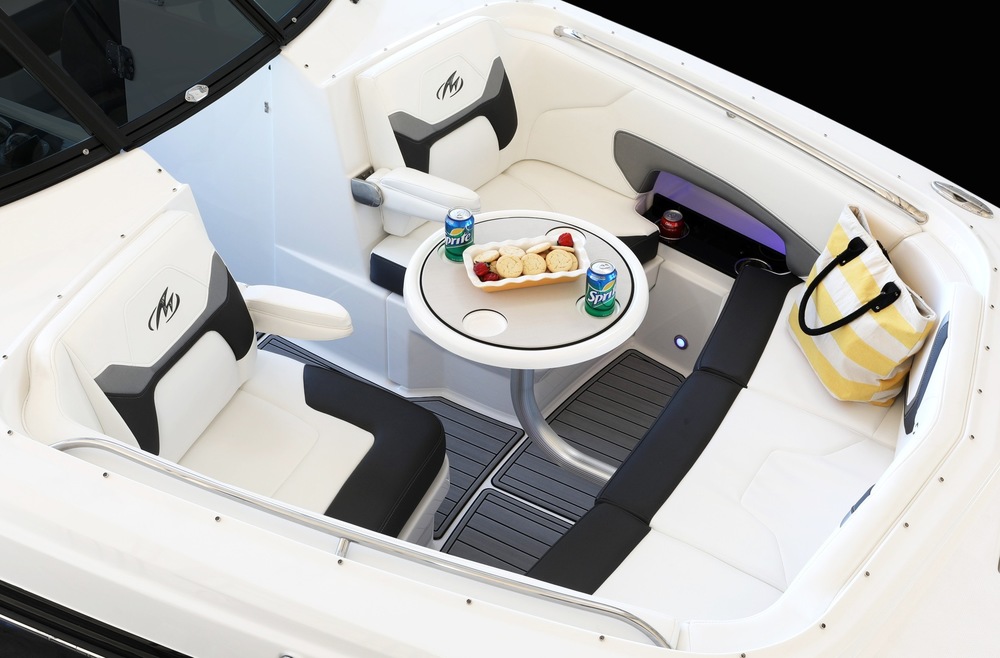 Soon, we'll be swapping our fresh flowers for friendly-faced pumpkins, our sandals and board shorts for cozy boots and fall flannels. Yes, summer may be winding down, but it's not gone yet — and we here at Monterey Boats think every last second is worth savoring! One great way to make these late-summer days last a little longer is with sweet, refreshing treats that add delicious flair to your next trip out. Just read on to see some of our favorite treats to try!
Prepare Your Ride
Before digging in, make sure your ride is ready to go — fortunately, if you're cruising with Monterey, your model likely already has built-in features (from a handy cooler under the cockpit cushion, to a stylish wet bar and beyond) that will help you enjoy your splashing sweets to the fullest. Some boats even have grill capabilities that will help you add a smoky sweetness to your go-to treat. Just check out our models to see the full list of features for each ride!
In addition to your Monterey's built-in conveniences, you might also want to add an extra bucket with ice for easy serving, spare spoons, and wipes for easy cleanup.
S'more Ways To S'more
Now, onto the sweets! One of the most beloved summertime snacks is, of course, the s'more — and while a classic preparation with marshmallows toasted by the fire works perfectly, it's not the only way to dig in. For on-the-go families, a s'mores-inspired trail mix is one great way to go. Simply blend mini marshmallows, chocolate chips, and graham cracker pieces in a bowl and bag up! You can also mix in pretzels and colorful chocolate candies for added flavor and texture.
Another tasty option is a s'mores-inspired dip, where you cook marshmallows atop a bed of lightly melted milk chocolate and dip graham crackers, like you would chips in queso or salsa.
Grilled Watermelon
Looking for new ways to use watermelon before summer's over? Grilling might be the best way to go! Served up with feta cheese and a dash of lime juice, this easy treat transforms everything you thought you knew about watermelon — for the better.
Sweet Nachos
Whether you're a parent looking for a fun dessert idea, or simply want to tap into your inner child, sweet nachos are just the ticket! The best part? You can easily assemble this dish at home and bring it aboard for a sweet, satisfying fuel-up on the water. There are no rules when it comes to this playful dessert — it's just like nachos, but sweet instead of savory — but one great place to start is with a bed of homemade cinnamon-sugar chips, which you can make at home by crisping up flour tortillas and dusting them in a cinnamon-sugar blend. Chocolate chips and colorful candies, strawberries, and vanilla ice cream are just a few of the tasty toppings you might like to add.
Fruit Skewers
For an easy, wholesome treat, fruit skewers are an effortless go-to. Simply assemble a pattern of vibrant fruit — like strawberries, cantaloupe, honeydew melon, blueberries, you name it — on a stick for easy serving on warm afternoons.
Homemade Ice Cream Sandwiches
Sometimes, a DIY approach makes your favorite dessert even better —which is why homemade ice cream sandwiches make such a great addition to your cruising menu! You can find your favorite recipe online, but this treat basically involves cooking up two thin brownie sheets (the "bread" in your ice cream sandwich) and spreading your ice cream of choice in between. You can save this in the freezer and bring it along to enjoy on board, or while kicking back on the beach!
We hope that these ideas help make your next Monterey adventure even sweeter! And of course, even after summer is over, these handcrafted treats will deliver a taste of the season long after you've returned to land.
---
Bookmark & Share
---
User Comments
Be the first to comment on this post below!