CSI Awards for Monterey Boats in Three Categories
Wed, Mar 13, 2019 at 10:15AM
---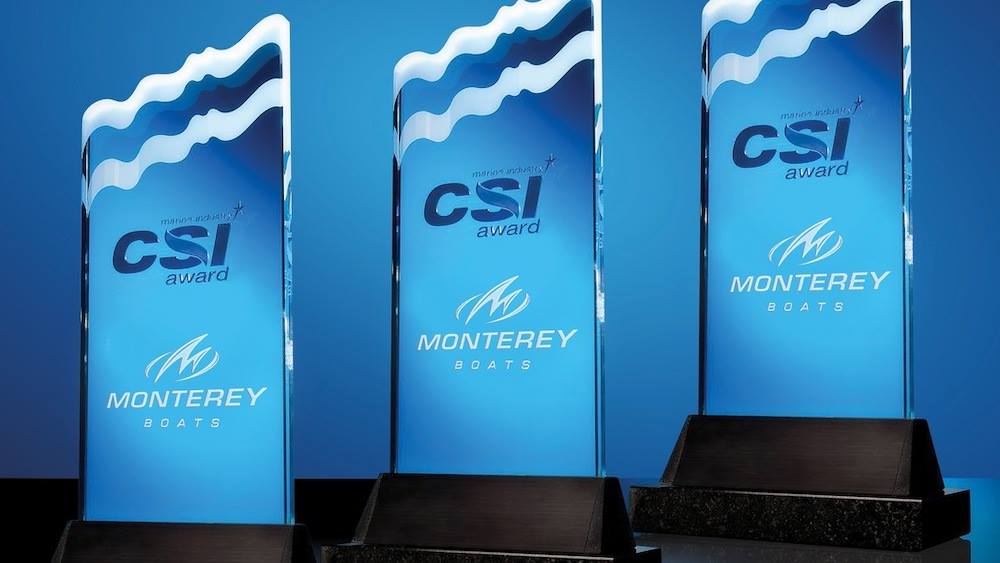 The National Marine Manufacturers Association for the marine industry has recently awarded Monterey Boats some of the most prestigious titles, and we couldn't be more honored.
For the 14th year in a row, Monterey Boats was given the Customer Satisfaction Index award for its continued service to customers and how the company regularly looks for ways to improve the customer experience. This award is given to manufacturers where customers' satisfaction is independently measured with a rate of 90% or better in service and overall satisfaction. The measured results come from customers themselves who own or use Monterey boats. This award was handed to each category of boats that we make, which is why we are so incredibly excited and very honored as well.
The company owners, chairman, design and engineering teams are what make these awards possible for Monterey Boats. Our Co-Chairman, Charles Marshall, recently said, " We owe our success to the outstanding commitment to quality and design provided by not only our research and design team but also by our partners and skilled team members."
Here is a glimpse into how we can achieve these prestigious awards, which come from a long history of creating products that boaters both love and depend on.
Our Rich History
For three decades, Monterey Boats has been working relentlessly to provide the best experience possible on the water. Much of the success of the company has come down to choosing the right research and development teams and holding on to some of the best designers and engineers in the marine industry.
As an independent manufacturer in sports yachts, speed boats, and supersport boats; the company elevates the marine industry by innovating their way through time. The independent status ensures that this can be done and that we can adjust to trend and market adjustments quickly to better serve our clientele.
The company has more than 500-boat builders who have helped Monterey Boats generate over $1-billion in sales over the lifetime of the brand. As these boats hit markets around the world, Monterey Boats has sufficiently earned a place in the global marine market.
Monterey Boats
Within the company, we break down our vessels into 6-categories. Here is a quick snapshot of each of these vessels and their basic specs.
The Monterey Boats Sport Yachts

These vessels range from an LOA of 29' - 35' and are loaded with luxury details and sophisticated designs. They are also equipped to perform exceptionally on the water boasting power rates of 430hp to 860hp.
Monterey Boats Super Sports

This line of vessels ranges from an LOA of 21' - 37' and range from 300hp to an incredible 1200hp power performance. There are 11-different models to choose from depending on the experience the captain and crew are seeking.
Monterey Boats Surf Edition

There are three different Surf Edition vessels to choose from which are explicitly designed for wakeboarding, waterskiing, wakesurfing and anything else anyone cares to pull behind the boat.
Unique M-series vessels can also be found in our other boat classifications but are designed for those looking for versatility on the water. We know that boaters need comfortable vessels for their families but might be super serious about wakeboarding as well. These boats do it all.
Monterey Boats Sports Boats

This classification focuses on power and performance for those who need a fast boat that can handle serious play on the water.
These boats are designed to offer a boater, sports performance coupled with luxury amenities. There are currently half a dozen options in our outboard category which range in LOA from 20' to 37'.
These are the reasons why Monterey Boats win Customer Satisfaction Index awards year after year. From performance and style... to options and luxury amenities, we cover diverse buyer needs and back that up with customer support, service, and protection.
---
Bookmark & Share
---
User Comments
Be the first to comment on this post below!