Wake SUP To A New On-The-Water Adventure
Fri, Sep 01, 2023 at 4:58PM
---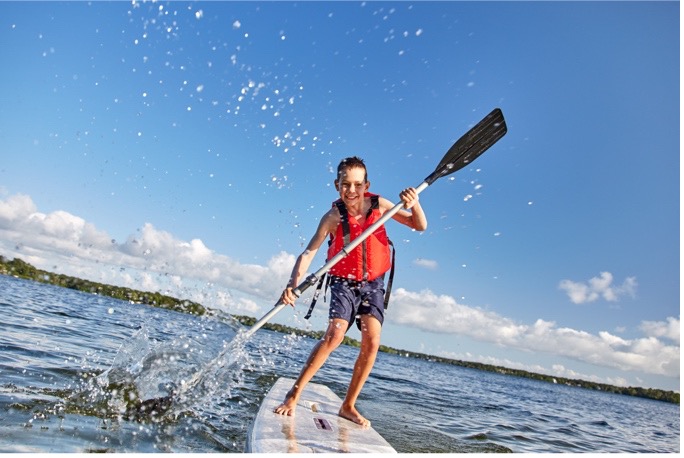 If you've ever been peacefully stand-up paddleboarding along your local lakefront, you know that the ripple effect of a boat's wake can throw you off course — testing your balance as you try to stay upright above the glassy H2O.
But what if you were intentionally riding the wake? And instead of trying to paddle away from the frothy water, you were using it to fuel a truly thrilling ride?
Well, some on-the-water adventurers do exactly that! Just like there's wakeboarding and wakesurfing, there's also wake SUP — that is, wake stand-up paddleboarding. Yes, it's a mouthful! But it's also a fun way to switch up your water sports routine using gear you might already have on hand — especially during these last days of summer, when it's time to make splashing memories that will hold you over until warmer weather returns.
Ready? Just read on as we share a few tips for enjoying wake SUP behind your Monterey Super Sport boat.
A Historic Homage
While this hybrid water sport may seem new, it actually hearkens back to some of the earliest forms of surfing. Peru's traditional caballitos de totora, for example, were used by ancient fishermen to navigate the Pacific waves and collect their haul. If you look at pictures of the historic vessel, you might be surprised to find that it looks a lot like a stand-up paddleboard, complete with a paddle-esque device for maintaining balance on board.
Gear Up
The good thing about getting into wake SUP is that you don't need to invest in a whole garage full of new gear to get started. If you have a stand-up paddleboard of any kind, you can use that behind your boat's wake. (However, it's worth noting that if you develop a serious passion for this hobby, you can level up by purchasing a board that's specifically built to be wake-friendly. It's the best of both worlds!)
You'll also want to wear your personal floatation device, of course, and may want to slip on a pair of polarized shades to give you a better view of the wake.
Time For A SUP-er Adventure
After you've geared up, it's time to hit the water! As the folks at Boarders Magazine demonstrated in one wake SUP video, getting started isn't too different from the beginning of a wakesurf session. That means you begin by holding onto the tow rope as your Monterey gets to speed, then releasing it once you've reached a comfortable momentum. It never hurts to start slow, and you'll want to practice wake SUP on a quiet corner of the lake — ideally earlier in the day, so you're not thrown off by competing wakes.
As you might expect, this sport is certainly an arm workout! However, you won't need to be paddling non-stop. Rather, as videos of fellow wake SUP-ers show, the ideal wake SUP run happens when you settle into a comfortable rhythm of alternating between paddling and riding the wave, as you would wakesurfing. It's a tricky balance — but once you achieve it, you're in for a thrilling ride.
Of course, all the action takes place on a paddleboard, which is longer than a traditional wakeboard — so if you're not yet familiar with that craft, it might be helpful to spend some time paddleboarding on still water away from a wake. Over time, though, experienced paddleboarders may find that this hybrid sport is the perfect way to level up their game.
From the comfort of your Monterey, there's no shortage of fun ways to hit the water! Be sure to share your best action shots from wake SUP or any of your favorite wake sports — we can't wait to see your skills.
---
Bookmark & Share
---
User Comments
Be the first to comment on this post below!