Welcome Fall With Whale-Watching Wonder
Fri, Sep 01, 2023 at 4:40PM
---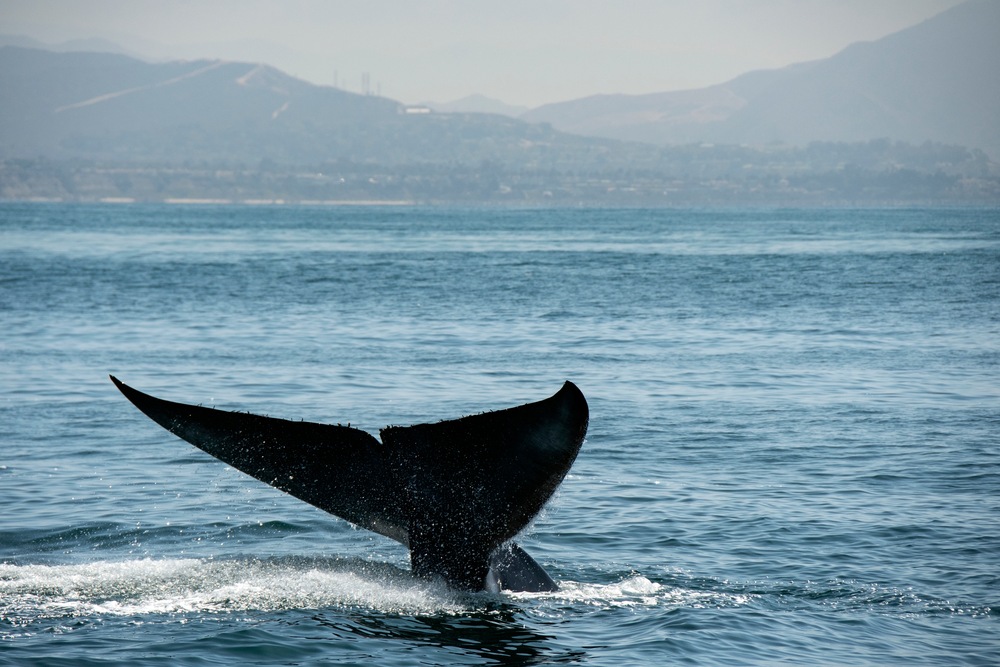 When you think "fall," the usual suspects probably spring to mind: changing leaves, cozy sweaters, pumpkin patches, and a crisp chill in the air.
Of course, that idyllic version of fall doesn't apply to the entire country. But even in places like Southern California, where traditional signs of the season are slow to appear (if they do at all), there's still plenty to love about this time of year — like the chance to witness nature's most majestic creature in action.
Early fall is an opportune time to spot blue whales off the coast of cities like Newport Beach. While that might not sound like a huge deal, it definitely is — because blue whales are, well, huge. The blue whale is actually the largest animal on Earth, according to the World Wildlife Fund. Need some reference on what that looks like, exactly? The blue whale can grow nearly 100 feet long, weigh up to 400,000 pounds, and has a car-sized heart.
In addition to being the largest animal on Earth, WWF says that the blue whale is the loudest, too, with a low-frequency vocalization that can call to other blue whales hundreds of miles away. It would be hard to detect the booming sound from above water, but there are other ways to detect a blue whale in the wild — perhaps even from your Monterey Super Sport Boat. Just read on to learn more!
A Big Splash
The most obvious way to clock the presence of a blue whale is, of course, the sound (or sight) of a big splash on the water indicating that a whale has just breached. And if you spot such a moment, you should consider yourself very lucky! But there are actually several signs that could indicate a whale's presence even earlier than that. (Tip: These signs work for the majestic blue whale, but will also help you identify other whales on the water.) These include:
Spray from a whale's blowhole.
Birds feeding above the surface — because if they're snacking, a whale might be, too.
Data points from NOAA trackers. (Did you know that you can use apps to track a whale you've spotted, and to see where others have spotted them as well? This might be able to help narrow down your search, or give you an idea of where to start.)
To Catch A Glimpse...
You don't have to be going whale watching, per se, in order to spot a blue whale. That is, you might just be enjoying a leisurely day on the SoCal coast when a whale surprises you on the horizon! Be open to that possibility by wearing a pair of polarized shades that help you see the water clearly. Experts also recommend not looking too hard. It might seem counterintuitive, but you don't want to fix your gaze on one patch of water if there's a whale just outside of your peripheral.
Exploring Blue Whale Territory From Your Monterey
The chances of spotting a whale — much less the beautiful blue whale — depend on many factors that aren't always in your control. However, you get so much out of a Monterey trip that it doesn't really matter whether or not you had that specific encounter on the water!
Take Newport Beach, for example. The coastal topography here makes it very fun to explore — even by SoCal standards, which is saying something! The vibrant, blue water of Newport Bay is home to a handful of islands, the most prominent being Balboa Island — where you'll find a charming community filled with waterfront homes, restaurants, and walking paths worth enjoying during a midday break. It's also a great opportunity to do some "window shopping" for your dream home. After all, who wouldn't want to live in an environment where you and your neighbors have docks for backyards?
From the colorful character of Newport Bay, you can venture out to the greater Pacific Ocean — and cruise west toward the Channel Islands, or south toward the dramatic coastal cliffs of Laguna Beach. Wherever you roam, expect jaw-dropping views in every direction.
---
Bookmark & Share
---
User Comments
Be the first to comment on this post below!