Cruising Lake Jocassee & The Salem Of The South
Wed, Sep 20, 2023 at 11:30AM
---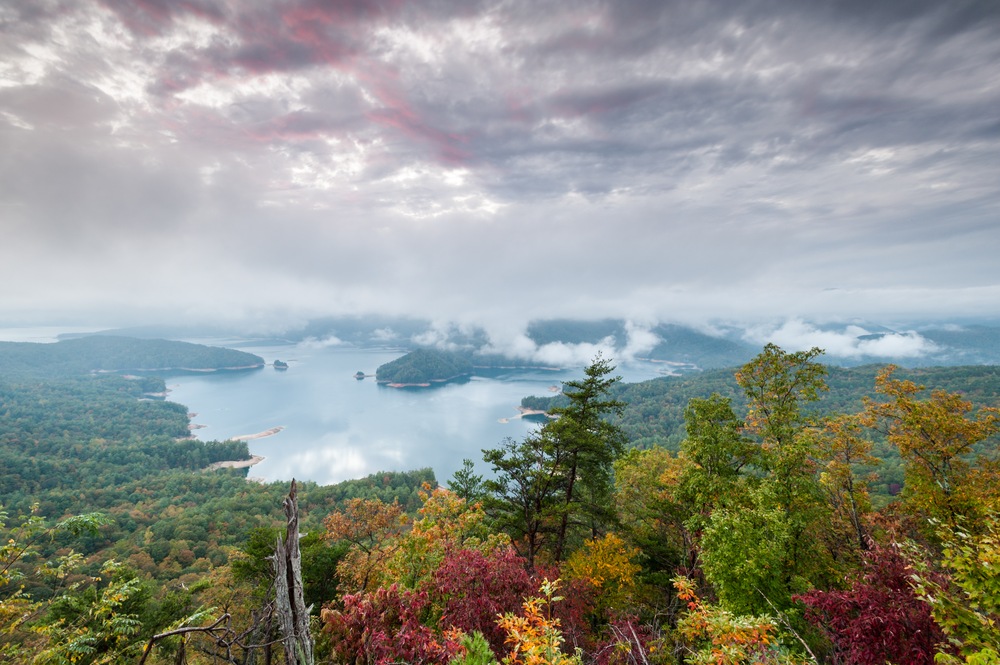 If you love the spooky side of fall, you might have Salem, Massachusetts on your to-visit list — and it makes sense! The New England town is known for its historic witch trials, and to this day maintains a storied sort of charm for locals and visitors alike. But if you're looking for a place off the beaten path to bring your Monterey M Series Boat this Halloween season, have you considered the Salem of the South?
Lake Jocassee in Salem, South Carolina may be closer to the Low Country than to witch country, but it boasts its share of unique haunts, too — not to mention an on-the-water scene that routinely makes state- and nation-wide "best-of" lists! Just cruise on to learn more about some of the fun things to do during your fall visit.
What's In A Name?
Though the name "Salem" might have a creepy connotation today, the South Carolina town was established in 1766 and named after the Hebrew word for peace, "shalom," per Britannica.
And indeed, the town is a serene retreat: quietly nestled at the foothills of the Blue Ridge Mountains, flanked to the east by both Lake Jocassee and Lake Keowee.
If you're looking for fast-paced water sport thrills, Lake Jocassee is a natural first choice. The reservoir's expansive center channel makes it easy to stake out a glassy spot on the water and go for a long wakeboard run — made even more refreshing by fall weather slowly but surely settling in over the Carolinas, where October temperatures routinely hit the 70s.
Lake Keowee, on the other hand, is perfect for those days when you want to slow down and get even closer to the water. The lower reservoir is known for its more jagged shape, with twisty creeks diverging from the long center channel — the "spine" of Lake Keowee. Those creeks are prime for stand-up paddleboarding, canoeing, kayaking, and other activities you can pair with your Monterey Boat for a truly eclectic adventure.
Exploring A Local Haunt
Salem, South Carolina might not be quite as spooky as its neighbor to the north — however, it does have one interesting feature for Halloween visitors! As Blue Ridge Outdoors notes, the reservoir (whose name comes from Cherokee for "Place of the Lost One") was constructed over the site of an old town. Structures like an old bridge and lodge are sometimes visited by experienced divers — a trip made even better thanks to the clear, sparkling water Lake Jocassee is renowned for.
Colorful Cruising
Speaking of that pristine H2O, it's stunning at any time of year — but it pops especially during the fall months, when it's complemented by the changing hue of the lakefront leaves. Blue Ridge foliage typically reaches peak vibrancy in October, so a Halloween-themed trip is the perfect time to experience Salem in all its glory.
Lake Jocassee's vibrant waterfront proves that there's plenty of leaf-peeping to be had in the southern states, too! Hop on your Monterey and enjoy the best of both worlds: fall fun and fast- paced boarding thrills. It doesn't get much better than that!
---
Bookmark & Share
---
User Comments
Be the first to comment on this post below!