5 Summer Staycation Ideas for Boaters
Tue, Jun 02, 2020 at 5:55PM
---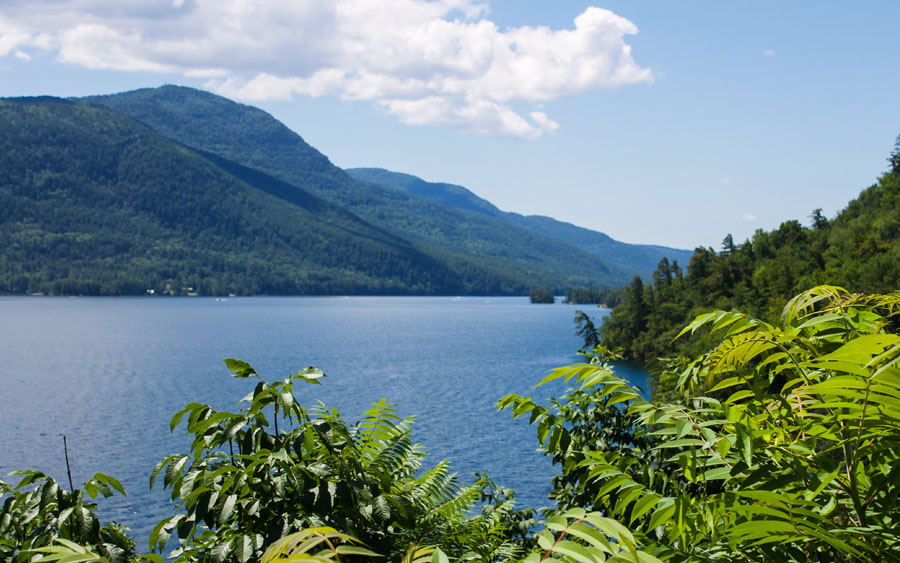 The ideal activity for boaters staying close to home this summer? An on-the-water staycation! Neighborhood lakes and coastal waterways across the country prove that you don't need to travel far from home to enjoy a safe, sunny boating adventure with family.
Whether you live out west, down south or along the Atlantic shore, chances are there's a beautiful boating destination right in your backyard. Today, take a look at our picks for some of the best staycations in five sun-loving states. (Don't see your state? Don't worry! This is just a small selection of staycation opportunities to explore. There are Monterey dealers and on-the-water thrills to discover across the globe, and we're here to help you find them.)
Lake Tahoe
From lush, forested shores to picturesque rock formations and shimmering, crystal-clear water wherever you look, it's easy to see why Lake Tahoe is a beloved spot for boaters in California and Nevada alike. Discover the thrill of cruising on the lake's wide-open channels, or take a more meandering pace as you explore its charming shoreline or relish in the tranquility of hidden gem hideaways, like the aptly named Secret Cove. And don't forget to bring your snorkel gear! From an on-board family picnic to water sports fun and beyond, your Monterey gets you closer to it all.
Lake Tahoe is currently open to boats with "Tahoe Only" inspection stickers, to help keep the water safe for all who call it home, making it an ideal spot for area boaters looking for local thrills in their own backyard.
Flathead Lake
Dazzlingly blue, clear water defines the cruising experience at Montana's Flathead Lake—which is, by surface area, the largest freshwater lake west of the Mississippi. Nestled among Montana's Mission and Salish mountains, this glacial lake is the ideal staycation spot for local boaters who crave some natural serenity. Cruise along the scenic shoreline—perhaps even enjoy some kayaking or stand-up paddle-boarding atop the sparkling H2O—then, pick up the pace with some thrilling waterskiing across the lake's central channel! There's plenty of room to explore every interest—and plenty of time, too. Here on Flathead Lake, you can't help but feel as though you've stumbled upon an untouched escape, another world altogether, even if home is right around the corner.
Lake George
Forest scenery and rolling Adirondacks frame the idyllic setting of Lake George, one of New York's most beloved lakes. For area boaters, it offers an escape from the everyday—a place to kick back and relax on an aptly named Adirondack chair, cruise past lush island formations or enjoy wakeboarding and waterskiing fun!
Biscayne Bay
Miami's Biscayne Bay is often seen as a bustling on-the-water counterpart to the action of South Beach and beyond—but even when summer's a little quieter along the South Florida shore, there is still plenty to discover on this beautiful bay. Enjoy city views from the comfort of your Monterey as you venture out to savor a serene escape, or stick close to shore and get in some serious flats fishing fun. You can meander along mangroves and scan the horizon for playful shorebirds and other animals, too. Even if you're a South Florida local, the blend of natural beauty and lux skyline views will remind you of your favorite island resort getaway.
Lake Norman
North Carolina's Lake Norman offers something for every local boater to enjoy: from a pristine expanse for wakeboarding and water sports, to quieter, winding channels that give you the opportunity to go your own way and chart a scenic course. The lake is a favorite of Southern boaters and is typically known as a popular place to raft up and enjoy a summer weekend with friends—but now, as we strive to maintain safe social distance, there is still plenty to enjoy with your family on board.
Monterey tip: Check with your local lake or waterway's official website to determine the latest safety regulations for your unique area, as you may encounter changed operating hours, closed ramps and other restrictions. And as always, practice smart social distancing on the water to give you and your fellow boaters peace of mind along the way.
We hope that today's guide helps you enjoy summer fun close to home! Your Monterey is a front-row ticket to all that nature has to offer, so hop aboard and make some meaningful memories today.
---
Bookmark & Share
---
User Comments
Be the first to comment on this post below!