Storage Solutions for Your Monterey Boat
Thu, Sep 10, 2015 at 2:20PM
---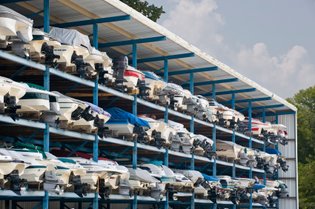 While you're on the water, your Monterey is a source of great fun and enjoyment. But what about when it comes time to head back to land? Around this time of year, many boaters must find a place to store their boat for the fall. If you're a new boat owner, or simply want a to consider newer, better options, check out the following guide to find the right storage solution for you.
Marina storage
Your local marina is probably a hot spot for fellow boaters and boating enthusiasts who like to get together and prep for fun on the water. You may find a party or barbecue going on at or near your local marina—as well as some great, dependable storage! Marina storage is the ideal option for many boaters since marina slips come with amenities like water, electricity, and internet/TV connections. Marinas are also especially convenient for weekend boaters—just drive down to the marina, park your car, and jump on board! Keep in mind that if you're paying for a boat storage option, marinas are typically less expensive than indoor facilities.
Indoor storage
For a (usually) higher price, you can store your boat at an indoor storage facility. If you live by a marina or coastal area, there's probably one not too far away. These types of facilities may offer added amenities such as climate control (as well as the ones you'd traditionally find in a marina, such as electricity and washing stations). An indoor storage facility may be the right option for you if you know you're going to be away for a long period of time, or if you want to protect your boat from storms and bad weather.
Home storage
For many boaters, the best (and most cost efficient) option is simply storing the boat in the home's garage, driveway or carport. If you have the space to accommodate your boat, this can be an especially good option since you will be able to take your boat out easily and won't have to pay for the security or amenities other storage facilities offer.If you do decide to keep your boat at home, you'll want to store it on a trailer to keep it elevated and, of course, make it easier to "roll out" whenever you take trips to the water. Keep in mind that, if a storm or bad weather does occur, you may want to keep your boat in the garage or at least covered up with a boat cover. Even if it's in the garage, a boat cover can provide easy protection from dust and any critters that may find their way inside.If you're anything like most boat owners, your boat is your baby! You will do almost anything to keep it safe and running at its best potential. We recommend visiting a few storage facilities and weighing your options before settling on the best one for you. And remember—whicheverstorage method you choose, you may decide to supplement that storage with your own added protection (like a boat cover).
---
Bookmark & Share
---
User Comments
Be the first to comment on this post below!