Shrimp Ceviche and Floating Fine Dining
Thu, Aug 06, 2020 at 3:30PM
---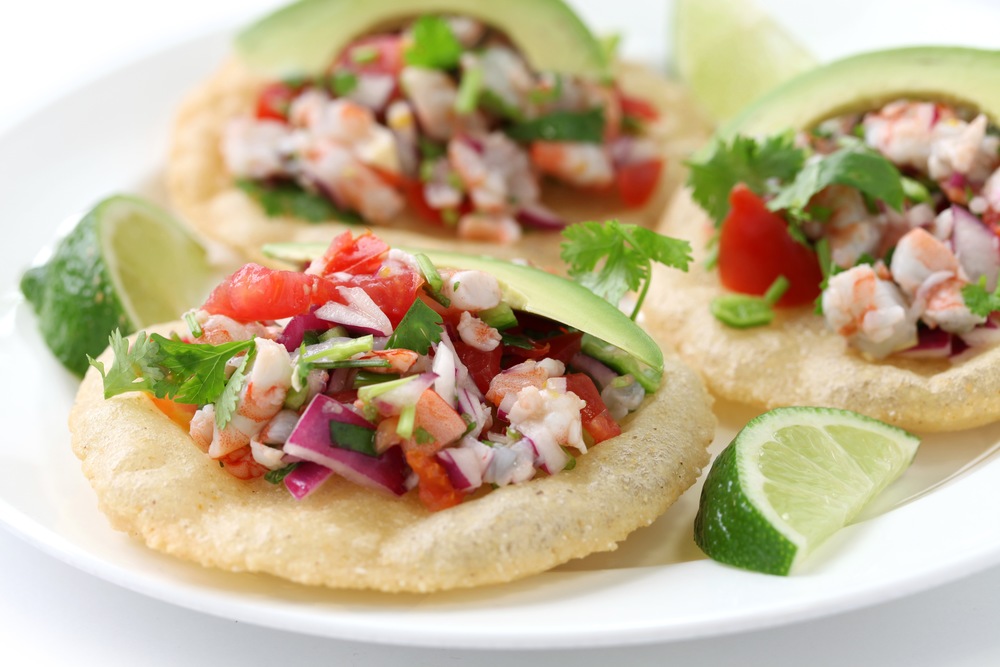 There's nothing better than a relaxing day on the water—except, maybe, a relaxing day on the water capped off with a flavorful seafood dinner and beautiful blue views! In our book, no restaurant compares to a meal made and savored aboard your very own Monterey. Take a look below as we share a simple recipe for one of our favorite, crowd-pleasing seafood dishes—refreshing shrimp ceviche—and tips for enjoying on the water.
You will need…
- 1 lb. peeled, cooked and cooled shrimp (though authentic ceviche typically calls for raw seafood that is effectively "cooked" by lime juice, we find cooked shrimp to be just as delicious and a little easier for first-time chefs!)
- 1 large red onion
- 1 seeded jalapeño
- 1 large tomato
- 1 medium avocado
- ½ cup fresh cilantro, chopped
- ¼ cup freshly squeezed lime juice
- ¼ cup freshly squeezed lemon juice
- Salt and pepper to taste
To prepare…
Chop your shrimp, red onion, jalapeño, tomato and avocado into approximately equal-sized pieces (about ½) inch.
Add to a bowl with lime and lemon juice, then mix together.
Cover and cool in the fridge for at least one to four hours before serving, giving your ceviche time to marinate and become a truly refreshing treat!
Enjoy solo as a delicious side (consider it a branching-out from traditional potato or pasta salad), or dig in with tortilla chips or tostadas.
One of the things we love about this fresh, effortless shrimp ceviche is that it can be prepared with ease at home before you head out for a day of cruising! Or, pick up your ingredients on the go and chop away in your Monterey galley. Either way, on-board amenities make it easy to chill your creation and serve it up when everyone is ready to dig in.
(Tip: Pairs best with the ocean breeze and some quality company!)
Pick the perfect venue
When you're enjoying some on-board dining, you can choose the perfect backdrop for your meal—no reservations required! Throw on your boating best for some special flair (think comfortable linens, shades and breezy button-ups) and cruise to your favorite marina, scenic beachfront, lake or intracoastal waterway. Or pick a comfy spot on the sandbar and soak in the sea breeze as you dine!
Dine in style and comfort
Wherever you bring your boat for dinner, your Monterey is sure to help you enjoy the experience with all the style, comfort and convenience you crave! On some boats, dining is an afterthought—on your Monterey, though, it's a treasured pastime we have planned ahead for with on-board amenities like spacious dine-in galleys (on the 335SY, for example, you will find all your go-to kitchen conveniences in one streamlined station);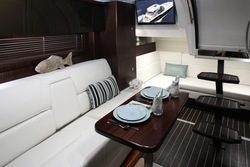 or the gorgeous cockpit dining space on our 385SE, where you'll find a relaxing table and chairs, wet bar and grill for fresher-than-fresh flavors whenever cravings call!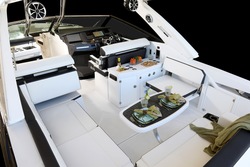 Whatever Monterey you make your own, you can craft a dining experience that is perfect for you and your family.
What's your favorite way to dig in on the water? Let us know, and be sure to share your Monterey culinary creations with us on social media!
---
Bookmark & Share
---
User Comments
Be the first to comment on this post below!