Shrimp Scampi in a Flash
Thu, Oct 17, 2013 at 12:00AM
---
The next time you're in a rush to prepare dinner, try out this simple recipe for delicious shrimp scampi! Even though it tastes great using either freshly frozen shrimp, or fresh shrimp, we always recommend using the freshest shrimp you can find. If you have time to head to your favorite local seafood market, pick up a pound of large, shelled and deveined shrimp. Today's recipe makes enough for a hungry family of 4! Bon Apetit!
Ingredients:
Lemon Juice, 1 tablespoon
Parsley, finely chopped, 2 tablespoons
Black Pepper (Freshly ground, to taste)
White Wine (Chef's Choice), 1/2 cup
Red Pepper FLakes, 1/2 to 1 teaspoon
Garlic Cloves, 3 to 4 (You may also substitute 1 tablespoon minced garlic)
Salt (To taste)
Extra Virgin Olive Oil, 2 tablespoons
Butter, 2 to 3 tablespoons
Shrimp, 1 pound (Shelled, De-veined)
Captain's Tips:
Preparing the shrimp with the shell on increases the flavor of the shrimp during cooking

Defrost frozen shrimp in a large bowl of ice water to maintain their freshness

Serve with bread, pasta, or rice
Directions:
Pre-heat a large saute pan on the highest heat setting, and prepare to add olive oil and butter. Before adding olive oil and butter, turn the burner down to a medium-high heat. Add garlic and red pepper flakes when the butter melts. If you're using unsalted butter, sprinkle it with salt and saute for one minute, or until the garlic begins to brown.

Once the garlic has started to brown, gather shrimp and add to pan. Now, stir in white wine until it has combined with butter, oil, and wine. Make sure the shrimp are completely coated. The shrimp must be evenly spread across the pan. If you're doubling the recipe, you might want to consider using a larger pan.

Return the burner to the highest heat setting and bring the wine to a boil for 2 to 3 minutes.

Now, turn the shrimp over so that the cooked side is facing up. Return the wine to another boil for one minute, and remove shrimp from heat. Combine with parsley and toss together with lemon juice and black pepper.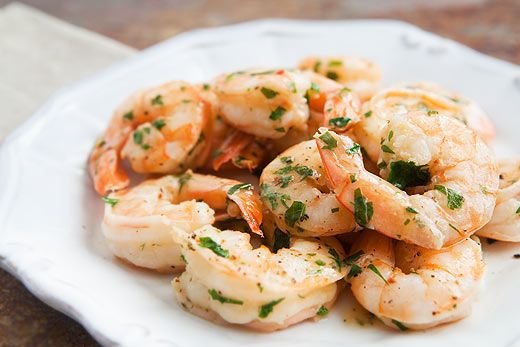 ---
Bookmark & Share
---
User Comments
Be the first to comment on this post below!