Cookin' Surf 'n Turf
Thu, Apr 18, 2013 at 12:00AM
---
Kick things up tonight with surf and turf for two! Surf and turf is a traditional meal consisting of both meat and seafood, usually a juicy steak and lobster! However our recipe calls for shrimp!
Do you know the history of this great dish? You're probably aware that surf refers to seafood and turf refers to grass fed animals. But did you know that the 1960s were the first time restaurants referred to the dish as Surf 'N Turf in their marketing efforts? At the time it was not considered a gourmet dish and lacked in popularity among diners. Now the dish is loved by restaurant patrons everywhere!
Now that you know a bit more about the surf 'n turf, it's time to get cooking!
Ingredients
Herb Oil:
Parsley, ¼ C (chopped)
Chives, 2 Tbs (chopped)
Pepper, Kosher Salt (To Taste)
Surf and Turf:
Shrimp, 6, Large and Deveined
Olive Oil, 2 Tbs
Lemon, ½
Thyme, 2 Tsp (chopped)
Pancetta, 6 Slices
Beef Tenderloin, 10 Oz (Trimmed)
Sea Salt (To Taste)
Asparagus, 8 Spears
Butter, Unsalted, 1 Tbs
We always recommend fresh shrimp! If this is not available jumbo peeled and deveined shrimp are just fine!
Directions
Directions for Herb Oil:
In a food processor, combine parsley, olive oil and chives; combine until smooth. Add small amounts of water if necessary, and then ¼ Tsp of salt and pepper. Pour mixture into a bowl and cover.
Directions for Surf and Turf:
Pour shrimp, lemon juice, thyme, olive oil, and pepper into a bowl and toss. Once mixed, wrap shrimp with a slice of pancetta.
We will need to pre-heat a broiler pan. Once it is preheated, line with foil and arrange shrimp. Next, use the sea salt and pepper to season the beef, and press thyme into the sides of the tenderloin, set aside. Cut off the ends of the asparagus, and place them into a microwavable dish with ¼ cup of water, and a dash of sea salt.
Now preheat an oven safe skillet on high, add butter. Once foam from the butter disappears, sear the tenderloin in the pan until it is golden brown. This should take about three minutes each side. Next, use a pair of tongs to hold the meat while you brown its sides. Place the skillet in the broiler, cook until beef registers at preferred temperature. Medium Rare, 125 degrees, and add 4 minutes for each temperature on. Remove beef from skillet, and place onto cutting board while the shrimp cooks.
Place shrimp into broiler until the pancetta is nice and crispy, this should take about 2 minutes.

Now, slice the beef, and serve with herb oil, asparagus, and shrimp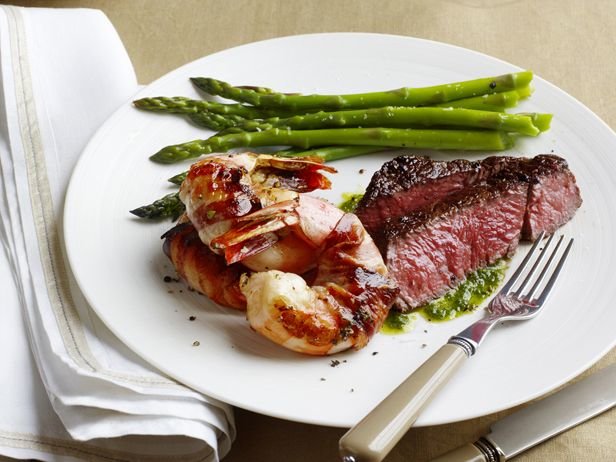 ---
Bookmark & Share
---
User Comments
Be the first to comment on this post below!