Tips For Buying The Right Watersports Boat
Wed, Nov 21, 2018 at 5:10AM
---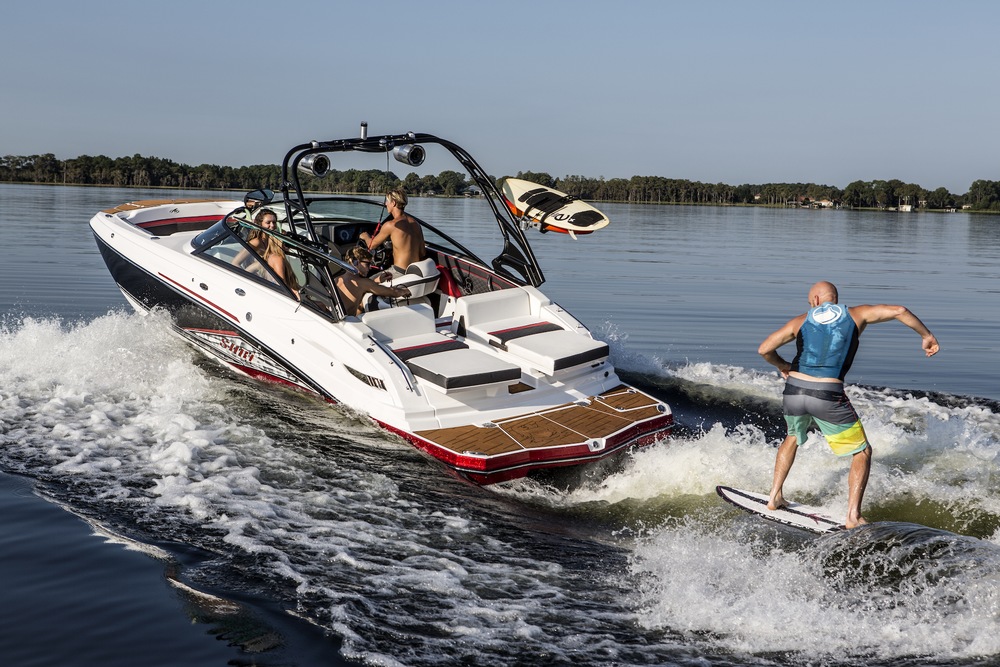 So you want to purchase your first watersports boat? There are so many options available and while it may seem stressful, it doesn't have to be. Knowing the right information or tips will help you narrow down your options and make this process more joyous.
Find The Right Boat For Your Favorite Watersport
1. Ski Boat
If you are a water skier by heart, then you are probably looking for a ski boat. While there are so many boats out there built specifically to waterskiing, it doesn't hurt to get a multi-versed boat to handle more than one watersport. To determine which ski or water sport boat best fits for you, there are certain things you should take into consideration: Are you are a hardcore skier? If so, you might want something smaller that has less of a wake. Are you an entertainer and need something larger for when your friends or family come along? You'll need one to accommodate everyone. Also think about the storage you might need to put your gear away.
For The Water Skier: Equipped with a wake tower, the Monterey M6 has everything you'll need to enjoy a full day of cruising, skiing, wakeboarding, and tubing. This Monterey Boat model features spacious seating and storage options for watersport accessories. There are two recessed and telescoping boarding ladders located in the bow and stern, and a Fusion satellite ready AM/FM stereo, to jam out while water skiing.
LOA W/Swim Platform: 25'10"
Beam: 8'6"
Fuel Capacity: 80 Gal
Horsepower: 430 HP
2. Wakesurf Boat
When it comes to buying a wakesurf boat, the bigger the better. Even if you only do wakesurfing, you should at least have the space to accommodate any other watersport you or a guest might want to try. A wakesurf boat with at least 20 feet and an open bow are spacious and perfect for watersporting activities. If you are into competitive surfing, then a boat with 23 feet in length might be a good choice for you. For bigger waves, you should consider extras like a transom, it'll help create the perfect wave.
For The Wakesurfer: The MX6 Surf is the action you've been thirsty for! Monterey's MX6 Surf is designed to fulfill everyone's on-the-water fantasy and is engineered for wakeboarding, tubing, skiing, or cruising. It's the luxury you should expect from us at Monterey and amp up with superior wakeboarding and wakesurfing technology.
LOA W/Swim Platform: 25'10"
Beam: 8'6"
Fuel Capacity: 80 Gal
Horsepower: 430 HP
3. Crossover Boat
Are you stuck between a ski boat and a wakesurf boat? Why not consider a crossover boat? It's the best of both worlds! Imagine a boat that will allow you to ride, surf, and ski, you don't have to imagine because many builders make crossover boats. A good skiing tip to keep in mind is to keep the boat a shorter and lighter size because it will keep the wake smaller for recreational skiing. If you want to surf, try filling the ballast or activating the surf features on the transom and switch from wakeboarding to surfing.
For The Best Of Both Worlds: The 305 SS is the newest addition to the Monterey Boats family. Whether you're a skier, wakeboarder, or just love the water, the 305 SS offers endless water adventures. It's loaded with a wide array of features and amenities, truly everything you will need to have fun in the sun.
LOA W/Swim Platform: 29'0"
Beam: 9'0"
Fuel Capacity: 100 Gal
Horsepower: 600 HP
Research Everything
Now that you have narrowed the type of watersports boat you want, it's time to research! You should research anything and everything. From the models to the specs and especially the builder. The boat builder should have a good reputation and it would be ideal if they had a warranty to help back up their quality build. You should also research if you should purchase from a dealer or a private seller. This is important because only you will be able to judge which of the two is a better option. Once you do so it's only a matter of applying everything you've learned and negotiating a deal that makes both parties happy.
For A Dealer Near You Or Questions…
Congratulations! Before you know it you will be a proud watersports boat owner! This will be the most exciting time for you and we hope to be a part of it! Feel free to give us a call if you have any questions or comment below for a quick response. You can also follow this link for more information on Monterey Boat Models.
---
Bookmark & Share
---
User Comments
Be the first to comment on this post below!