Baked Shrimp Scampi
Fri, Jun 21, 2013 at 12:00AM
---
If you love shrimp scampi, then you will love this baked shrimp scampi recipe from the Barefoot Contessa on the Food Network. The best part is its super easy, and can travel from the kitchen to the dining room table in under an hour!
We always recommend using fresh shrimp whenever possible. A good tip to follow when purchasing fresh shrimp is to never buy anything with a fishy smell or scent other than saltwater, and avoid shrimp with black spots, rings or pink in color. If you must buy frozen shrimp, look for shrimp that has not been peeled or deveined.
Not sure how to devein shrimp? Shrimp deveining is the process of removing the black "vein" on the back of the shrimp. This vein is their digestive track. It's not necessary to remove the vein, but many people do since it improves the overall look of the shrimp. To devein the shrimp, you'll want to purchase a deveining tool, and devein prior to cooking.
Ingredients:
Shrimp, 2 Lbs (Keep Shelled)
Olive Oil, 3 Tbs
White Wine, 2 Tbs
Black Pepper, and Kosher Salt
Butter, Unsalted 12 Tbs (Keep at room temperature)
Garlic, 4 Cloves (Minced)
Shallots, ¼ C
Parsley, 3 Tbs (Fresh and minced)
Rosemary, 1 Tsp (Fresh and minced)
Lemon Zest, 1 Tsp
Lemon Juice, 2 Tbs (Fresh)
Yolk of 1 Large Egg
Panko Bread Crumbs, C
For Serving:
Lemon Wedges
Directions:
Before we get started, the oven should be preheated to 425 degrees. Peel, devein, and butterfly shrimp but leave tails on. Add shrimp into a medium sized mixing bowl and toss with wine, olive oil, salt (2 Tsp), and pepper (1 Tsp). Leave at room temperature while preparing the garlic sauce.
Now use a small bowl to mash butter, shallots, parsley, garlic, red pepper, rosemary, zest of lemon, egg yolk, lemon juice, breadcrumbs, salt (½ tsp) and pepper (¼ tsp). Mash until completely combined.
Arrange shrimp into a 14-inch baking dish, form into a single layer, cut side down, tails up, and pointing to the center of the baking dish. Use leftover marinade to cover shrimp, and then spread garlic butter mixture evenly over the shrimp.
Bake ten to twelve minutes, for browned shrimp, place under broiler for one minute.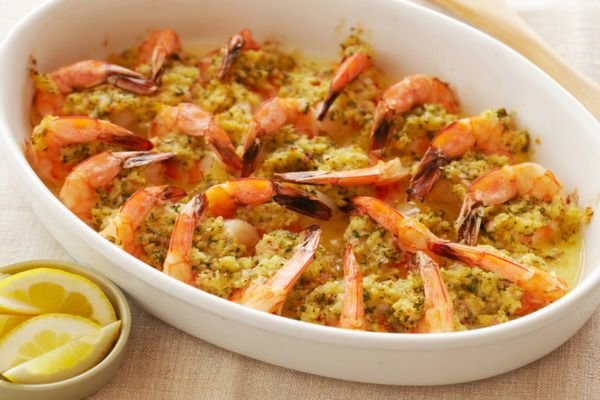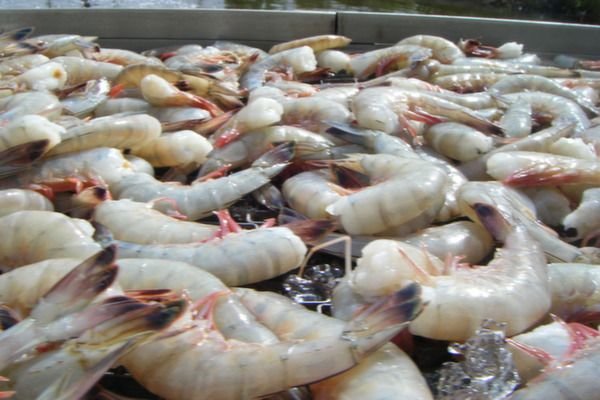 ---
Bookmark & Share
---
User Comments
Be the first to comment on this post below!