Embrace the Art of #CoastalDistancing on Your Monterey Boat
Thu, Aug 20, 2020 at 3:30PM
---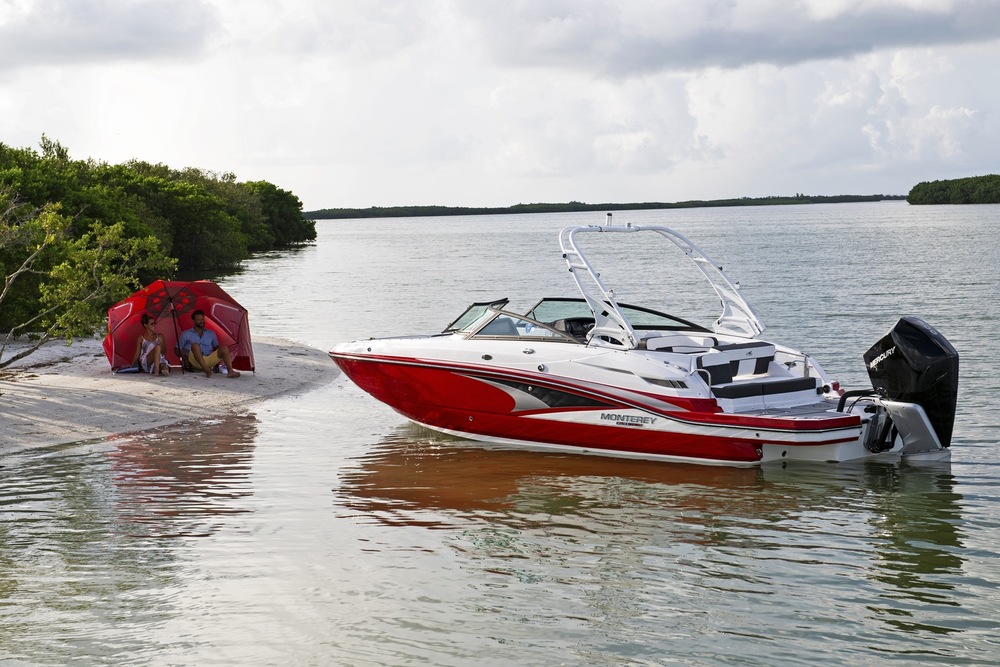 From your Monterey, it's easy to soak in every last second of summer—and then some! By embracing the aptly named art of #CoastalDistancing, you can safely enjoy your favorite waterways with friends and family. Just read on for a few of our favorite activities to explore along the way.
Raft up mindfully
While it is still best for your well-being (and that of your fellow boaters!) to avoid large crowds and gatherings, there are still ways to enjoy the tried and true tradition of rafting up with safety in mind. Pick a quieter spot away from traditional "party coves" or sandbars, sport your favorite mask and keep six feet apart from your friend or family member in the next boat. The great thing about linking up with loved ones on the water is that you have ample space to work with, unconfined by a cramped patio or a spare patch of grass at your local park. (Tip: Even when you're cruising with members of your same household, you can still enjoy all the space you crave aboard your Monterey! From our Outboards to our Sports Yachts, every member of the family is carefully designed to guarantee the best possible use of comfortable, on-board square footage.)
Go snorkeling…
One group you don't have to distance yourself from? Your friends beneath the surface! If your traditional on-the-water activities include lively gatherings and events, now is a great time to seek out some space and discover an entirely new slice of H2O. The nearshore flats of your favorite oceanfront, or even the clear stomping grounds of your go-to glacial lake, make for some excellent places to explore and brush up on your snorkeling skills. Plus, swim platforms on select models make hopping in and out of the water a breeze.
… or ride the wake
Another great #CoastalDistancing activity? Wake sports! You're already used to keeping your distance from fellow boaters and swimmers while wakeboarding and waterskiing, so what better time to brush up on your skills and enjoy a thrilling ride? Plus, you can watch your friends on other boats on their own wake runs, and compare technique for some healthy competition.
Cruise with kindness
Some of our favorite on-the-water interactions are already #CoastalDistancing-approved—but somehow, they mean even more now! Whether you're offering a friendly wave to fellow cruisers on the water, or practicing good docking etiquette (by quickly loading and unloading at the dock, and showing patience to those who need a bit more time), these kind gestures are sure to brighten your day and that of your fellow boaters.
Find your own private island
There's never been a better time to seek out the solace and leisurely vibes of your own private island! You don't need to spring for a pricey estate—find a relaxing sandbar or small island on your favorite lake to escape to if only for an afternoon. And of course, the allure of a private is more about mindset than anything else. Camp out on your Monterey and soak up some sunshine from, well, just about anywhere on the water! Your island dream awaits.
We hope that these ideas help you enjoy endless summer fun aboard your Monterey. Share your own #CoastalDistancing adventures with us on social media! We can't wait to see where your on-the-water journey takes you.
---
Bookmark & Share
---
User Comments
Be the first to comment on this post below!