Safe, Splashing Fun: A Look Ahead at Boat Show Season
Fri, Aug 28, 2020 at 3:30PM
---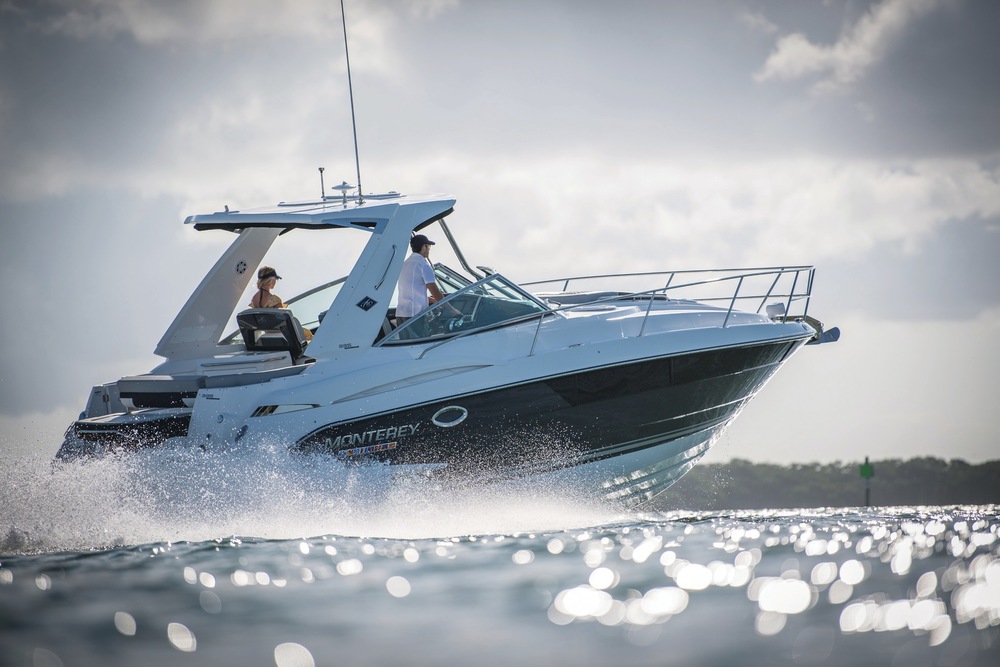 As reliably as back-to-school or your favorite fall holidays, boat show season is here again! With a few changes for a safe, smooth experience, it's easy to explore new boats and on-the-water innovations in some of the country's most beloved boating destinations. Just read on as we share a few upcoming events, and how to experience them with your family!
Mark your calendar
Your calendar may already be looking a little fuller these days—whether you're back in the office, or shuffling your child to school or extracurricular activities. But be sure to leave some room for these exciting events on our radar…
- Atlantic City In-Water Power Boat Show, Sept. 10-13: Atlantic City may be home to a thriving nightlife scene—but these days, its mariner's charm is an even bigger draw. Head to the Atlantic City In-Water Power Boat Show to see the latest Montereys as well as marine electronics, fishing gear and more. Plus, rest assured that the show will provide a safe experience with mandatory masks, sanitation stations, contact-less entry and more.
- Jersey Shore Boat Sale & Expo, Sept. 25-27: Another Jersey gem, the Jersey Shore Boat Sale & Expo, gives you a chance to soak in the last days of summer in style. The fun takes place outdoors, so you can enjoy summer weather and practice safe social distancing as you browse the latest Monterey models with family.
- Lake of the Ozarks Marine Dealers Association September Boat Show, Sept. 25-27: The expansive Lake of the Ozarks is a beloved boating destination for cruisers of all types—the sportsters, anglers and everyone in between! Discover this popular Midwest destination like never before (and perhaps pick out your next dream ride) at this year's show.
Gear up and practice safe, socially distant fun
Now, for some tips on how to enjoy your boat show experience to the fullest!
For your peace of mind, as well as that of your fellow boat show-goers, be sure to gear up with a mask and practice social distancing throughout your show experience. You might even consider swinging by during early hours to experience lighter crowds—plus, in doing so, you will be able to leave plenty of room for activities later in the day!
Speaking of which…
Explore the great outdoors
These boat shows (and those down the line, too) all take place in some seriously beautiful boating locales—from the mid-Atlantic coast off Jersey, from which cruising staycations to nearby New England are easy to enjoy, to the spacious Lake of the Ozarks where every nook and corner offers a new experience to discover. Be sure to make the most of your time at the boat show and cruise like the locals do!
Browse online, too
You can always pair your boat show experience with some easy online research, giving you a closer look at the Montereys you may be interested in. Use our Build A Boat feature or browse our models before visiting your next boat show, so that you know what to look for and can compile any questions you may have. And of course, even if you visited your local show "just for fun," our online resources give you the chance to follow up on models that caught your eye!
We hope to see you at one of our upcoming boat shows! Whether you're looking for your very first Monterey boat, or simply want to get connected with the cruising community, boat show season is the perfect time to celebrate life on the water in all its forms.
---
Bookmark & Share
---
User Comments
Be the first to comment on this post below!