Boating in Amsterdam: A Quick Guide
Mon, Jul 27, 2015 at 3:35PM
---
Sometimes, it's about the destination—but others, it's all about getting there.
Amsterdam, the charming Netherlands capital, is a city rich in culture and history. Tourists flock here every year in the hopes of visiting Anne Frank's house, taking a stroll through the picturesque downtown or enjoying a cup of coffee at one of the city's many quaint cafés. But if you're a boater, don't worry about pulling together cab fare to get around. In this city, you can call the shots when it comes to transportation by cruising through winding canals and sparkling waterways that make Amsterdam, Amsterdam!
The other canal city
If you were to ask most people what they knew about canal cities (if anything at all), you'd likely hear a little something about Venice, Italy more than several times. And that's to be understood—after all, Venice is one of the most beautiful and popular destinations, known for its gondola rides and bright blue waters. But while the setup of Venice's canal system—relatively quiet and private, and geared toward private boat tours—makes it perfect for a romantic getaway, you may not find much in the way of actual, hands-on boating here. In fact, Venice leaves private boaters out of the equation entirely to make room for commercial boaters, tour groups, waterbuses, gondolas and the like… so you'll have to leave the boat (or plans for picking up a rental) at home, at least while you're on the canal.
That's what makes Amsterdam a natural choice for boaters who want to take the trip into their own hands. The city's friendly, open policy allows virtually any recreational vessel to cruise through the scenic waterways, and moor wherever they'd like to stop—whether that's for a quick bite to eat, photo op, or trip to a museum.
What Amsterdam's canals lack in Italian romanticism, they make up for in a purely charming village atmosphere. While all of Amsterdam's architecture is worth a good looking at—probably much more than you could fit into a trip—the real estate at the water's edge is especially attractive. The gabled exteriors and varied colors, which are reminiscent of the Dutch Golden Age, set Amsterdam apart from other European canal cities. Couple this characteristic architecture with twinkling lights, the hum of people on the waterfront, and a variety of bridges and other unique structures and you've got a pleasant way to relax away the afternoon or simply get from place to place.
Planning your visit
Well hallo! If you're planning on turning your Amsterdam excursion into a boating trip, you have a few travel options to choose from. You can, of course, bring your own Monterey with you to this "Venice of the North." This is easiest if you live in the Netherlands or a nearby part of Europe.
Travelling from overseas? That's no reason to miss out on a great day of cruising! Amsterdam and the surrounding area offers several boat rental options to choose from—such as Rederij de Schans boat company and Boat Rental Holland International, among others—so seek one out before your visit and you'll be good to go!
Like we mentioned before, Amsterdam is quite the boater-friendly city, and its policies toward canal usage and mooring are pretty progressive compared to similar canal cities (see Venice!). Keep in mind that if you plan on mooring here, you do need to pay a small harbor fee, or binnenhavengeld, which covers your boat for the entire year and allows you to moor your boat almost anywhere along the city's picturesque waterfront. Talk about boating your way!
Keep in mind…
If you have a boat that's longer than 12 meters—almost 40 feet—you won't be able to moor your boat in the city due to space limitations. But that doesn't mean you can't still enjoy the waterways! You can moor your vessel at a nearby marina once your day of sightseeing is done. Just be sure to note the canal system's drawbridge schedules if you have a particularly large boat, so you can plan your day accordingly.
One thing you'll want to remember before you hit the water is that Amsterdam does have a speed limit for its water travelers—7.5 kilometers an hour. That's a little less than five miles an hour, so be sure to keep your speed down while in the city's waterways… although, with such breathtaking scenery to take in at every turn, why would anyone want to go faster?
Finally, one last piece of advice for travelers, especially those who are unfamiliar with the area and canal system. In 2011, Waternet—Amsterdam's water management company—released the VaarWater App, an app you can download that's geared toward making your time on the water just a little bit easier (and more enjoyable!). You can use VaarWater to navigate your way through the city, check drawbridge schedules, share your location and keep in contact with friends or other boaters on the water. Look for VaaWater in the Apple App Store before you head out!
Now sooner or later, you'll have to pull yourself from the water to get some sleep or replenishment… but even when your time on the water comes to an end, there's no reason the fun has to end with it! Explore Amsterdam's one of a kind architecture, enjoy a plate of some freshly fried bitterballen, and cap off the night by watching the sun go down over the water—what during the day was a bright blue passageway for your vessel is, at night, a sparkling reflection of Amsterdam's lights and lit-up buildings. You can really get lost in it!
Have you ever been to Amsterdam… or are you perhaps planning a visit there this summer? Share your thoughts or experience with us below!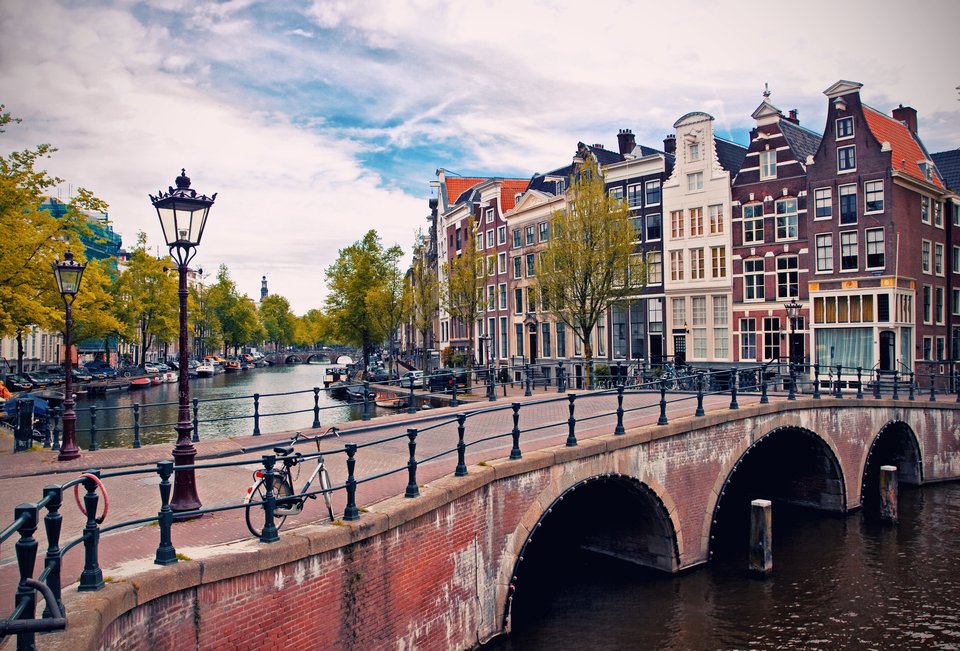 ---
Bookmark & Share
---
User Comments
Be the first to comment on this post below!