A Must-Do Summer Escape at Moosehead Lake
Tue, Jul 04, 2017 at 4:15PM
---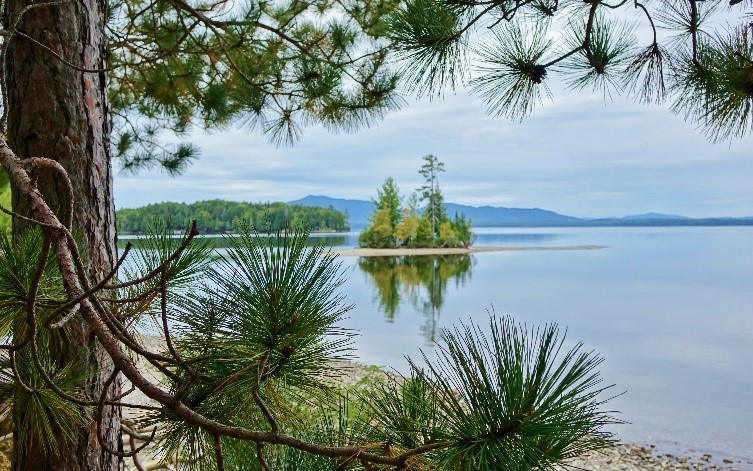 Maine is one of the first states to see fall foliage, and come winter, turns into a famously wintry wonderland. But for now? It's still a summertime boater's dream!
Spots such as the state's largest lake, Moosehead Lake, offer a wealth of thrills on and off the water. Its New England charm, forested shores and abundance of in-lake islands makes it a one-of-a-kind spot to see and explore. And with July temperatures hovering around balmy highs in the seventies, there could not be a better time to visit.
Wondering what's in store? Take a look below as we explore some of the most impressive features of this New England treasure!
Open-water adventures
Let's start with the main attraction: the wide-open surface that Mooshead Lake boasts. The largest in Maine, there couldn't be a better destination for boaters who want to truly do it all: water sports, fishing, swimming, and more.
Water temperatures at this time of year sit comfortably in the seventies, giving you a chance to cool off and jump in on a hot summer's day (or, if you're boarding behind a boat, the promise of cool relief should you ever slip or tumble in!). With launching access located around the lake and the freedom to anchor wherever you please, Moosehead is a place that'll start to feel like home in no time.
A new kind of island hopping
You don't need to visit the Caribbean this summer to go island hopping—Moosehead's got you covered in that department, too! The lake is actually home to more than 80 islands, each with its own unique look and feel. The best part? You can explore them for yourself, or maybe even go camping at sites like Sugar Island, the lake's largest island, for a truly charming back-to-nature experience. In our book, even the nicest hotel views can't rival the experience of sleeping under the stars and wooded backdrop of Moosehead's uncharted landscape, where you never know what you'll see next… including, maybe, a moose or two!
Moosehead's resident mascot
That's right—Moosehead earned its name for a reason! The moose are most typically spotted in the early summer months, but the possibility of sighting one (especially in early morning or dusk) is a constant perk of visiting here. You can even take a one-of-a-kind "moose safari" near the lake, led by local guides who know where to find the famous antlered animals.
Paddling fun
With nearly 300 miles of shoreline to explore, you're bound to want to get up close for a personal look at the plants and animals that call Moosehead "home." For help navigating those tight spots, bringing a canoe or kayak (or renting one locally) is a great idea. It might just help you get close enough for an unparalleled view of the much-coveted moose, if that's what you're searching for!
We hope that today's blog inspires you to explore the wonder of Maine's most esteemed lake getaway. Whether you love to hike, boat, fish, swim or sightsee, there's something for you to love here. While you're there, don't hesitate to visit with our two dealers in Maine, Gagnon Boats & Motors and Maine-Ly Marine Sales & Service.
---
Bookmark & Share
---
User Comments
Be the first to comment on this post below!