Exploring the Four Corners and Navajo Lake State Park
Fri, Jul 07, 2017 at 4:20PM
---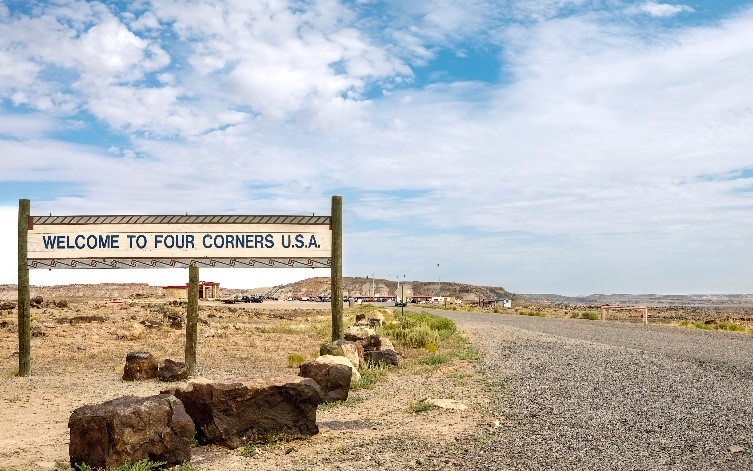 Hard as you may try, you can never really be in two places at once… but in the American Southwest, you can be in four.
It's the magic of the Four Corners, the unique spot where Utah, Arizona, Colorado and New Mexico meet and form a centerpoint you can visit—and, as in a game of Twister, use your arms and legs to be in a bit of all four at the same time.
The Four Corners Monument is the cherished destination of many a family road trip—but it's not the only attraction in town! Head east down the San Juan River and you'll find an aquatic destination all can enjoy: Navajo Lake.
Like a welcome oasis amidst the arid landscape of New Mexico, Navajo Lake and its surrounding state park make for a summertime spot replete with opportunities for fishing, camping, and water sport fun. Read on to learn more about how to experience this Southwest gem!
Getting there
The Southwest is full of scenic vistas, the kind that seem to serve as the perfect backdrop to any family vacation. Getting from the Four Corners to Navajo Lake is no exception, especially thanks to the San Juan River.
The San Juan River crosses the border of Utah and Colorado, then dives southeast into New Mexico, leading directly into the Navajo Dam. It's a narrow river, known most for its rafting and kayaking opportunities than large-boat cruises. However, if you're taking the drive from Four Corners to Navajo Lake (just about 2 hours), we think a stop along the way to splash around in the San Juan River and try out paddling is more than worth it.
Enjoying an aquatic expanse
Finally, with Monterey in tow, you arrive at Navajo Lake. The rich blue lake (one of the state's largest) extends far in every direction, capped off at its borders by hilly, scrub-lined shores. To navigate the smaller corners of the lake, and maybe do some wildlife watching, you might consider hopping into a kayak or canoe. However, all you really need to enjoy the open expanse of the lake is your Monterey, some good company, and maybe a wakeboard or two.
Thanks to the lake's two marinas and two docks, there is plenty of room for you to come in and make yourself at home on the water. The pristine surface is perfect for swimming, sunbathing on deck, or trying out your favorite water sport. At 15,000 acres, there's plenty of room to spread out … and maybe break a personal distance record or two from your board.
What's biting?
And of course, if fishing is your game, Navajo Lake has you covered. Cast a line for bass, crappie, northern pike, trout, and much more. And again, thanks to the sheer size of the lake, if they're not biting in one spot you can easily make a move to another for better success.
Looking for your next summer getaway? Come for the Four Corners and stay for the aquatic fun that abounds just down the river! It's one of our favorite ways to see the Southwest. While you're in the Four Corners area, stop by our dealers in two of those states: Germaine Marine in Mesa, Arizona, Roger's Performance Marine in Salt Lake City, Utah.
---
Bookmark & Share
---
User Comments
Be the first to comment on this post below!