Must-Do Havasu: 10 Ways to Enjoy a Spring Break Paradise
Thu, Mar 22, 2018 at 12:44PM
---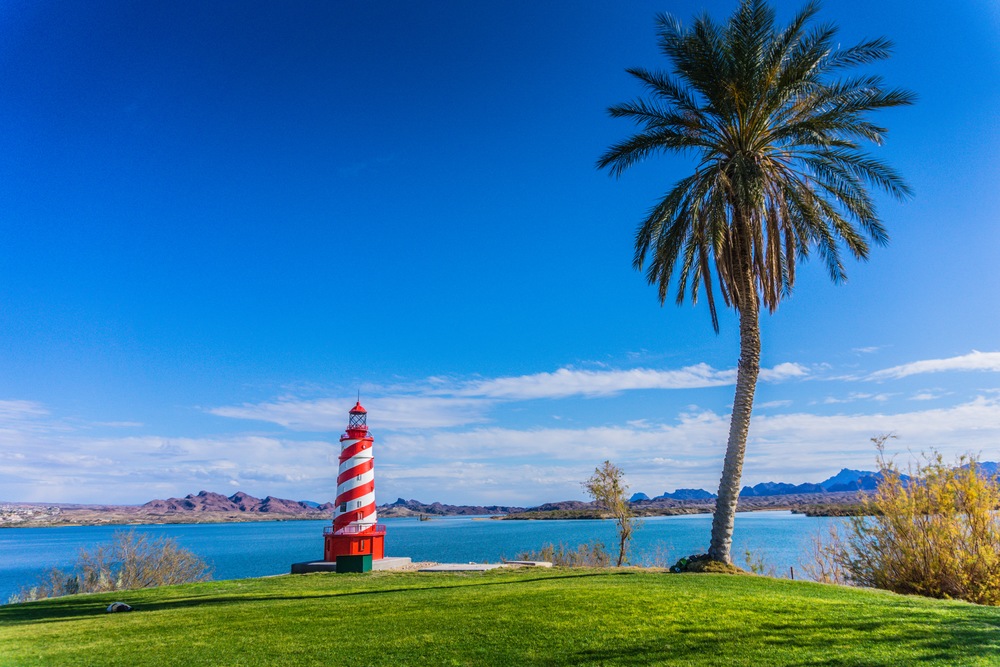 All year long, Arizona's Lake Havasu provides sunny respite for aquatic adventurers—but come spring break, this beloved lake gets even better.
Read on as we share 10 of our favorite Havasu must-dos in today's blog—just in time to plan your perfect spring getaway.
Indulge in education
If you're traveling with school-age kids, you can rest assured knowing that their spring break trip won't be totally devoid of education. Brush up on the story of the people who gave Lake Havasu its name: the Havasupai, whose name not-so-surprisingly comes from the Mojave word for "blue-green water. Take a look at the lake or Havasu Falls upstate, and you'll see why!
For the science-minded, a tour of local wildlife (like bighorn sheep, cottontail rabbits and more) is sure to please—or learn about the lake's role pumping water into the Arizona aquifer system.
Explore the famous sites…
Don't forget to soak in some of those postcard-worthy spots around the lake—the London Bridge, with its famous arches, is a great place to start. Also, check out the candy cane-striped lighthouse or some of the more colorful red rock formations around the water's edge.
… and the hidden treasures
Of course, on a lake this big (amounting to nearly 20,000 square acres), there are also those quieter, more hidden spots—be sure to visit them, too! One easy way to do this is to rethink your entry; head to a less crowded launch, like the one at Havasu Springs Resort, to see a unique, potentially quieter side of Havasu worth enjoying.
And keep an eye out for quiet nooks and crannies that stem away from the main channel—often, when in search of a relaxing break, they provide the best place to escape to or really get back to nature.
Perfect your water sport skills
The main attraction on Lake Havasu, whenever you visit, has to be the water sport fun. Spend the day wakeboarding, jet skiing, or tubing through the crisp, cool water—against the bright desert oasis backdrop, you really can't get tired of getting back up again (and again, and again…) when the view is that great.
Raft up
"Rafting up" is the social staple of Lake Havasu, an easy way to meet friends, family and fellow boaters for an afternoon—or weekend—of laidback fun on the water. On long weekends, and throughout popular times like spring break, you're likely to find lots of boaters and paddlers clustered around Lake Havasu's shores, and spilling far into the lake itself. But don't worry—like we said, Havasu is big, and there's plenty of room to stretch out and enjoy some downtime when you want it.
Grab a bite
At many lakes, waterfront fare might not warrant its own category—but this is Lake Havasu, and indulging in delicious, effortless shoreline eats is all part of a day on the water. You can pull your boat up to a waterfront spot like Turtle Beach Bar for a fun, easygoing atmosphere. If you'd rather not leave the water at all, pull up to a convenient channel delivery spot and order Papa Leone's Pizza to go!
Make a splash
Swimming is another must-do at Lake Havasu, especially at this time of year as the weather starts to heat up. The stretch of shoreline at Lake Havasu State Park, located along the eastern edge of the lake, is your go-to spot for a carefree swimming experience (and a relaxing beach where you can kick back and enjoy the view, too).
Boat big (and small)
Lake Havasu is the kind of place where you can really get lost in the moment—and why shouldn't you? Spend a day cruising up the coast of Lake Havasu, wherever it takes you, surrounded by the lux accommodations of your Monterey. Bring along a canoe or kayak to get even closer to the water, the shoreline scrub, and everything in between.
Go fishing
It doesn't get any simpler than this! Fishing on Lake Havasu is a surefire way to spend your afternoon—you'll land catches like record-setting redear sunfish, smallmouth bass and more.
Bring on the boat show fun
When you're in town for spring break, don't forget to stick around for a celebration of on-the-water fun! The 27th Annual Lake Havasu Boat Show kicks off on April 6th and is set to feature paddling demos, a "coolest boat" competition, and a bevy of brands to visit. Our very own Monterey dealer, Germaine Marine, will be at this year's show, so be sure to stop by, say "hi," and get the latest on Monterey deals and news. We look forward to seeing you there!
What are you most looking forward to about your Lake Havasu getaway? Be sure to share your plans, stories, and photos in the comments below—and enjoy a Havasu experience you're sure to remember.
---
Bookmark & Share
---
User Comments
Be the first to comment on this post below!