Boating in Full Bloom
Mon, Apr 02, 2018 at 2:15PM
---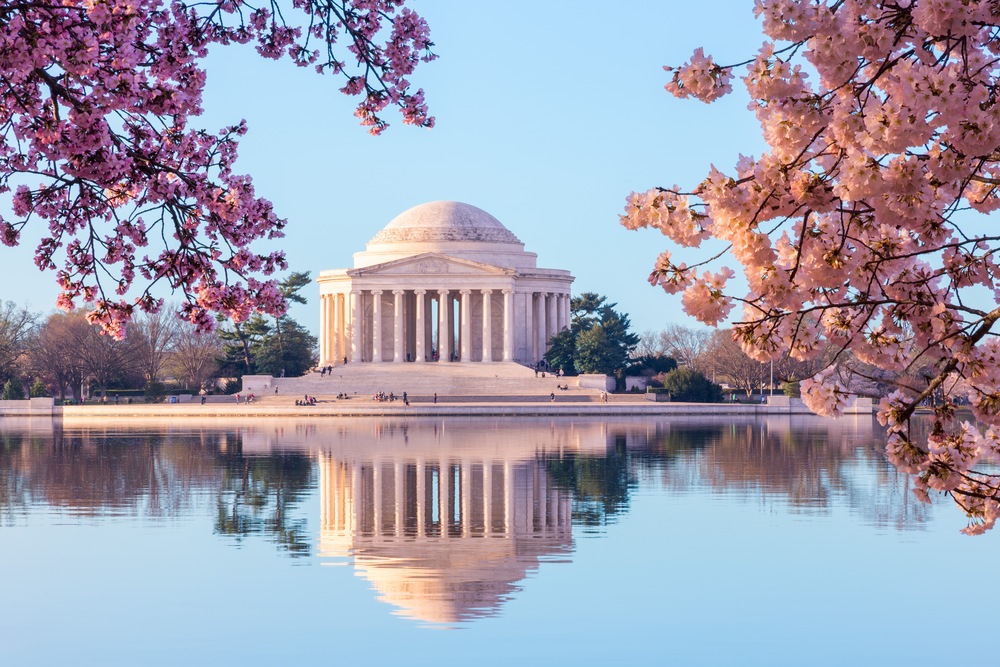 Awash in vibrant pink, plum and white, some of America's favorite boating destinations are showing the sweet signs of cherry blossom season – now, go out and see them for yourself!
Read on as we share a few of our favorite cherry blossom trips to make while the season's in full bloom.
Washington, D.C.
Of course, we're kicking off our cherry blossom expedition with one of the most well-known events: the National Cherry Blossom Festival! Through April 15th, you'll be able to "ooh" and "ah" at the powder-pink hues that surround historical landmarks like the Jefferson Memorial, Washington Monument and more.
You have multiple ways to explore the seasonal vistas – or, if you can't get enough, try them both! Cruising up the Potomac River is a great way to enjoy some of the region's favorite waterfront spots, such as Old Town Alexandria (and as the weather continues to warm up, you'll find that fellow boaters are sure to follow suit!). It's a relaxing cruise as you make your way toward Washington, D.C., where you'll start to see the famous views – and peeks of that famous pink foliage – that characterize the region. Once you're in D.C., you can hop onto a smaller craft, like a canoe or kayak, to get closer to the water and enjoy the view from the National Mall's Tidal Basin. What better way is there to bring in the spring?
New York, NY
Of course, while Washington's festival may be the most well-known cherry blossom celebration, it's far from the only one. Head up the Atlantic Coast to find another beautiful bloom… this time at New York City's Roosevelt Island.
Head to the southern tip of the island – Freedoms Park – on Saturday, April 21st to enjoy the beautiful flowers as well as classic Japanese traditions, like dancing and tea ceremonies. Of course, you don't need to be on the island to soak in the gorgeous view – boating on the East River is a great way to appreciate the allure of this seasonal bloom.
Boston, MA
A bit further up the coast, you'll find Boston, Massachusetts, where an unexpected cherry blossom haven awaits. While time in the city is always sure to please, a unique spot across the bay – World's End Island – is the place to be when it comes to exploring the area's natural side. From a comfy spot on the water by World's End, you can admire the Boston skyline… and, at this time of year, cruising Hingham Bay will let you see the colorful cherry blossoms that bloom on the island. Last year, they came out around mid-April, so you still have time to catch the view in person and enjoy the peaceful, out-of-the-way allure of Hingham Bay.
As a plus, Hingham Bay serves as a convenient starting point for a number of New England adventures, including a cruise up to Boston Harbor, which brings you past Long, Spectacle, and Peddocks islands. Boston may be "big city living," but its offshore adventures are anything but busy.
Seattle, WA
Finally, we cap off our cherry blossom excursion on the West Coast – Seattle, to be exact. The famously bright blooms can be seen throughout the city, including Washington Park Arboretum and Lake Washington Boulevard Park, two great destinations that overlook expansive Lake Washington. Vistas of the mighty Mount Rainier "wow" all year long, but at this time of year, they're complemented by the sweet, subtle cherry blossom hues that span stretches of the lakefront.
At peak perfection, these cherry blossom destinations are sure to brighten up your spring boating adventures. Be sure to share your own favorite floral destinations in the comments below!
---
Bookmark & Share
---
User Comments
Be the first to comment on this post below!