Does Boating Make Us Happier?
Wed, Apr 04, 2018 at 2:30PM
---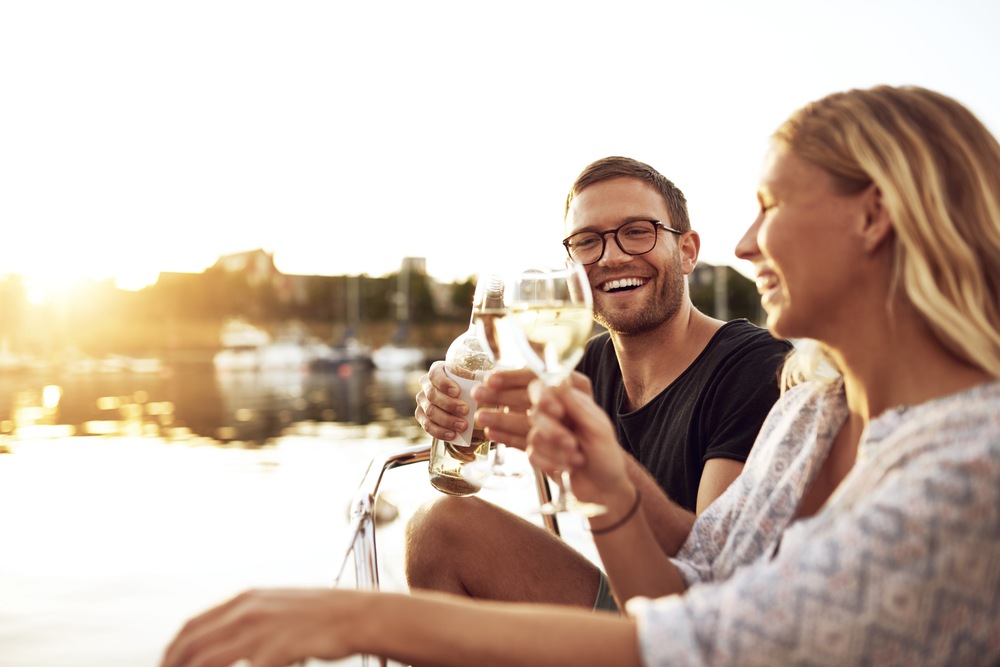 Is it a coincidence that many of the country's happiest cities are right by the water?
That's the question we're asking after seeing the results of a 2018 WalletHub ranking that determined the happiest cities by employment, community involvement and other factors. Almost every one of the top ten "happiest" touched a body of water or had easy access to water nearby.
So – is it a coincidence, or is there something about the water (and boating) that just makes us happier? We'll let you decide! Read on as we take a virtual tour of some of the country's happiest cities, and see what makes them so special.
Fremont, California made the top of the list and is joined in the top ten three other California cities. It's easy to see what makes this city special – from a glance, you can soak in its beautiful San Francisco Bay views, painted against a backdrop of the area's dreamy rolling hills. See the water from Mission Peak, or get on it yourself – the bay is your passage to the Pacific Ocean cruising and the eclectic on-the-water scene of San Francisco and the Golden Gate Bridge.
Number three spot, San Jose, is Fremont's neighbor to the south – just a quick drive (or cruise) down the bay. While it's also a stone's skip from the bay, its hidden gem is an inland getaway, the Calero Reservoir. Waterskiing is a popular activity to enjoy on the open water, as is catch-and-release fishing. You can also enjoy the view with a serene hike amongst the water's stony surroundings, intermixed with rolling green landscapes – bring Fido, too! Bald Peaks Trail and northward are all dog-friendly, with a leash.
Huntington Beach made the list, too, and it's easy to see why. As one of two Southern California contenders (its neighbor, Irvine, also earned a top ten spot), Huntington Beach is home to a famous shoreline and pier, the perfect backdrop to a day of boating or fishing in an easygoing atmosphere. And who wouldn't feel happy under that So-Cal sunshine, anyway?
Of course, it's not only Californians who have all the fun. Head eastward and you'll find Grand Prairie, Texas, number 10 on the list and a real treat for anglers, adventurers and those who love to blend big city fun with natural thrills (Dallas is right next door!). Joe Pool and Mountain Creek Lakes are excellent opportunities for enjoying the view or landing catch like channel catfish, white crappie and more.
Up north, Sioux Falls, South Dakota offers travelers the chance to see the water in an all-new way – visit Falls Park to get a view of the famous, cascading water that gives the city its name.
For a chance to get even closer to the water, Pearl City, Hawaii (number four on the list) is a must-do destination. Located on the island of Oahu, Pearl City is a bright spot steeped in naval history – when you're not getting to know that history via destinations such as the Pacific Aviation Museum, you can explore the water by boating out to Mamala Bay. From there, you can enjoy a cruise along the sparkling shore and soak in views of Honolulu's nearby mountains. The love of nature that pervades much of Hawaii is in full-swing here; and while the city is known for its high-ranking community culture and emotional and physical well-being, we think the water just might have something to do with it.
What makes you happiest – is it being on your Monterey, enjoying the view from shore, or flying through the water on your very own wakeboard? At destinations like these, it's easy to enjoy it all.
---
Bookmark & Share
---
User Comments
Be the first to comment on this post below!