5 Ways to Celebrate Pass the Handle Day
Sat, Jul 01, 2017 at 4:05PM
---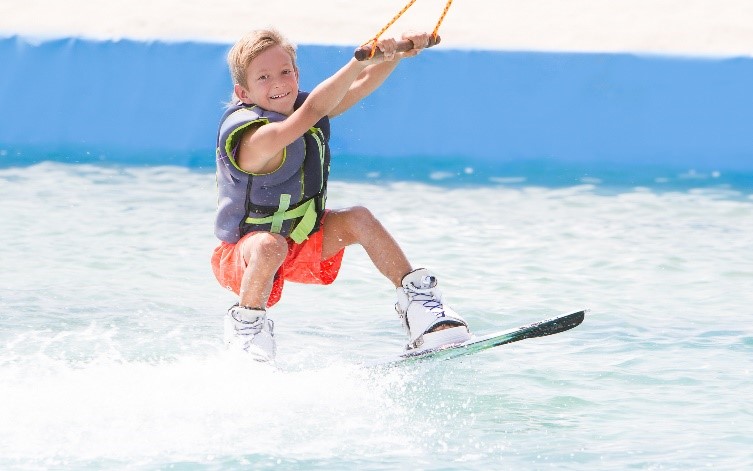 Every seasoned water sports aficionado starts out the same way: eager, excited, and holding onto the tow rope handle for dear life.
What comes next, for most, is often a few tumbles and splashes into the sea spray before settling into the rhythm of the water. Once that happens, though, it's nothing but fun and pure adrenaline.
It's a thrill you'll never forget… so why not help someone else enjoy it, too? That's what Pass the Handle Day is all about!
This celebratory day, thought up four years ago by water sportsmen Zane Schwenk and Shaun Murray, is a time for soaking up fun on the water the best way you know how—and just maybe inspiring someone else along the way.
Wondering how to do that? You probably didn't need an excuse to hop on your board July 23rd… but just in case, here are five fun ways to spend the day!
Invite an old friend
Whether it's an old friend or family member you just don't see enough, we can't think of a better way to reconnect than over some water sport fun. Invite a pal to go wakeboarding, for example, even if they've never done it before. You'll share lots of laughs as you work to show them the ropes—literally! And by the time they get the hang of things, you might just notice that you've gained a new wakeboarding partner in the process.
Teach the next generation
Another great teaching opportunity? The next generation! Whether it's your son or daughter, niece or nephew, it's always fun to share the thrill of towed water sports with someone who's never really tried it before. Kids learn things incredibly fast, and you might be caught off guard if your protégé starts to surpass you on the water—but hey, that's just part of the fun!
When teaching water sports like wakeboarding to a child, it's always helpful to break things down. Their first ride doesn't need to be as daunting or as complex as your own on-the-water routine; simplify it and show them that this new, exciting sport might just be easier than they first thought!
Enjoy a change of scenery
In the spirit of Pass the Handle Day, why not switch up your typical setting? If you're used to quiet lake destinations, try heading to a nearby coastal hub where you'll find other water sport lovers doing the same tricks and flips. Simply changing your surroundings can help a sport that you've been doing for five, ten or twenty years feel a little more like new.
Diversify your on-the-water experience
It can also help to change the way you board or ski on the water… like, perhaps, doing those same moves with Fido by your side! If online videos have taught us anything, it's that even our four-legged friends can enjoy the thrill of water sport fun, either by standing alongside you or actually biting the handle and holding on for themselves!
Try something new
You deserve the chance to learn something new on Pass the Handle Day, too! Teach yourself a new sport or have a friend help you out—if you're used to wakeboarding, for example, see what the water feels like standing on a pair of skis. If you're an avid water skier, then vice a versa. It's never too late to take up a new pastime, and we think Pass the Handle Day is the perfect time to try.
No matter how you do it, sharing your favorite water sports with a friend or family member is a treat you'll never forget. We hope that Pass the Handle Day helps you inspire someone you love to grab on for the ride!
---
Bookmark & Share
---
User Comments
Be the first to comment on this post below!