A Cruising Countdown To The 2024 Solar Eclipse
Thu, May 11, 2023 at 11:12PM
---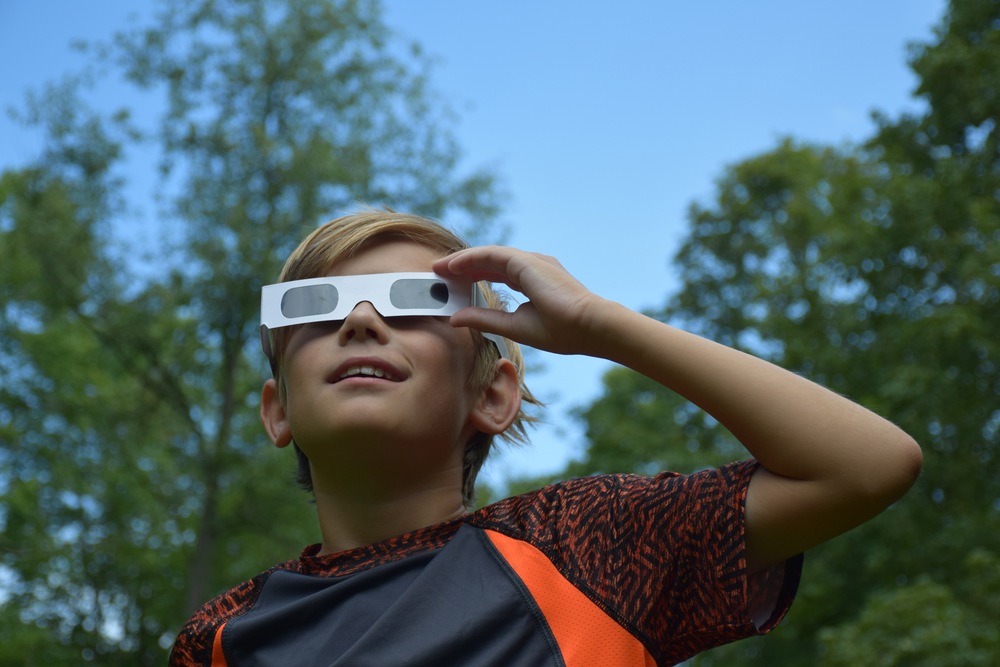 A total solar eclipse is a sight to behold — from behind a pair of eclipse safety glasses, of course! As you may have witnessed in 2017, the astronomical phenomenon doesn't just change the way your world looks (if only for a moment). It brings people together for viewing parties, nature expeditions, and backyard picnics where families, friends, and strangers can marvel at the sky together.
The only thing that could make such an event more special is viewing it from your own Monterey Super Sport boat. And good news! You'll have the chance to do that very soon. Seven years after the last total solar eclipse was visible in the United States, there will be another on April 8, 2024 — giving you just under a year to prepare the perfect viewing setup.
Just read on as we share a few fun ways to get ready!
A Solar Eclipse Refresher
Wait a second, you may be wondering. Just what happens during a solar eclipse, exactly?
The phenomenon happens any time the moon gets in between Earth and the sun, blocking the sun's rays for spectators down on our blue planet. When all of the sun is blocked by the moon, that's called a total solar eclipse — causing temporary darkness in the middle of traditional daylight hours. For United States viewers, that hasn't happened since 2017 — and won't happen again until 2044! So if you don't want to wonder for the next 20-some years, you'll need to make the most of this upcoming total solar eclipse. (And even then, the total eclipse isn't total for everyone in the country — but more on that later.)
Get Your Glasses
It may seem silly, but purchase your eclipse glasses now! If you remember the 2017 eclipse, you might remember demand for this accessory skyrocketing in the weeks leading up to the big day — forcing some hobbyists to shell out hundreds of dollars to outfit their family with the must-have protective gear. As a refresher, these glasses are essential for protecting your eyes from the sun's rays during an eclipse.
Wait, isn't the whole point of an eclipse that it gets *dark* out?
Well, yes! However, the "total" part of a total solar eclipse is just a moment. Before and after totality (or if you live somewhere with only a partial eclipse), you'll be seeing small slivers of sunlight. Even a tiny amount of the sun's rays can be damaging to the naked eye, so you'll want to gear up accordingly.
While glasses may obscure the view, they're a must for preserving your vision. Plus, if you're a photographer (or want to become one in the next year), you can plan to capture the eclipse for viewing later — so you can appreciate the whole experience, even the parts you don't witness in real time.
Plan For A Solar Spring Getaway
Now comes the fun part: planning your trip! NASA has provided a map of the 2024 eclipse's path of totality — and while people outside of the path can still witness part of the eclipse, their view of the sun won't be totally obscured. As a result, eclipse travel is very much a thing! Fortunately, several of the cities on the 2024 path feature beautiful bodies of water where you can take your Monterey and enjoy the view from your boat! These include:
Dallas, Texas, where boaters can flock to Lake Ray Hubbard for a one-of-a-kind view of the sky.
Buffalo, New York, Cleveland Ohio, and Erie, Pennsylvania, perfect for Lake Erie area boaters!
Burlington, Vermont, where you can cruise on Lake Champlain before slipping into your eclipse glasses.
Tip: NASA has specific information about when to expect totality and where, exactly, the eclipse's path will run through the above cities — so don't leave your experience to chance! Consult with online resources and local experts to make sure you're in the right place at the right time.
Once you've decided where you'll be viewing the eclipse, start thinking of all the fun details! We, for example, love the idea of an eclipse-themed galley menu with on-board eats like sun-shaped cake pops, orange slices, and other novelties.
From rare astronomical occurrences to everyday cruising fun, your Monterey gets you closer to it all! Here's to happy cruising this summer — and a one-of-a-kind solar spring next year.
---
Bookmark & Share
---
User Comments
Be the first to comment on this post below!