Top 7 Boating Spots Across The Florida Coast
Wed, Sep 12, 2018 at 11:35AM
---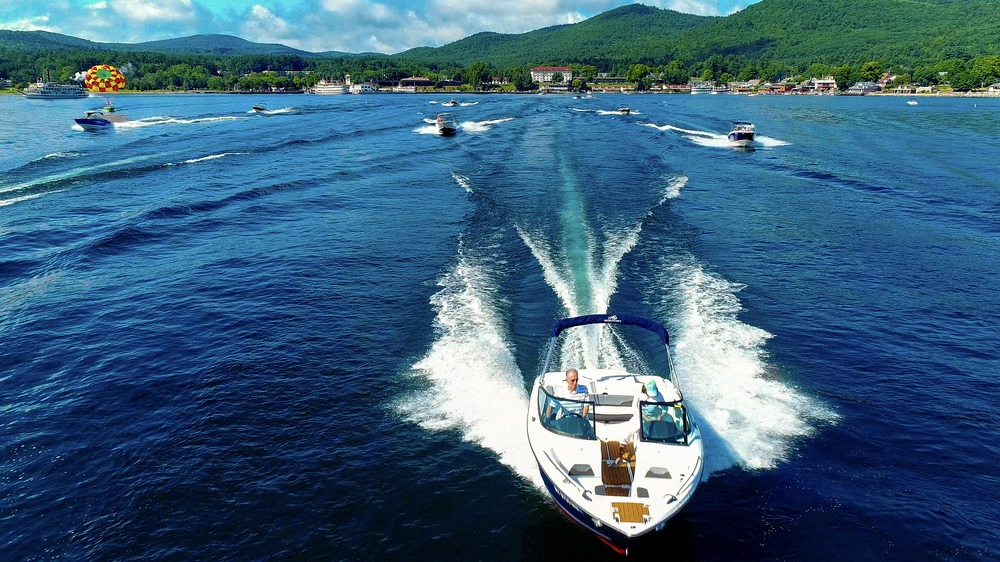 Florida is known for its endless beaches and year-round sunshine, which makes it a boating playground when it comes to finding the perfect spot to set your anchor. Whether you're a born and raised local, a snowbird or just visiting, the coastlines of Florida are full of hidden gems that will never never cease to amaze you. This is why Monterey has listed some of the best kept secrets Florida waters that (most) locals don't want you to know about:
1. John Pennekamp Coral Reef State Park, Key Largo | View on map
Endless protected miles of the Atlantic Ocean are host to stunning coral reefs and enchanting mangrove swamps at John Pennekamp. The first undersea state park in the U.S., the park offers a variety of guided diving options, including diving certification courses and clinics for underwater photography and fish identification. If you're diving, do NOT miss the SS Benwood, a World War II shipwreck that sits at a depth of 50 feet, and the Christ of the Abyss statue, located almost 25 feet of water near the Dry Rocks reef.
2. Anna Maria Island, Bradenton | View on map
Anchor down onto Florida's Anna Maria Island, and you may never book a return trip home. From hidden, white-sand beaches with crystal-blue water to Instagram-worthy sunsets and delicious seafood at waterfront restaurants, you can experience all the trappings of an exotic, tropical vacation without even having to leave the United States.
Neighbored by the Gulf of Mexico and Tampa Bay, this seven-mile-long island invites travelers to soak up the vibes of its three cozy towns: Anna Maria in the north, Bradenton Beach in the south, and Holmes Beach in between.
3. Egmont Key, St. Petersburg | View on map
Tampa Bay, the largest estuary in Florida, is up and coming as one of the best places to live, and to visit. In the bay area you will the city of St. Petersburg; known for its water-front focused community. But venture a few miles south and you'll discover Egmont Key, which is only accessible by boat.
Designated a National Wildlife Refuge in 1974, Egmont Key extends the allure of history and nature via a pristine, undeveloped landscape and relics of a former military installation. Today, this 440-acre island is still preserved as a remote island with an abundance of wildlife, and will make you not want to leave this secret sanctuary.
4. Silver Glen Springs, Ocala National Forest | View on map
Looking for a different scene other than coastal waters? Then Silver Glen Springs is for you - a hidden inland in the Ocala national Forest, about 40 miles from Ocala. This natural swimming pool offers clear and shallow water perfect for swimming and snorkeling. While boats are not allowed in the spring pool, the spring run is open for recreational boating and leads into the St. Johns River and Lake George.
5. Siesta Key Beach, Sarasota | View on map
Few destinations that offer such a wealth of sites and activities as this jewel. Boasting the #1 beach in America (Siesta Key), the area is replete with resorts, marinas, theaters, world-class dining, and fun activities.
Venture to Siesta Key on a Sunday night and enjoy the rhythmical sounds of the "Drum Circle" (you can even join in on the fun!) Don't forget to take a look around Siesta Key Village and explore the many shops and exquisite dining locations for a day that you won't soon forget.
Whatever your idea of a vacation is, you can count on Siesta Beach to provide entertainment and fun for the whole family. Here's to a relaxing weekend and as always, we'll see you on the water!
6. New Smyrna Beach, Daytona Beach | View on map
New Smyrna is one of the best surf towns with a historic feel of thriving arts community loaded with cafes and eclectic shops you can't miss to explore. For boaters, the coastline offers extensive 13 miles of clean beaches with secluded estuaries. We suggest you visit Disappearing Island, a local favorite for fishing, birding, and get up close with dolphins and manatees. If you don't own a boat, watercraft rentals are available from the local marinas.
7. Caladesi Island, Clearwater | View on map
If you're picky about your beaches, Caladesi Island in Clearwater, FL gives you the kind of natural, secluded escape you're looking for. In fact, this small island feels more like the Caribbean than Florida! Caladesi Island sits just west of Dunedin, Florida on the gulf coast, and is easily accessible by boat. You can drop your anchor virtually anywhere and bring your beach chairs to shore to enjoy a calm sea breeze.
Go Out and Have Some On-The-Water Fun!
No matter where you choose to be your destination, Florida's water will never disappoint. At Monterey Boats, we strive to build boats that ensure you never have to compromise on where you want to go. Click here to learn more about the thoughtful innovation engineered into a Monterey Boat.
---
Bookmark & Share
---
User Comments
Be the first to comment on this post below!