Red Nose Day!
Thu, May 21, 2015 at 1:40PM
---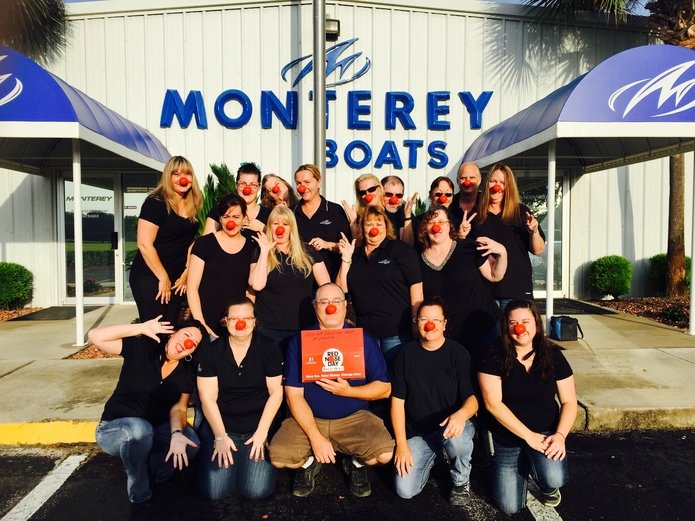 Here at Monterey Boats, we are proud to support Red Nose Day and the fight to free children and young people living in poverty.
The money we raise through Red Nose Day goes to organizations that help children and young people in the US and across the world. We work with these organizations to benefit children in three key ways:
Keep them safe by reducing levels of violence, exploitation, & abuse
Educate them by improving access to good quality basic education and helping them with job training when they grow up
Make sure they're healthy by giving them access to primary healthcare, clean water, & sanitation
Red Nose Day was founded by Jane Tewson and Richard Curtis (writer and director of TV and films including Four Weddings and a Funeral, Notting Hill and Love Actually). Comic Relief UK launched on Christmas Day in 1985 with a live broadcast from a refugee camp in Sudan. It was created out of the firm belief that the power of mass media and high-profile celebrities can raise awareness of issues of poverty to change and save millions of lives.
Richard Curtis, co-founder of Red Nose Day, said: "For many years, I have dreamt of bringing Red Nose Day to the US, and I am so excited that we have teamed up with NBC, who will do such a brilliant job on this. Experience has taught me how extraordinarily compassionate and generous Americans can be, and I've lived my life in awe of American comedy talent. So putting those two things together will, I hope, create an amazing event that will really make a massive difference to the lives of millions of children and their families in the US and in the poorest countries around the world."
Finish the celebration tonight by tuning into your local NBC channel to watch the three hour entertainment TV special starting at 8/7pm Central Time.
For more information on this great cause visit www.rednoseday.org
---
Bookmark & Share
---
User Comments
Be the first to comment on this post below!