How To Make A Watercolor Holiday Card With Water From Your Favorite Lake Or Ocean
Fri, Dec 02, 2022 at 6:15PM
---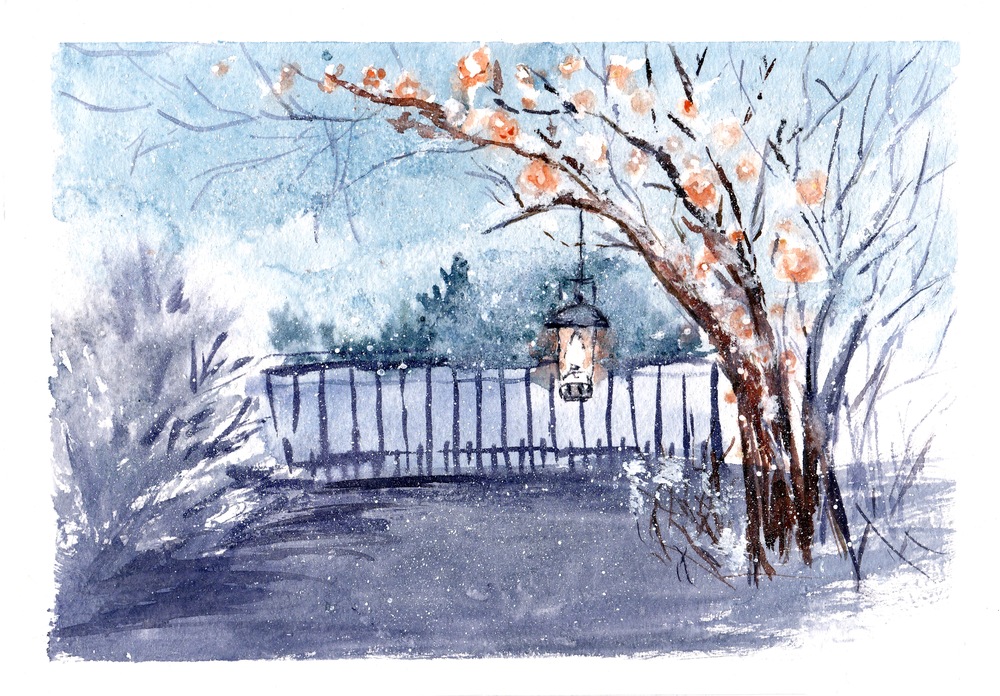 Looking for ways to switch up your holiday card game this season? No, it's not too late to send out something beautiful — and no, you don't need to wrangle together the whole family for a perfectly posed photo, if that's not your style! Here at Monterey, we can't think of a better way to share some holiday spirit than with a custom, watercolor greeting card — made with H2O from your favorite place to cruise.
Yes, it can be done — and it's a fun way to share coastal cheer with loved ones who share your passion for Monterey cruisers and deck boats! Just read on as we share the few simple steps you'll need to take for this crafty, one-of-a-kind gesture.
Get Your H2O
As long as your waterway of choice is clean enough to swim or splash in, it's good enough for your watercolor needs! Now, a disclaimer: there's no big artistic benefit to this. Yes, there is a type of watercolor that uses saltwater in order to create paintings with unique textures — once the water's dried, you can brush away the remaining salt for a fun effect. However, the real reason to use local H2O for your watercolor greeting cards is a sentimental one. Imagine how special your recipient will feel when they receive a piece of the place you love to cruise — maybe somewhere you've enjoyed boating together before!
Choose A Landscape You Love
Now that you have your secret ingredient, what will you paint? You might opt for a dreamy rendition of the beach or lakefront the water is from — after all, it's special to you, and there's a reason why so many beginning watercolor classes start with water and landscapes. It's fun to paint, and the beauty of nature is open to endless interpretations!
You can also have fun translating your Monterey Boat to watercolor — or perhaps a depiction of your family, or a furry friend by the water. No matter what you choose for your card, you really can't go wrong.
Consider An Outline
One clever art style we've seen lately involves sketching the outlines of your design with a bold, black pen before painting. You don't have to stay inside the lines — in fact, it's almost better if you don't! — but the contrast of the fluid watercolor with the defined lines makes for a fun, eye-catching juxtaposition anyone would be proud to hang on their fridge.
Light To Dark
If you haven't done too much with watercolor before, here's one of the biggest reminders to keep in mind: start from light to dark! Unlike traditional paint, watercolors don't have enough pigment to show up on top of dark backdrops — so start from your whites, neutrals, and light blues before adding your darker, bolder details.
Layers, Layers, Layers!
Just like it's important to dress in layers while boating and fishing, the same idea applies to the process of watercolor painting! Water takes time to dry, and you don't want to end up with soggy paper or a muddy masterpiece. It's a good rule of thumb to put at least 10 minutes of dry time between each layer, but you may choose to extend that based on local conditions. If it's moist or cold outside, add some extra dry time! And if you touch the back of your artwork and it's cool, that means you might need to wait a little longer before the moisture is all gone.
Time To Gift
Now for the really fun part — because as much as we love the painting process, nothing compares to actually seeing the smile on your loved one's face as they open your card! You can send your fully dry watercolor greeting card in the mail — or, for sentimental giftees, frame it for safekeeping, as you know they're likely to hang it right up.
If you end up trying this holiday craft, please feel free to share it with us on social media! We can't wait to see what you come up with. And from the Monterey family to yours, we wish you a very happy start to your holiday season!
---
Bookmark & Share
---
User Comments
Be the first to comment on this post below!