From San Francisco, Discover An Unexpected Island-Hopping Adventure
Fri, Jun 02, 2023 at 4:20PM
---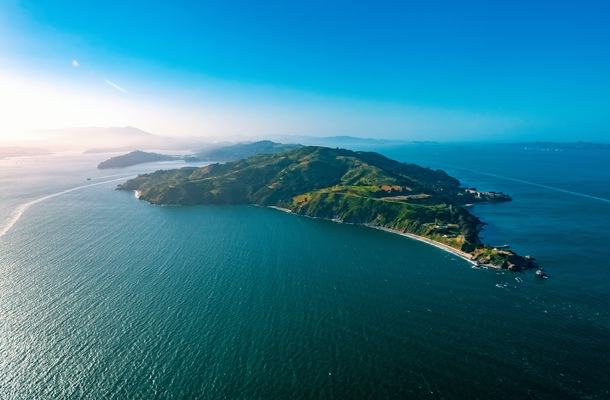 Dreaming of an island-hopping adventure aboard your Monterey Super Sport this summer? The idea might evoke imagery of tropical locales like Hawaii or the Florida Keys — but as it turns out, there's a surprising island escape surrounding the world's most iconic bridge. Yes, we're talking about San Francisco Bay!
For most people, the prison-turned-national park that sits atop rocky Alcatraz might as well be the only San Francisco island. And yes, the historic site is definitely worth a visit! But alas, it's just one of several stunning islands in the area. Just read on as explore five on-the-water destinations worth visiting — or admiring from the water — during your San Francisco summer getaway. (Tip: while beautiful Pacific H2O abounds here, some islands — including beautiful Alcatraz — are not accessible by private boat! Check local travel info for a smooth trip.)
Alcatraz Island
Alcatraz (named after the Spanish word for a local seabird, the gannet) is definitely not the biggest island in San Francisco Bay, but it does have the biggest reputation. This is obviously because Alcatraz served as a maximum-security federal prison from 1934 to 1963. You can still explore the inside of the former prison on a guided tour today — and, once back in the fresh air, soak in stunning views of the San Francisco skyline.
Angel Island
You can only get to Angel Island via ferry or private boat — making it a natural stop for Monterey Boaters! This is San Francisco Bay's largest natural island, and it provides a beautiful back-to-nature escape for those days when you want to escape the hustle and bustle of the city. You can enjoy a leisurely cruise around the island before disembarking for a hike or bike ride — and can even stay the night if camping's your thing! For nature lovers, you'll want to dedicate some time to watching wildlife from the coast. Whales are known to pass through the San Francisco Bay, so keep your eyes peeled for the majestic marine mammals as they swim to and from the greater Pacific Ocean.
Red Rock Island
Known for its vibrant stone façade, the aptly named Red Rock Island is actually San Francisco Bay's only private island — so this one is just for admiring as you cruise by! A few owners ago, it's said to have played host to a lonely cabin in the middle of the bay. It was once mined for manganese: the rock that gives Red Rock its unmistakable hue. And according to SFGATE, one previous owner even wanted to build a hotel and yacht harbor into the island! But to this day, it's a natural landmark that can only be appreciated from the water.
Brooks Island
Craving some quiet time with unspoiled nature views, birding, and the Bay breeze? Brooks Island is home to a regional preserve and bird sanctuary where you can go on a kayak tour, explore native flowers, and enjoy sweeping views of San Francisco Bay. Brooks Island is so committed to a pristine, back-to-nature experience that you actually need to call ahead and book your tour before visiting!
Belvedere Island
Belvedere Island literally takes its name from Italian for "beautiful view," so it's no surprise that gorgeous vistas abound any way you look! If you want to properly explore Belvedere Island, you'll have to move here as it's primarily a residential enclave — though nearby Tiburon offers the same maritime charm for visitors. At one point, Belvedere Island actually played host to the most expensive home in California: Locksley Hall, whose occupants are able to enjoy one-of-a-kind views of Angel Island, the San Francisco skyline, and the Golden Gate Bridge. So, the premium price tag makes sense!
These are just a few of the many islands you'll find in and around San Francisco Bay — so hop aboard your Monterey and start exploring!
---
Bookmark & Share
---
User Comments
Be the first to comment on this post below!