17 Reasons We're Grateful For Our Monterey Boats Family
Wed, Mar 02, 2022 at 10:19PM
---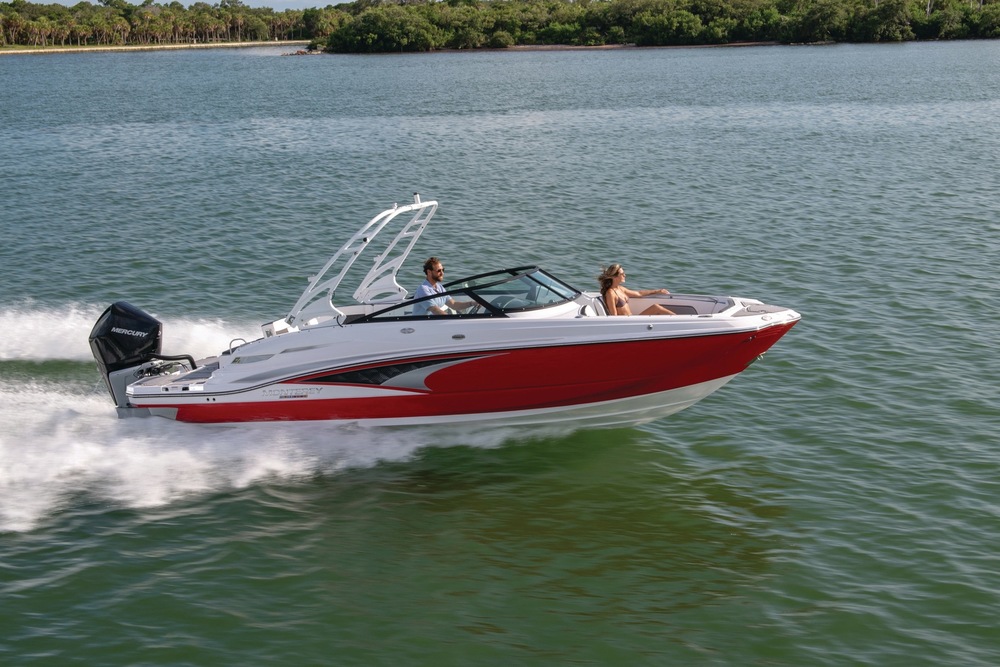 Because of you, Monterey Boats was just honored with the NMMA's Marine Industry Customer Satisfaction Index (CSI) Award for the 17th consecutive year! The award is based on consumers' experience buying a boat in the last year — so needless to say, this wouldn't be possible without you.
It may not be Thanksgiving but we're feeling pretty thankful all the same. Here are 17 reasons we're grateful for our Monterey Boats family!
You've Created A Welcoming On-The-Water Community
The Monterey community ranges from seasoned pros to brand-new boaters — all of whom help contribute to an active, friendly space on and off the water!
You Make Us Proud
Whether you're sporting a Monterey jacket while out and about, or sharing the love on social media, we see you and appreciate you every day.
You Inspire Us To Innovate...
Monterey has been at the forefront of boating style and technology for one big reason: you! As we learn from our customers' adventures and on-the-water needs, we're motivated to innovate our line of outboards, sport boats, and other models to better suit your style.
... & Explore More, Too
Beyond being boat builders, we're boaters just like you — which means your travels motivate us to hit the water more, too.
You've Become Water Sports Pros
It thrills us to see the Monterey family tackle new tricks, aerial maneuvers, and feats of speed (always with safety in mind, of course!).
You Prove That There's Always Something More To Learn On The Water
When you learn something new every day, you feel like a kid at heart — and this is the life of a Monterey boater! We're proud to be part of a community that's curious about cruising and all it entails.
You Share The Knowledge
Better yet, you share your know-how with the greater cruising community. Who among us hasn't benefited from a YouTube video or blog article about how to dock a boat, tie a knot, or land a tricky wakeboard move?
You Show Up
From boat shows to your local dealer, it's always nice to connect with the people who form our ever-growing Monterey family. Thank you for showing up and being part of this worldwide community!
You Stay Connected
And of course, even when you can't be there in person, you're there online — sharing photos, articles, and other resources that document your adventures on the water or provide your fellow cruisers with helpful information.
You've Brought Us Around The World
Monterey Boats is based in Williston, Florida, but we proudly work with dealers and customers all around the globe. Our international community's passion for Monterey helps us feel like we're traveling the world every day!
You're Super Creative
From the hilarious and meaningful boat names you choose for your Monterey, to the stunning on-the-water photography you share online, you remind us every day that boating can be a very creative pursuit.
You Keep The Fun Going All Year Long
We may be cruising into prime boat weather soon — but you remind us that boating is a passion to embrace all year long. Whether you're attending boat shows, learning new cruising and water sport techniques online, or simply brushing up on geography of places you'd like to boat to, you're proving that there's no time limit on boating fun.
You Make Boating Delicious (Literally)
What would a boat trip be without some flavorful fuel? When you prepare a delicious meal to enjoy on board, or cook it up right on your Monterey's grill, your recipes and food photos inspire us to savor the journey on a new level — so keep them coming!
You Prove That Boating Is More Than Just A Hobby
Thank you for reminding us every day that boating is so much more than just a fun, outdoorsy hobby. It's a lifestyle, a way to stay active, a means of bringing people together, an artistic endeavor — well, you get the idea. Boating is whatever you make it.
You've Made Us Part Of Your Family...
Whether you're a brand-new Monterey Boat owner, or have been passing down the marine fun from generation to generation, we're honored to be part of your life: birthday parties, holiday dinners on the water, family fishing trips, vacations, and every moment in between.
... Furry Friends Included
Pets make life on the water even better — so does every photo of your furry, four-legged friends! Boating is a great bonding activity for humans and pups, so we're thrilled to see you use your Monterey with your best traveling companion.
You've Helped Us Do What We Love For 35 Years (& Counting)
Since 1985, Monterey Boats has been designing boats that bring you and your loved ones closer to the water, providing endless fun, laughter, and memories. And it's a privilege we don't take lightly! Here's to another generation — and then some — of doing what we love so you can do what you love, too.
---
Bookmark & Share
---
User Comments
Be the first to comment on this post below!