Michigan's Silver Lake Sand Dunes: A Desert Delight at the Heart of the Great Lakes
Thu, May 17, 2018 at 5:00PM
---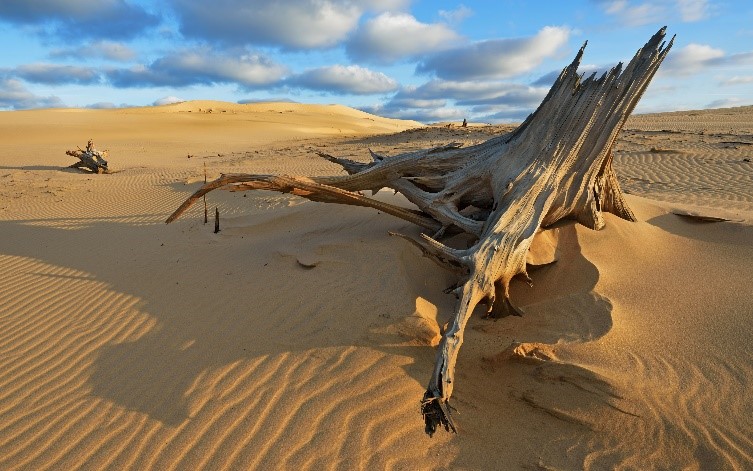 Picture this: sloping sands that roll along the horizon, an endless vista that's interrupted only by the occasional scrub or tree stump against a vivid blue sky… and boats?
It might sound a lot like the Sahara Desert—but this slice of sandy paradise, better known as the Silver Lake Sand Dunes, is actually nestled among the Great Lakes. So while those slopes may seem endless, you know that aquatic adventures are really just around the corner.
Read on as we explore this one-of-a-kind escape—as well as a few ways to best explore the thrills on sand and off.
An aquatic tradition
The sandy expanse at Michigan's Silver Lake Sand Dunes is a beloved destination—one that follows in the traditions of similar dunes all across the region. The Great Lakes Basin is home to the world's largest freshwater dunes system, a sprawling expanse of sand (big enough to see from space!) that mimics desert landscapes from the world over.
Of course, there is something special about this particular dune destination. As its name might suggest, Silver Lake Sand Dunes is sandwiched between Silver Lake and Lake Michigan. Silver Lake, though perhaps not formally "great" in name, is no less of an aquatic gem. From select spots across the dunes, you can see the best of each lake: the expansive, larger-than-life allure of Lake Michigan, as well as the quaint charm of its sidekick-to-the-east, Silver Lake.
Singing sands (and other oddities)
On any given weekend, you'll likely hear your share of music coming from either side of the dunes—tunes from on-the-water revelers and those enjoying leisurely cruises around the shore. But the sand itself has a song of its own: a sort of ghostly "squeak" you'll often hear when you walk through the sand or run your hands through it. Don't worry—it's normal, though certainly surprising to hear if you never have before!
The so-called singing does not have a firm, official cause. It's believed that the shape of the sand should be uniformly spherical, though, and that any form of pollution (dust in the air, for example) can prevent the sound from coming out. That you can hear the singing sands at all, then, is a testament to just how fresh and almost untouched the Silver Lake Sand Dunes really feel.
Of course, singing sand isn't the only oddity you will find here. Romantic travelers have used the expansive surface of the sand to carve out everything from marriage proposals to epic sandcastles—at least where the land is flat enough!
From sand…
There are, of course, plenty of additional ways to explore the dunes of Silver Lake. Some adventurous visitors have laid out impromptu slides sloping down toward the water—many others have traveled the terrain with off-road vehicles, or ORVs, like the famous dune buggies. Sledding or sandboarding along the dunes is another popular pastime. Of course, being an aquatic adventurer, you might want to pack another board altogether for thrills on the water…
… to surf
If your favorite water sport is wakesurfing, waterskiing or simply cruising around, you'll find a community of like-minded folks around the dunes. Silver Lake itself is a great place to start your boating adventure. Not only does it offer immersive views of the dune landscape, but it's a favored spot for kayaking, wading around and really getting close to the water. For big-time aquatic thrills, you can then hop across the dunes and head over to the Lake Michigan side. From here, your opportunities are endless. You can have yourself a beautiful sunset cruise, overlooking the picturesque horizon to your west, or play the day away while sticking close to the shoreline. As you head up or down the coast, you'll find that the view changes—from the stark, larger-than-life dunes, to tree-lined shores that shine in summertime brilliance.
Looking for your new go-to summer destination? This medley of sand and surf can't be beat. While you're exploring Michigan's west coast, don't forget to visit Monterey dealer Onekama Marine! Located north of the Silver Lake Sand Dunes, it's your go-to connection for all things Monterey and Michigan boating.
---
Bookmark & Share
---
User Comments
Be the first to comment on this post below!