How to Entertain Guests Aboard Your Monterey Boat
Wed, Oct 31, 2018 at 7:45AM
---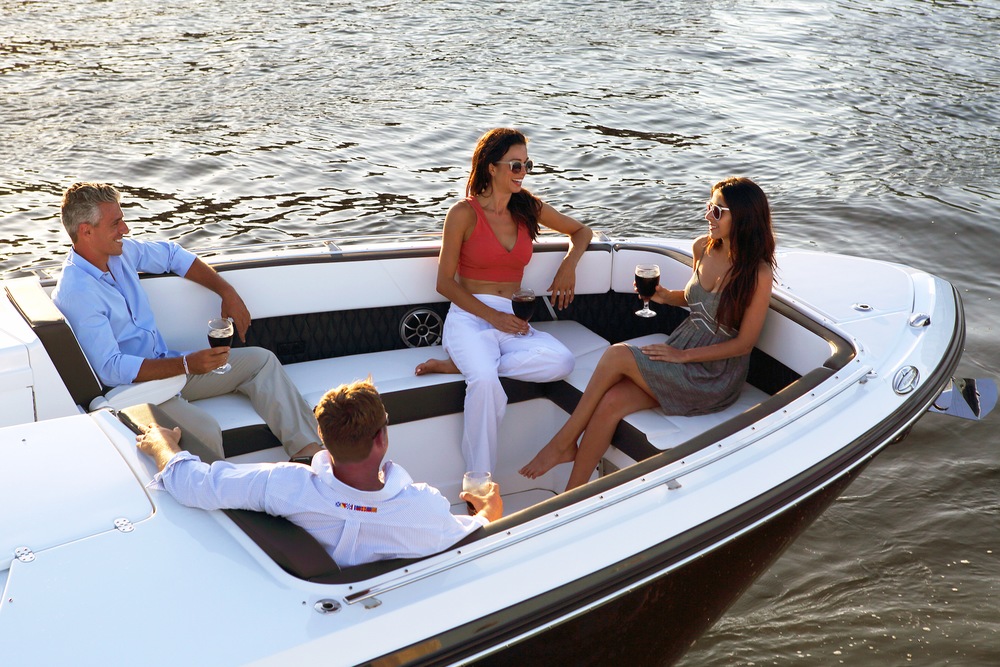 By day, your Monterey Boats offers endless fun in the sun and spray—but did you know that it's just as apt at providing a deluxe dinner party environment come twilight?
As the kids head back to school, and you're in search of the perfect gathering spot for friends and family, opt for an on-the-water get-together set against the backdrop of your favorite aquatic landscape.
Below, we'll show you how—just take a look!
Craft the perfect backdrop
Ok—so in this case, nature's pretty much done all the "crafting" you will need! In lieu of seeking out that perfect floral centerpiece, for example, you can simply cruise your Monterey Boats to a place where beautiful flowers bloom naturally, or dress up your digs by treating everyone to views of palm trees, a gorgeous sunset… you get the idea!
There are also small touches you can make onboard to spruce it up for easy entertaining. Homey additions like pillows—and throw blankets, since nights on the water, can be brisk—add an element of refinement to your get-together, plus they can be easily stored in your on-board storage during the day. When you're ready to use them, simply swap them out for the day's towels, water games, snorkel masks, and other gear, and you'll be good to go.
You can also set up the ideal backdrop by customizing your Monterey Boats's setup. On certain models, a wet bar or cockpit dinette makes entertaining especially easy—these features are made for dinner parties and get-togethers of all sorts! But really, any Monterey Boats can excel as a terrific entertainment spot. For example, you can let everyone kick back and relax—literally—by adding a simple filler cushion to your bow and topping with comfy pillows and blankets, a no-fuss setup inspired by the simplicity of a good picnic. Head aft to set up your aft seating, or turn your chair into a sun lounge that allows for maximum relaxation after dinner.
The name of the game: hors d'oeuvres
At home or your favorite fine-dining restaurant, you might be accustomed to a meal of several courses. On board, though, it's always helpful to swap out big, hearty (and potentially cumbersome) meals for an appetizer classic, hors d'oeuvres and other bite-sized finger foods and treats.
But who said you have to sacrifice sophistication for simplicity? Effortlessly elegant dishes like an Italian bruschetta can be prepared ahead of time—assemble the tomatoes, garlic, and seasoning before you cruise off and serve up on grilled bread (you may even have a grill on board which lets you add a final bit of heat for a fresh crunch!).
Another terrific option that's sure to please? Sushi! The cool, flavorful seafood dish naturally pairs well with the marine atmosphere, and the portable, pop-able nature of sushi makes it an easy solution for entertaining on the go.
How to indulge (minus the fuss)
It wouldn't be a great dinner party without the pairing of cool, delicious refreshments! Make-ahead drinks such as a punch or fruit-infused water are easy to store until you're ready to dig in. To add a lux element to your party, you can serve up drinks in plastic wine glasses in lieu of traditional glass—it carries the same refined appeal, minus the worry of breaks or cleanup! After all, time on the water is all about a relaxed, no-worries mindset.
Sway to the music
Have a favorite playlist you'd like to enjoy on the water? Hook up your phone to an outdoor Bluetooth speaker, or your built-in transom speaker for convenience and great sound. You'll be able to sway to your favorite island-inspired tunes as you soak up some quality time with friends and family, effecting a lux, custom atmosphere they won't forget.
The next level…
As always, there are fun ways to spruce up any on-the-water adventure—to take your trip to the next level. For fun background lighting, you can pick up a battery-powered lantern or even disco-style light to add some color to your get-together on board. If you're fortunate enough to be docked somewhere like your own backyard (another reason to love homes on the water), you can even project a favorite movie on a blank wall or sheet affixed to a fence or other structure. Movie, dinner, time on the water… it doesn't get much better than that!
Life on the water is simple—and with these tips, onboard entertaining will be just as effortless! We hope that today's guide helps you enjoy your Monterey Boats to the fullest in the weeks, months and years ahead.
---
Bookmark & Share
---
User Comments
Be the first to comment on this post below!