How To Upcycle Old T-Shirts For A Cozy Cruising Keepsake
Thu, Apr 20, 2023 at 5:00PM
---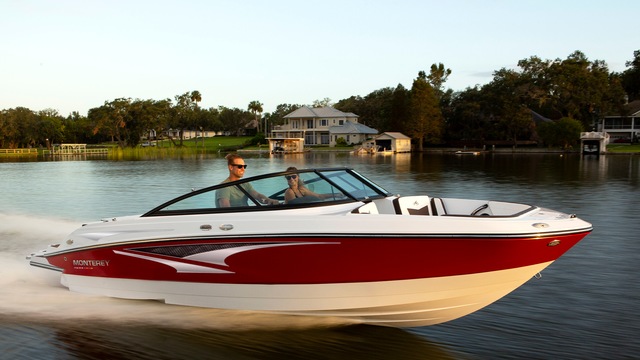 'Tis the season for spring cleaning! Now is the perfect time to rid your garage, closets, and cupboards — as well as your Monterey sport boat's storage cabins — of last year's wares. After all, you want to make room for all the new adventures the season has in store! Fortunately, there's a fun way to give new life to old, sunscreen-stained tees you find lying around. And if you're a sentimental person, it means you never need to really say goodbye to your favorite on-the-water memories.
What is it? A quilt or blanket made with the many t-shirts you've collected over the years! While nothing beats a comfy, worn-in cotton t-shirt for hanging around the house, snoozing, or hitting the water, t-shirts aren't always so practical if you've grown out of them or find yourself skipping them in the closet rotation due to stains, tears, or simply no longer being your size.
Collect Meaningful Tees
The first step for this fun project? Keep doing what you're doing! If you're someone who loves to collect a souvenir tee from new parks and waterfront cafes you explore on your travels, you likely already have plenty of material to work with.
For the purposes of this quilt craft, you'll want to pull tees that you love but are no longer super functional for your life — whether they're scratchy, the wrong size, or simply worn out from years of on-the-water fun. You don't need to feel any guilt about removing them from your closet because, well, they're not going far!
For families, it might be extra fun to collect tees from the younger kiddos who have outgrown (or will soon outgrow) meaningful outfits from their first boat trip, first vacation, or whatever other celebratory moments you've enjoyed together. This way, you'll have an ultimate family quilt that represents the entire crew! (It's for this reason that a t-shirt quilt also makes for a pretty great gift for loved ones you don't get to see too often.)
Put Your Sewing Skills To The Test...
Now's time for the fun part — or the tricky part, depending on how comfortable you are with a sewing needle. You can find a comprehensive guide online, but the basic idea is to cut square scraps (all of the same size) from your tees — ideally the part with a fun logo, saying, or graphic. Remember the cardinal rule of crafting: you can always cut more material, but you can't add it back. So cut and stich with care as you assemble your tees!
... Or Enlist Professional Help
If you're not sure about your sewing skills, don't worry — because you can still get a beautiful t-shirt quilt out of your spring cleaning efforts. How? Simply collect your tees and send them to a company that specializes in making this craft for customers. There are several options and private crafters you can work with to make the project come to life! So find one whose work you love, send in your clothes, and look forward to a beautiful blanket in the mail.
If you decide to try this upcycled craft, we'd love to see the finished result! When it comes to on-board accessories for your Monterey Boat, it doesn't get much more personal (or functional) than this.
---
Bookmark & Share
---
User Comments
Be the first to comment on this post below!