Fun on The Water: Toys Aren't Just For Kids
Tue, May 12, 2015 at 9:05AM
---
Who says toys and games are just for kids? As we venture further toward summer, we're looking at the water sports and on-the-water toys that the whole family can enjoy! We've broken our top picks for boat fun into groups based on your interests and level of activity. Take a look!
Do you, your family or friends have an adventurous spirit? Whether you're equally active on the land or often find yourself itching for excitement on the water, here are some of the best things you can bring with you for a thrill on your next boat trip:
Towable tube: Is the hand-eye coordination that wakeboarding and other water sports require not your forte? Don't worry… if you'd like to still feel the rush of wind and ocean spray as you tug along behind a boat, try a towable tube! A heavy-duty inflatable tube can be attached to the back of your boat much like you do with water-skis or wakeboards. This offers a fast-paced, adventurous ride to those of us who may not be as comfortable standing up and trying to balance on the water.
We've seen tubes like this in many shapes and sizes—some are made for one rider while others can fit two or three! Some have straps to keep you secure, some require you to simply hold on, and others let the rider really mimic the experience of waterskiing by allowing them to hold on and stand up.
Are you looking for a more laidback, relaxing experience on the water? We all can use a break from the hustle and bustle of land sometimes. If you'd rather lounge by your boat, here are a couple of inflatables and other items you can pick up to let you do just that.
Family-sized float: It might make more sense to refer to these giant inflatable floats as rafts—they're large and, depending on their manufacturer, can fit as many as five or six friends or members of the family. Some are as simple as attached inner tube-style openings, while more elaborate ones offer armrests, leg room or even space to lie down in!
Floating cooler: Thirsty while on a day trip to a new lake or lagoon? If you're anticipating spending any amount of time in relatively still water—since you don't want anything being whisked away out to sea—you might want to bring along this nifty device. It floats and can open and close when you could use a refreshing drink… just be sure to be observant and environmentally-conscious! Use your cooler on calm waters only, and be careful to prevent any accidental spills.
When it comes to fun, it can sometimes seem like kids are limited to playing with their toys on deck, building sandcastles, or treading water alongside their parents… but that doesn't have to be the case! We've got a few ways to make the water as exciting and enjoyable as it is for you.
Fun floaties: We're all used to the basic inner tube—make this simple toy even more fun for young kids by picking up food or animal-shaped floats to use in shallow, calm water. There's not much more rewarding than seeing kids enjoy themselves while riding their favorite dolphin, turtle… or even sprinkled donut! Visit your local pool supply store or outdoor shop to see the variety of types to choose from.
Are you eager to get back on the water in your own Monterey boat? Let us know how you like to have fun with your friends and family below.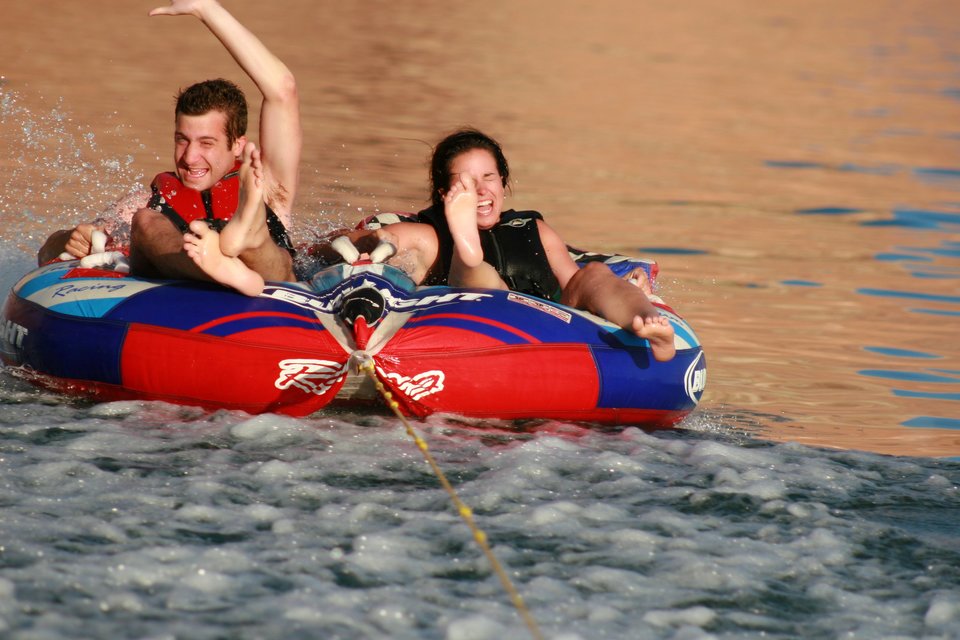 ---
Bookmark & Share
---
User Comments
Be the first to comment on this post below!