Exploring Fall Foliage on the Water
Mon, Oct 05, 2020 at 1:44PM
---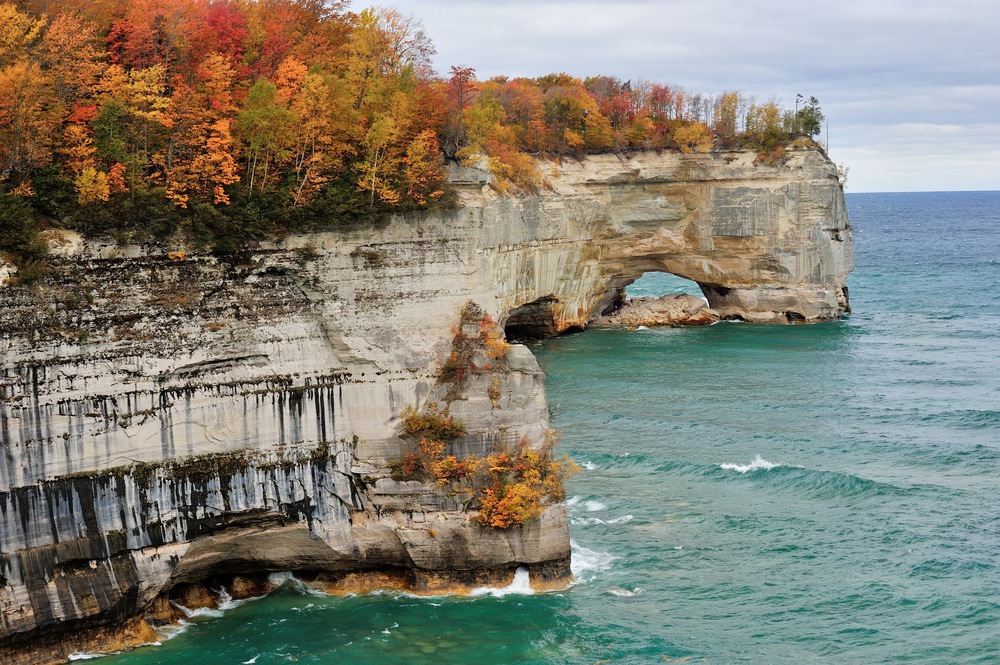 Now that fall is officially here, gorgeous autumnal vistas abound all across the country—and your Monterey is your front-row ticket to seeing some of the best nature has to offer.
Whether you opt to cruise along the coastline, or disembark to feel the leaves crunch beneath your feet, these destinations offer truly one-of-a-kind leaf peeping—plus all the seasonal charm you crave. Take a look at some of our favorite trips below!
(Tip: Check with these great local destinations for specifics on operating hours and amenities that may change with the season.)
Great Lakes
With nearly 5,000 miles of Great Lakes shoreline in the United States alone, this beloved aquatic escape is a must-see for leaf peepers by water. By these days, the lush summer splashing grounds have transformed into a veritable autumnal paradise.
It would be impossible to choose just one Great Lake to visit, as each offers a truly one-of-a-kind character and cruising experience (especially at this time of year!), but one of our favorite spots for fall foliage is Pictured Rocks National Lakeshore on Lake Superior, where gorgeous fall foliage runs up to colorful sandstone cliffs. The warm, earthy landscape complements the dazzling blue of the water below, where you can enjoy a leisurely cruise or on-the-water picnic with your favorite fall flavors.
Lake Tahoe
We're heading west for this next adventure in fall foliage! Nestled among the Sierra Nevada Mountains, Lake Tahoe's tree-lined shores boast beautiful bursts of vibrant pines, aspens and more come late October. Particularly picturesque spots include Emerald Bay and Zephyr Cove, where you can enjoy a scenic cruise aboard your Monterey before hopping into a kayak and paddling past all the fall splendor.
Glacier National Park
The crystal alpine waters of Lake McDonald form the heart of Glacier National Park, a Montana gem where you'll want to bundle up for some of the year's best leaf peeping. Gaze at the reflection of brilliant orange, red and yellow in the clear H2O, as you cruise along in your Monterey for a truly relaxing trip. You can't help but feel small (in the best possible way) as you admire the majesty of this out-of-the-way escape.
Hudson River Valley
Nestled among the scenic, sweeping Adirondacks, New York's Hudson River Valley offers an upstate escape enjoyed by locals and city dwellers alike. It's the perfect trip for those who crave a leisurely experience, one where you can meander along the river's gentle winding way. A few particularly striking sights include the Victorian Mohonk Mountain House, as well as clearings where the thicket gives way to gorgeous, wide-open views of the vivid mountainsides!
Lake Champlain
The New England gem of Lake Champlain is one of the earlier aquatic destinations to take on beautiful fall hues. Spacious channels provide plenty of room for relaxing boating, with plenty of nooks and crannies where you can take a break, hop into a canoe or simply soak in the scenery. Sweeten up your adventure with a dose of local maple syrup, the perfect pairing to the colorful maples and other trees all around the water.
What's your favorite fall escape at this time of year? From gorgeous, hidden gem lakes, to meandering rivers and scenic, tree-lined inlets where you can taste the salt in the air, there is no shortage of mesmerizing fall foliage to discover from your Monterey.
---
Bookmark & Share
---
User Comments
Be the first to comment on this post below!