What's in the pot?
Thu, Jun 06, 2013 at 12:00AM
---
During the summer months we love to serve fresh lobster, crab and crawfish at back yard barbecues! At our next get together, we're planning to service delicious New England lobster. If you've never prepared and served lobster before, don't worry, we're going to cover all the basics!
The easiest way to cook a lobster is by either boiling or steaming. A lobster can be completely boiled and on the table in just 15-minutes! All you'll need is one live lobster per person, a large pot filled with salted water, butter and sourdough bread! Try to select lobsters that weight one pound each.
A 16-quart pot will easily boil 2 to 3 lobsters at a time. Depending on the size of the pot you may have to cook the lobsters in stages. The pot should be filled ¾ full with water, and 2 tablespoons of salt per quart. After the water is boiling, grab your first lobster by the body, and place it head first into the pot. Place the remaining lobsters into the pot in the same manner, and cover the pot with a tight fitting lid.
One pound lobsters should cook in 12 to 15 minutes. If the lobster has not turned a bright red after the allotted time, leave it in the pot and let it cook until it has.
Remove the lobsters from the pot with tongs, place on a plate and let cool before serving. It's traditional to serve lobster with melted butter, but some people prefer a side of mayo. We also suggest serving warm sourdough bread and a fresh salad.
Now it's your turn to try! If you have any questions, let us know in our comments section or on our Monterey Boats Facebook page, and we will do our best to answer them!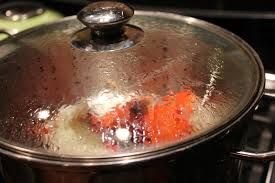 ---
Bookmark & Share
---
User Comments
Be the first to comment on this post below!