What To Consider When Choosing The Best Boat For Wakeboarding And Water Skiing
Wed, Jan 30, 2019 at 9:10AM
---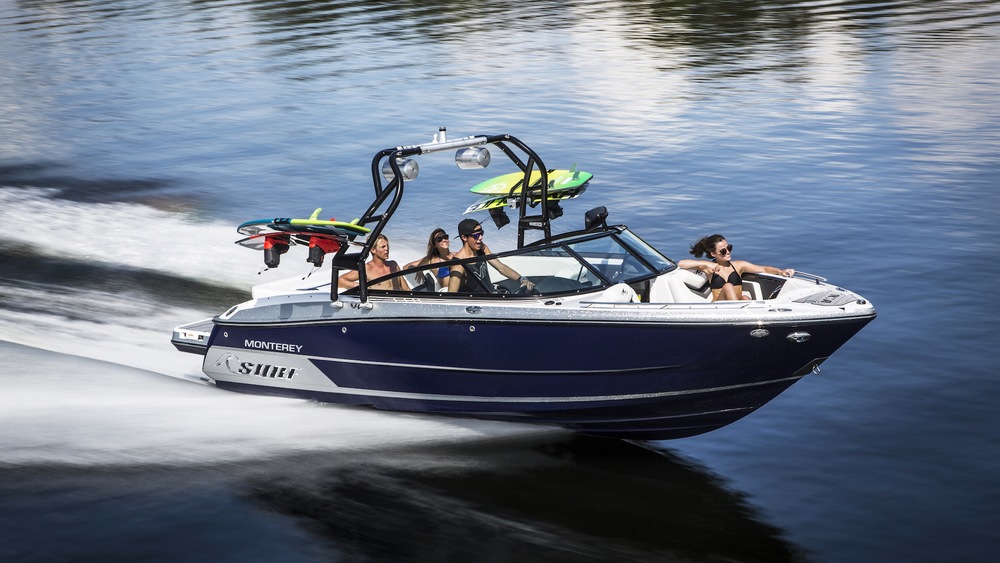 If you're in the market for a sport boat to use for wakeboarding and water skiing, you may not know where to start. With so many different water sports boats available, it's sometimes hard to tell which one is right for your needs.
So, in this article, the team at Monterey Boats will discuss a few of the things you should consider when choosing the best wakeboarding boats and surf boats. Let's get started.
Your Budget
You'll need to start by being honest about how much you can spend on a boat – and on maintenance, registration fees, transportation, storing it at a marina or a slip, and all of the other expenses related to owning your own wakeboarding boat.It's important to start with your budget, because this helps focus your search on the right boat for your needs. A Monterey M4 is a good choice for a mid-range boat, but if you only have a budget of $35,000, a smaller vessel like the M-22 may be a better choice.
Built-In Support For Wake Tabs, Towers, And Other Wake Accessories
Even if you don't have the budget to add a wake tower or tabs to your boat right away when you're buying it, it should at least offer support for these accessories – because you're going to need them for the best wakeboarding and water skiing experience.
The M-22 offers plenty of space, and comes standard with a stainless steel tow, so it's a good option for anyone looking for a water sports boat on a budget.
Size, Weight And Performance
Size matters for a few reasons. First, a smaller boat with a more powerful engine will be a better option when it comes to wakeboarding and water skiing performance.
A more nimble boat means that you'll be able to make tighter turns and accelerate more quickly, but a larger boat can hold more passengers, and will have more features. Consider your own preferences when choosing the proper boat size for you.
Another major factor in choosing the right size of boat is considering where you're going to store it, and how you're going to get it to the water. Typically, it's impractical to tow boats that are over 25-28' in length, even with a powerful truck – a boat like the 238SS offers plenty of features and amenities in a small, 23' package.
Versatility And Extra Amenities
If you're planning on using your boat for more than just wakeboarding and water skiing – for longer cruises or relaxing on the water, for example – you may want to look into a boat with more amenities – such as a wet bar, cooler, refrigerator, or even a toilet and a shower. A vessel like the Monterey M4 provides you and your passengers with plenty of amenities, while still delivering incredible wakeboarding and water skiing performance.
Shop Our Lineup Of Wakeboarding And Water Skiing Vessels Now!
We know it can be hard to choose the right boat for you. But if you consider all of the above factors, you're sure to make the right choice, and invest in a boat that will serve you well for years to come. So check out the full lineup of Monterey Boats models now, and browse our full lineup of sport boats.
---
Bookmark & Share
---
User Comments
Be the first to comment on this post below!