Monterey's Guide To Day-To-Night Cruising
Tue, Apr 12, 2022 at 11:07PM
---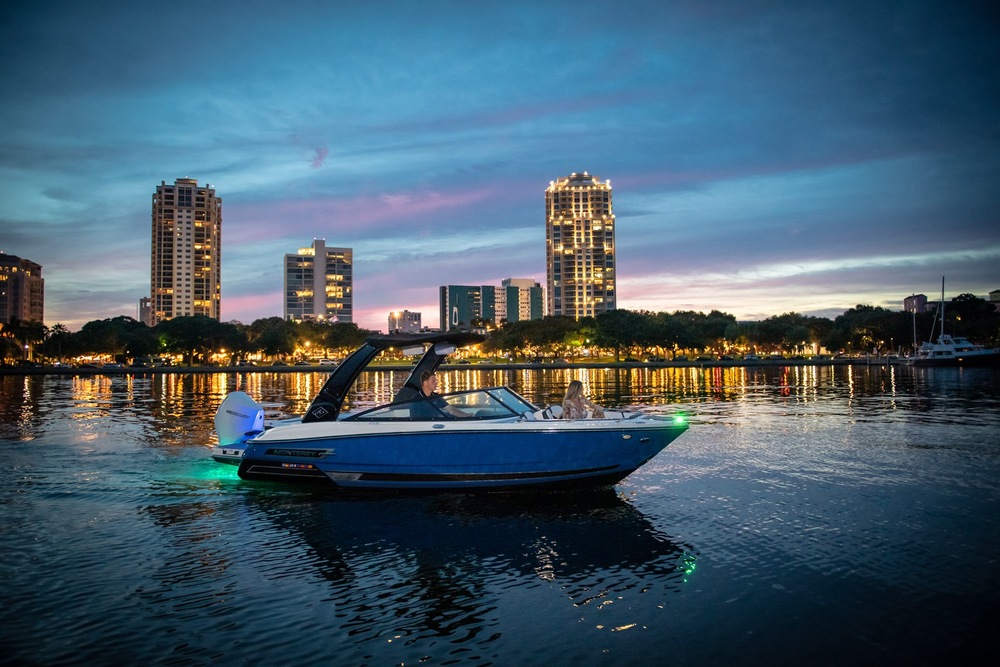 There's nothing better than a day on your Monterey — except, maybe, a day that's so long and fun-filled, it turns into night. Now that daylight saving time is here again, you will likely experience your share of those in the weeks and months ahead. It's a welcome "dilemma" (if you could even call it that) but it's worth preparing for anyway! Fortunately, your Monterey can effortlessly take you from day to night, and right back again. Just read on for a few of our top tips on this ultimate on-the-water outing.
Dress In Versatile Layers
Layers can help you avoid the temperature drop that sneaks up on you after sunset — especially during springtime, when weather is even more up-and-down than usual. But if you have a packed itinerary for the evening after a day of boating (think dinner with friends, or a waterfront get-together), you will want to choose fabrics that maintain their style and shape after all that cruising.
A denim jacket, for example, can be easily stowed away on board without getting wrinkled before your night on the town (er, water), and instantly dresses up any outfit. A lightweight wool or beach fleece sweater also works great! As for shoes, you can't go wrong with a pair of sharp deck shoes that are practical and seriously stylish, on board or by the beach.
Keep Some Spare Gear On Board
To achieve ultimate flexibility on the water, prepare yourself for those impromptu evenings! That may sound like an oxymoron — but basically, it simply means keeping handy, versatile gear on board so you never have to plan ahead for a longer day on the water. Waterproof storage bags, stowed within your Monterey's ample built-in storage, can house spare clothes and towels that will help you dry off and get warm once the evening settles in. (On that note, it's also a great idea to keep sealed, nonperishable snacks somewhere on board, in case hunger strikes when you're still enjoying the day-slash-evening on the water.)
Make Dinner Reservations At A Spot With Dock "Parking"
Speaking of hunger...
If you do plan to extend your day, you may find it helpful to make dinner reservations at a spot that provides dock "parking," i.e., somewhere you can pull in with your boat and hop to your table just steps away. At certain waterfront seafood restaurants, the chef will even cook your fresh catch for you — so call ahead and check in!
Keep Your Deck Dim
You might think that it would be helpful to use flashlights, phones, lamps, and other sources of light on your boat as the sky darkens after sunset. However, white light can actually make it harder for you to observe your surroundings (and for other boaters to see you, too, which is equally important). Keep your boat as dim as possible, but feel free to use a marine red light for getting around deck in the dark. This kind of light is made specifically for the on-the-water environment, as it won't interfere with your reduced visibility in the same way that white can.
Observe Quiet Cruising Hours
After a fun-filled day fades into an equally enjoyable evening, it can be easy to forget that the rest of the world back on land is starting to wind down! When you're cruising near residential areas on your way back to shore, keep the music and on-board noise down. Hey, it's only ~12 hours until you can return to the thrilling sounds of a fast-paced cruise or wakeboard run!
With your Monterey and these handy tips, you'll be truly unstoppable on the water — whatever the day (or night) may bring!
---
Bookmark & Share
---
User Comments
Be the first to comment on this post below!